So we have now arrived in Shenyang. After the earliest of starts, at 4.30am, we started to make our way to Beijing North Train Station. After making sure we had packed up all of our things we boarded the bus with tired eyes but soon found ourselves at the station, looking around at all of the trains whizzing out of the platforms at top speed. The train we were travelling on would go at top speed for 4 hours, showing you how far we had to travel to get to Shenyang. We were amazed at the seats on the train! You could turn them round and sit facing your friends so we could talk to each other and help pass the time.
We had our breakfast on the train and we were soon gathering our belongings and getting off the train. We boarded the bus and made our way to the school. It was amazing. The school was huge and they made us feel very welcome. They had arranged an opening ceremony to welcome us to the school and we got the chance to meet the teachers from the school too. They even ordered us Dominos pizzas as a welcome treat!
After lunch we went to class and began to learn Chinese properly for the first time. We were introduced to our teachers and we found out all about the week ahead. We are very excited to be learning Chinese and finding out what we can do and are capable of. Exciting times ahead.
---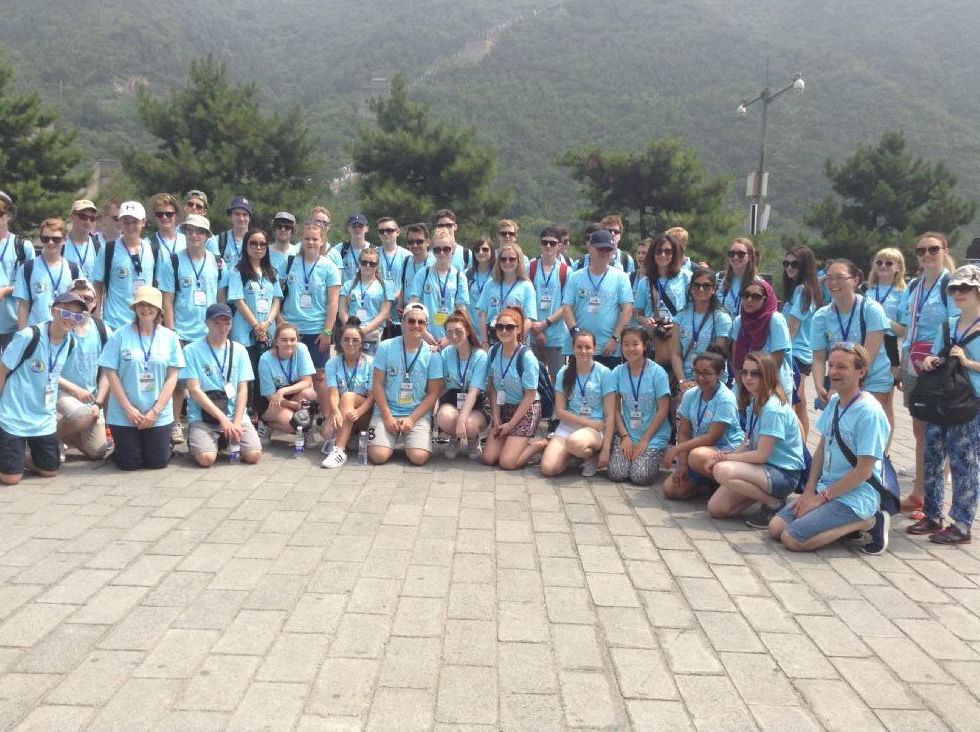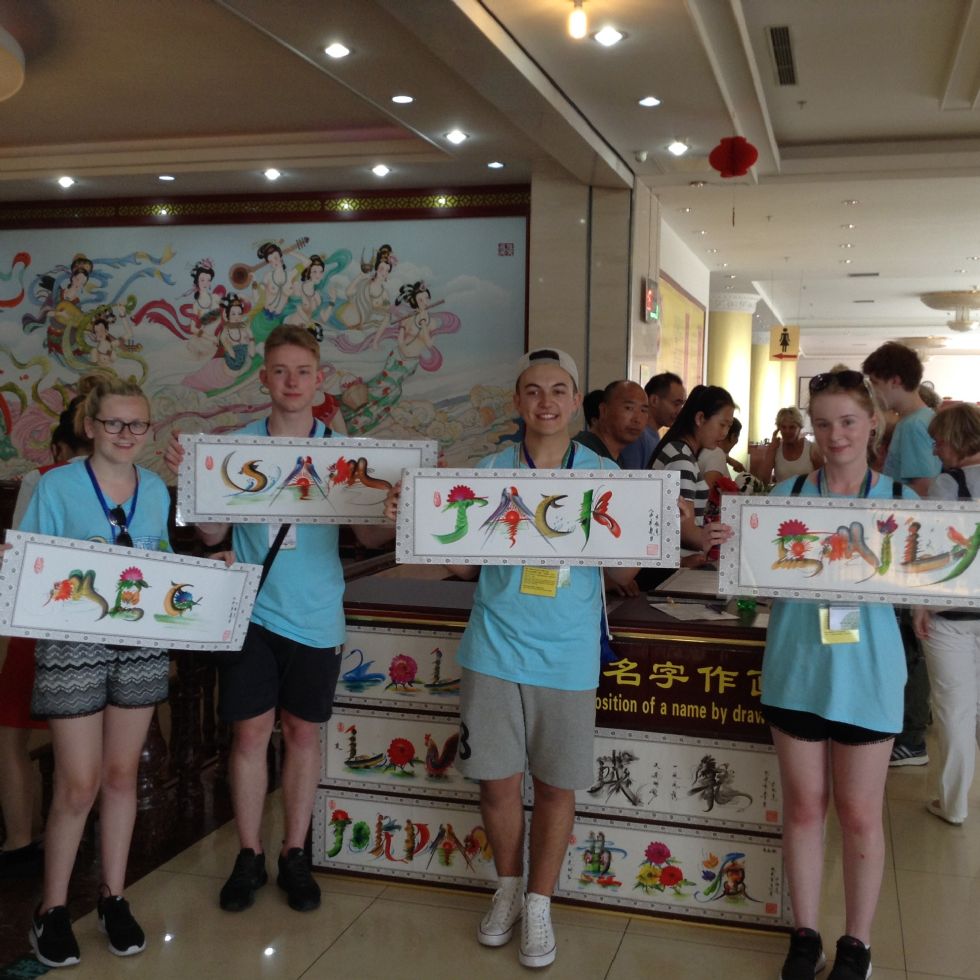 As we take some time to reflect on what we have accomplished, it seems like such a long time ago that we left SJP, boarded the bus and headed for the airport. We have had a non- stop agenda and today was no exception. We boarded the bus, after a full breakfast, with smiles on our faces and excitement building despite it being 35 degrees outside and already swelteringly hot in the early morning sunshine. We firstly made our way to the 798 art district, an up and coming district for young artists and hand crafted goods. Here many of us found lots to look at, loads to buy and so much to take pictures with. Throughout our time at the district I feel like most of us were able to come out of our comfort zone more than we ever have before. We wanted pictures with anything and everything, especially something urban. We were on the look out for interesting architecture to act as a backdrop for our photo shoot, with the great bonus of being able to send different photos to our families.
From here, our packed itinerary continued. We made our way to Beijing Zoo, home of the famous Pandas. As we only had limited time looking round the zoo we quickly made our way to the giant panda exhibit were we saw that they were all as exhausted from the heat as we were. As we wanted to see more animals we had to move very quickly to take in as much as we could. We moved on from the zoo to explore some more Chinese culture and history. As we approached the Temple of Heaven it was very tranquil and hot. We really liked how the temple is no longer used as a sacred area and we were able to explore each area throughly. We also had another photo shoot at the lake, what can we say, we are just that photogenic!
To round off the day we also went to a Kung Fu show which was interesting and very entertaining. For over an hour we were invited to explore the history of Buddhism and the discipline it takes to master Kung Fu.
The next day started off with us visiting the Confucius Institute where we saw more about the culture and various institutions of China dedicated to share the language and heritage of China with others. In the afternoon we went shopping at the Pearl Market. What an experience. We were there for hours and hours. Having to barter with Chinese stall holders, being jostled for trade and laughing the whole time, this was one of my favourite days.
Looking forward to travelling to Shenyang tomorrow morning although not the 4.30am start.
Jack James
---
11/7/16
Wow, what a 48 hours it has been in china and the amount we have got done is just phenomenal. We are sat in the hotel reflecting on our journey, identifying the high points and the challenges we have faced over the past few days. With many more days to go we have so much to look forward too and so much to accomplish. We began our China adventure on the Great Wall, which was a challenge in the heat but it was worth the sweat and tears in the end when we got to see the amazing views. Afterwards we went to the Summer Palace and got to ride on a dragon boat. The coach rides between the attractions are a great way to get to know each other better and reflect on the funny moments of the day. Today we went to Tiananmen Square and the Imperial Palace, it was very busy but very worthwhile. While we've been here it has been so hot, in the 30's but today it rained which apparently is very unusual in China at this time of year. For the first time today we have seen clear blue skies with no smog. We can't wait for the next few days here in Beijing.
Megan Taylor Haywood and Eleanor Fleet
---
9/7/16
Day One, yesterday was a long one. It all started when we arrived at Manchester, sailed through security and got onto the plane. The journey to Dubai was a long one but gave us the chance to bond together as a group. in Dubai we had a 5 star McDonald's meal, then onto the next 7 hour leg to Beijing. Everyone was tired, but worth the long journey to arrive in China. We arrived at the hotel just in time to relax after a Chinese banquet at a well known Chinese restaurant. The Great Wall and the summer palace awaits us tomorrow and we can't wait!
Sam Jackson - Twist