Uniform List 2022-23
For more details please see Parent Handbook
Compulsory Main Uniform
Optional Main Uniform

Blazer – French Navy with SJP Logo (Lettering colour for new Year 7 is red)

Embroidered pupil initials in white on PE items/bag
Jumper – Navy with SJP Logo (compulsory from the beginning of September onwards unless advised otherwise) (a sleeveless version is also available)
Shirt – Light blue (short or long-sleeved)
Blouse – Light blue revere collar blouse (short or long-sleeved)
Tie – SJP clip on tie (navy/silver stripe)
Skirt Checked skirt (Bedford Check) or Trousers (black). The skirt must be worn to knee length. Several lengths are available to facilitate this.
Trousers – black
Socks - black
Tights & Socks – Navy or black plain tights (not patterned). Knee-length or mid-length plain navy socks. (Navy ankle socks may be worn as part of the summer uniform.)

Shoes – plain black – without logos or accessories

(Please note that black training shoes, or shoes designed to look like training shoes including 'hybrids', pumps, fabric shoes are NOT acceptable. Please also note bows, flowers or tags are not acceptable)

College Bag – An SJP College bag is compulsory for Year 7 – 11 pupils. There are four styles of SJP bag available in the following styles; satchel, rucksack, sports bag, drawstring. The bags will be personalised by our suppliers.
| | |
| --- | --- |
| Compulsory PE Kit List | Optional PE Kit List |
| Aptus Essentials 1/4 Zip Training Top | Aptus Essentials SJP leggings |
| Aptus Essentials Polo Shirt | Aptus Essentials SJP training pants |
| Aptus Essentials Training Shorts | Separate bag for PE kit (SJP College Bag) |
| Contrast sports socks and plain white ankle socks | Gum shield |
| Predominantly white or black sports trainers | |
| Football boots for football and rugby lessons | |
| Shin pads for football lessons | |
PE Kit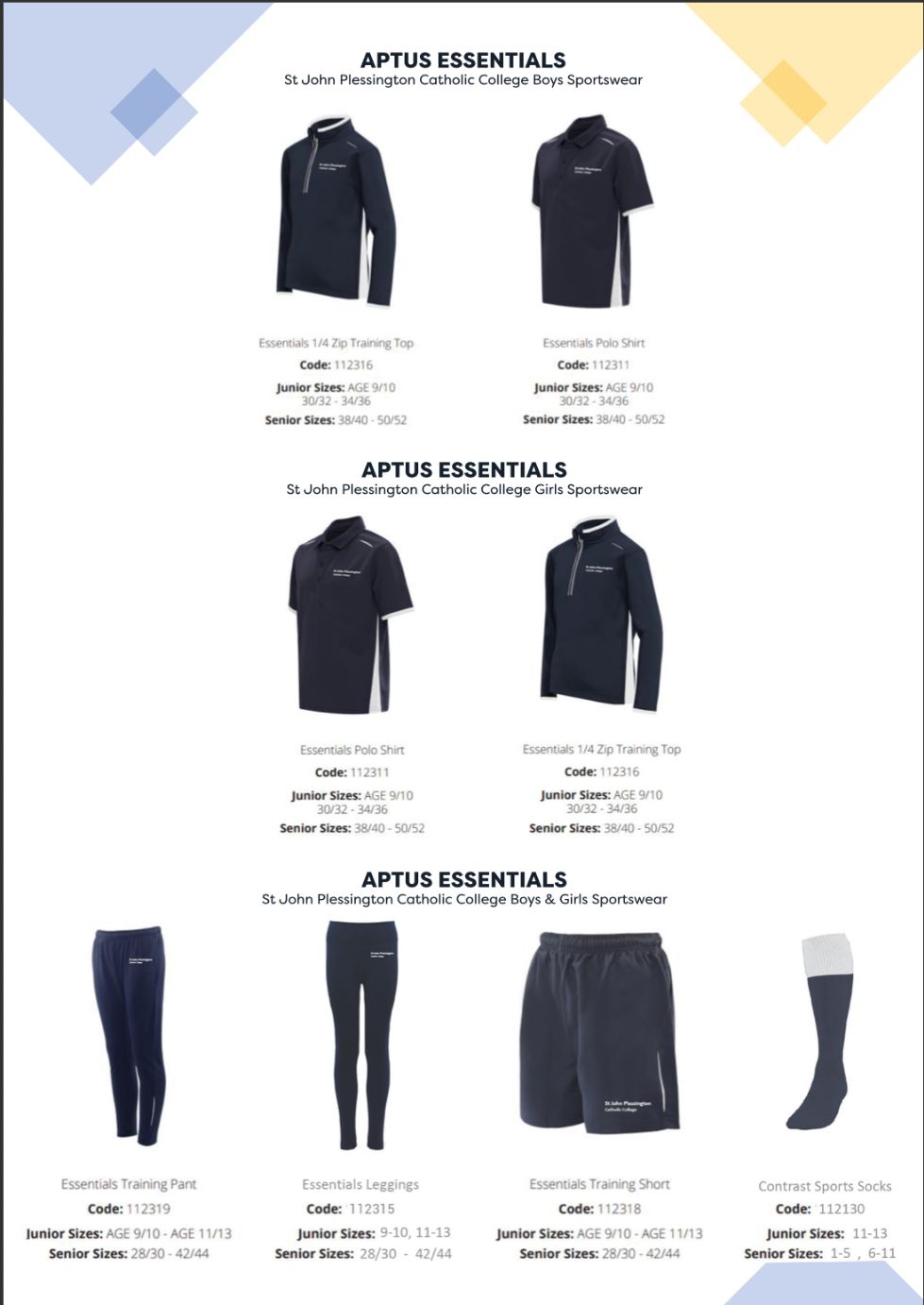 Mobile Phones
We advise that pupils do not bring mobile phones into the College. However, we do recognise that some parents may wish their child to have a mobile phone with them as they travel to and from SJP. Any mobile phones brought in should be both switched off as they enter the school premises and put away until they have left the premises. We do not take any responsibility for loss of or damage to mobile phones. Inappropriate use of phones in school will result in confiscation without notice (a receipt will be issued and phones may subsequently be obtained by parents/carers from Reception). Should you need to contact your child in an emergency, please use the main College number 0151 645 5049. Do not seek to contact your child in school directly as your child's phone should be switched off as they enter the premises in the morning.
Hair & Make-up
Pupils are expected to wear hair in a neat and acceptable style. Hair must be of one colour, natural in appearance. Hair styles (including shaved heads) judged to be extreme by the Head Teacher are not permitted. Make-up, including coloured nail varnish, lip gloss and fake tan, is not to be worn. False nails, false eyelashes or other such beauty accessories are not acceptable. Hair fashion accessories are also not to be worn. Black or Navy 'Bobbles' are to be used when tying the hair back. 'Scrunchies' are not allowed. Hair bands are permissible but should also be navy blue or black in colour. 'Holiday braids' are not permissible. Pupils who do not conform to the College's uniform and appearance policy will be sanctioned in line with our Behaviour Policy.
Jewellery
Apart from watches, jewellery (including studs, rings, earrings or any other body/facial piercings) is not to be worn. This is because of the potential risk of accidental damage from the wearing of such items and they will be confiscated. Charity bands (except for the chosen College charity) or charity lapel badges are not allowed. We will do our best to assist your child in safeguarding their property. However, the College does not take any responsibility for the loss of, or damage to, personal possessions brought on to site. Large amounts of money or items of value (including personal electronic equipment [such as iWatches, iPods, iPads or other similar devices etc], electronic games or jewellery) should not be brought into the College. Such items will be confiscated by staff (and can be obtained by parents from Reception).
The Headteacher reserves the right to make the final decision on what is or what is not appropriate.