Junior Leadership at SJP

At SJP, we believe that offering genuine leadership opportunities can help build a stronger school community and empower students. These activities contribute to the sense of pride students feel about their school and enable them to develop leadership skills in preparation for life beyond SJP.

Many student leadership opportunities focus on improving the quality of learning and teaching in the classroom. There is a huge range of opportunities for students to become leaders, represent their peers and contribute to the school community as you can see in the structure below:
UNICEF Rights Respecting School
Lead Ambassadors Behaviour and Inclusion

Lead Ambassadors for Fundraising

Lead Ambassadors for Wellbeing

Lead Ambassadors for Sport

Lead Ambassadors for Anti-Bullying

Lead Ambassador - Eco
Sustainability
Climate Change
Bio diversity

Lead Ambassadors for Student Voice

Lead Ambassadors for Creativity & Culture

Lead Ambassadors for Learning

Staff Leads

M Jefferson

M.Grant Miller

L Mackie

C Obermuller

N McEwan

A Davidson

A Graham

J Hoey

A McGagh

Year 13

Imogen Fisher
Lauren Blythe-Corkhill

Daniel Larway

Melissa Weston

Harry Loach

Godwin Biju

Samuel Hanley
Tiffany Smith

Shea Wilson
Addy Sabuji

Josh Diel
Ethan Hughes

Charlie Hawkins

Year 12

Grace Agrellis

Critsa Grimpson

Jessica Wallace
Luca Gunning

Rosie McGinn
Ella Coathup
Lilly Banks

Denzel Matibiri
Anabelle Hughes-Ikpoh

Libby Jones

Amelia Lonsdale
Alex Davies
Adam Birnie

Alane Elsa Anil
Daniel Edge

Bridget Gallagher
Hannah Adonis

Freddie Jackson Twist

Year 11

Critsa Grimpson

Jacob Hall

Seren Paling
Ellie Herbert
Ansmaria Shijoy

Lewis Redmond
Leah Rooney

Cael Johnston
Emily Chadwick

Jacob Hughes

Faith Oswald
Connor Thomas

Giuliana Frigo

Daniel Weedall

Year 10

Harry Wooten
Bithiah Alwin-George

Andrew Sarson

Sienna Braimo

William Morris

Sheyla Diaz Baez

Liz Mary Joseph
Jack Lally

Ava Welsman

Keyla Langat
Jeseca Clata

Isabelle Hewitt

Year 9

Sienna Braimo
Charlotte Freaney

Michael Kinealy
Evie Gelling Reynolds

Margaret Lloyd

Harry Jones

Amy Blythe Corkhill
Amelie Stirrett

Mya Dutton
Grace Brewer
Phoebe Willis-Johnson
Gabriella Hyde
Dominic Gallagher
Rahavi Savarasa

Sammy Armitage

Summer Hemmingway

Hannah Mazier

Year 8

Stephen Lucas
Grace Hayden

Lily-Rose O'Reilly
Alisha Maylor

Megan Byrne

Jayden Boyd
Eden Sabastian
Harry Barnett

Jayne Dunne
Paige Wallace

Huw Maddox
Sammy Trueman

Jasmine Morgan

Ailenn Anil
Nehal Usha (Anip)
Aine Maddox
May Leeson

Sophie James
Charlotte Creevy

Year 7

Lois Bromley

Joe McQuade

Holly Duncan

Eyad Salim
Daniel McGee

Jacob Clyne

Alex Cornett
Lucia-Skye Rudd
Ksawery Wozniok

Saffron Hulme
Freya Foy

Isabella Adonis

Jack Price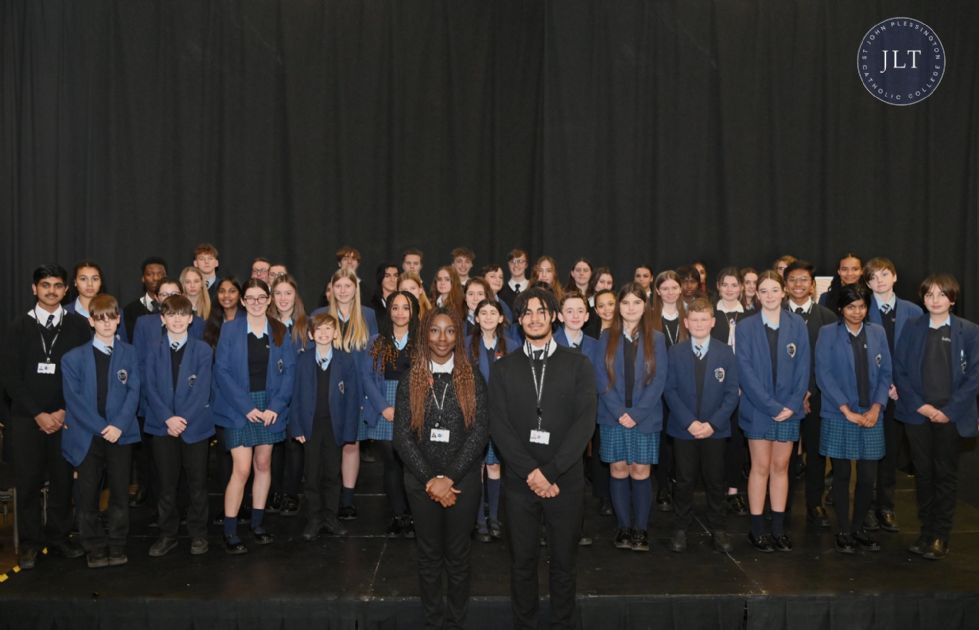 Student Council
Every year, representatives from each tutor group in the school are elected by their peers to form the Year Group Student Council which is organised by the Junior Leadership Team. The student council liaises between tutors and students on issues particular to their year group and beyond, and work together to find solutions, The Junior Leadership Team also meets with the school governors to discuss their role and responsibilities.

Junior Leadership Team (JLT)
For September 2021, we have moved away from the structure of head boy and head girl to a more inclusive model reflective of the organisations that our young people will be working in and leading.

Students in Y12 apply for the position of Chair and Vice Chair of the JLT and they are also encouraged to express interest in other positions within the team. Each applicant takes part in a demanding selection process and the successful candidates come together to form the Junior Leadership Team (JLT) led by the Chair and Vice Chair. The JLT works alongside the Senior Leadership Team to ensure students are well-represented in whole-school decisions. In conjunction with the student council, the JLT ensures students regularly have the chance to share their opinions about school life, and also receive feedback about changes that have been made as a result of their input.