Junior Leadership at SJP
At SJP, we believe that offering genuine leadership opportunities can help build a stronger school community and empower students. These activities contribute to the sense of pride students feel about their school and enable them to develop leadership skills in preparation for life beyond SJP.

Many student leadership opportunities focus on improving the quality of learning and teaching in the classroom. There is a huge range of opportunities for students to become leaders, represent their peers and contribute to the school community as you can see in the structure below: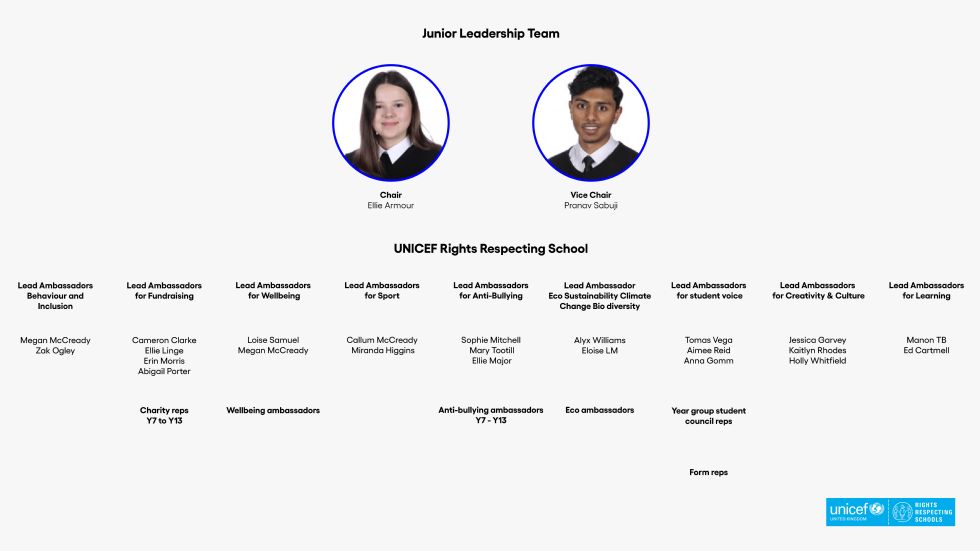 Student Council
Every year, representatives from each tutor group in the school are elected by their peers to form the Year Group Student Council which is organised by the Junior Leadership Team. The student council liaises between tutors and students on issues particular to their year group and beyond, and work together to find solutions, The Junior Leadership Team also meets with the school governors to discuss their role and responsibilities.

Junior Leadership Team (JLT)
For September 2021, we have moved away from the structure of head boy and head girl to a more inclusive model reflective of the organisations that our young people will be working in and leading.

Students in Y12 apply for the position of Chair and Vice Chair of the JLT and they are also encouraged to express interest in other positions within the team. Each applicant takes part in a demanding selection process and the successful candidates come together to form the Junior Leadership Team (JLT) led by the Chair and Vice Chair. The JLT works alongside the Senior Leadership Team to ensure students are well-represented in whole-school decisions. In conjunction with the student council, the JLT ensures students regularly have the chance to share their opinions about school life, and also receive feedback about changes that have been made as a result of their input.