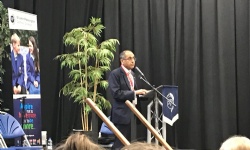 On Friday 1st March the whole of year 7 had a talk from a very special guest. Our visitor was Mohammed Amin MBE who has, on several occasions, been listed as one of the hundred most influential Muslims in the UK.
Despite his parents being illiterate, Amin graduated in mathematics from Clare College, Cambridge and obtained a Post Graduate Certificate in Education from Leeds University. After a year teaching, he trained as a chartered accountant, and in 1978 he qualified as a chartered tax advisor being awarded an examination distinction.
For 33 years Amin practiced as a tax advisor, eventually spending 19 years as a tax partner in Price Waterhouse, now Price water house Coopers LLP. He was the first Muslim to be admitted to the Price Waterhouse partnership in the UK. Before his retirement at the end of 2009, Amin was PwC's head of Islamic finance in the UK. He has presented on Islamic finance around the world as well as advising the UK Government.
In retirement, Amin has been the Chairman of the Conservative Muslim Forum (part of the Conservative Party); Co-Chair of the Muslim Jewish Forum of Greater Manchester and Chairman of Curriculum for Cohesion; .
In 2016 he was awarded an MBE for services to community cohesion and inter-faith relations in Greater Manchester.
His inspirational talk to the year 7 focused on success, including what we understand as success and how we can achieve it. He then took questions from the floor and answered a range of things from 'what was it like when you visited Mecca?' to "what do you think was your greatest achievement?". The Year 7 students found it very interesting and thought provoking as well as allowed them to explore further their current topic being studied in RE.