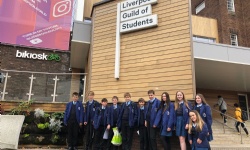 On Thursday 16th October, a small group of Year 9 pupils visited the University of Liverpool for a University 'taster day', to find out more about the fantastic opportunities available, and the support which can be offered to students as this fantastic University. At SJP we aspire for our pupils to have a 'choice-filled life', and it was pleasing to hear the pupils so positive about their University experience.
Pupils were given the opportunity to experience a fascinating lecture on Psychology, and the job opportunities which studying this subject in Higher Education would provide. Ben McNichol was particularly interested in criminal psychology and is now looking towards exploring a career in the police.
Pupils were also thrilled to have the opportunity to explore the Garstang Musuem; the University's very own collection of ancient objects and artifacts collected by the architect Garstang. Pupils were fascinated to learn about the study of archaeology and Egyptology, and see for themselves a real life Mummy! They even took the opportunity to raid the fancy dress collection, dressing up as Greeks, Romans and Egyptian Pharoahs!
Mrs Dakers said the best part of the day for her, was seeing our pupils walking through the Student Union donning their smart SJP uniforms. She said "it was very surreal to watch our pupils mixing among the University students, visiting the University shop and choosing their own lunch, surrounded by students going about their ordinary daily routine. I was proud to see them immersed in this experience and having such a good time".