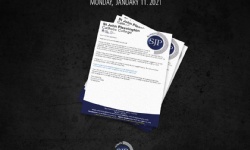 Dear Parents and Carers
I hope you and your families are all well.
Please note that Friday 15th January is our Review Day for Years 7 and 10. The appointments will be conducted remotely using the School Cloud software. The meeting can be conducted on a person's mobile phone, if it is a Smart Phone.
Many parents have booked already but I have included the details again below if you have not had a chance to book your appointments yet.
Please note, video link appointments are for a 5-minute period if you are logged into School Cloud, it will start automatically at the designated time, it will show a count down and automatically end the appointment.
Please visit <<< >>> to see how to log in and book your appointments. The School Cloud booking system will include the video link;
https://support.parentseveningsystem.co.uk/article/801-video-parents-how-to-attend-appointments-over-video-call
Your child should accompany you on the video link for their meetings, dressed appropriately.
We are looking forward to meeting with you on Friday as we continue to work in partnership with you to support the academic progress of our children.
Yours faithfully
Ms Maria Sharratt
Headteacher