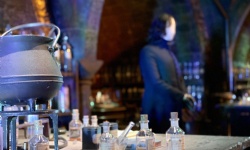 20 Media & Film Studies pupils boarded an early morning train from Liverpool Lime Street to London Euston on Friday 22nd November in search of a magical experience at the Warner Bros. Studio Tour. Catching a connecting train to Watford Junction they then left the muggle world behind and boarded the Harry Potter bus to the Studio Tour.
Upon arrival at Leavesden Studios (home of the Harry Potter films as well as Fantastic Beasts, Fast & Furious, Spider-Man and Wonder Woman to name but a few) pupils were impressed to see a live film set including an enormous green screen area and what appeared to be streets and buildings from the upcoming Fantastic Beasts film. Making their way into the studio, ducking under the life-sized dragon in the foyer, the magical adventure truly began with a cinematic introduction to the Harry Potter phenomena. Alfie O'Toole was fortunate enough to open the Great Hall doors for the entire audience at the tour and with that, the pupils were free to explore the sets, costumes, props and displays from all the Harry Potter films. There were lots of Christmas themed areas including a decorated Gryffindor common room as well as interactive experiences such as wand practise, broom handling and green screen photography.
Pupils tried Butterbeer and had lunch before boarding the Knight Bus, looking around Privet Drive, dodging spiders in the Forbidden Forest and rather excitedly sneaking into Gringotts Bank only to be faced once again by a fire breathing dragon! A meander down Diagon Alley eventually led the pupils to a snow-covered Hogwarts and ultimately the end of the tour.
The train journey home was full of conversation about the day where it was clear that long-lasting wizarding memories had been made. Even a slight delay on the return journey could not dampen the spirits of this magical group of pupils who were, as always, a credit to themselves and our College community.