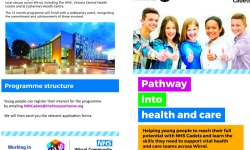 15-Jul-21
Dear Families
Please find below message from The Hive:
As some of you may know, here at The Hive we have been working closely with a local NHS trust and St John's Ambulance to deliver the very first NHS Cadets Foundation Programme to some of our young people across the Wirral. The project aims to attract and develop young people who have an interest in pursuing a career/volunteer work within a healthcare setting and to gain valuable transferable skills such as teamwork, leadership and communication as well as gaining an insight into a wider range of job roles offered by the NHS.
We are delighted to announce that we will be running a second cohort in September for young people aged between 14 – 16 years old so are looking to start the recruitment process over the summer.
I have attached two flyers that contain all the relevant information.
Any further questions please don't hesitate to contact me and for young people that are interested they can use nhscadets@thehiveyouthzone.org (email provided on the flyer)
Many Thanks
The Hive Youth Zone