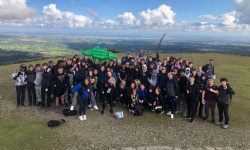 Over 100 Year 12 students embarked on the annual Emmaus Walk to climb Moel Famau in North Wales. In an attempt to bond as a new Year 12 community but to also raise money for Wirral Food Banks.
The climb truly represented the challenges we face in our daily lives, as all pupils found different challenges along the way. Some made it up quickly, some made it up slowly and some never quite made it to the top on this occasion. Each individual faced many challenges just like we do in life. However, every child put themselves outside of their comfort zone and learnt new skills in an attempt to show resilience and support each other to enable them to overcome certain challenges along the way. For those who never quite made it to the top on this occasion, it does not mean failure, it simply means they can't do it YET. They have gained experience in the climb of life to enable them to succeed next time. For those who did make it to the top, their next question is, how much higher can they go next time?
It was a fantastic day watching Year 12 become a new community, a fresh start, and I am sure we will talk about that day for many years to come. Well done, Year 12 and Year 12 Form Tutors.