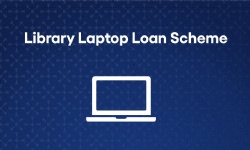 Dear Parent / Carer
Student Library Laptop Loan Scheme– acceptance of terms of use
The Student Library Laptop Loan scheme is designed to ensure that all students have access to devices at home or within the college as needed. We have a number of devices that students can sign out from the Library to use at home to complete their homework. These devices are on a short-term loan basis, and would be required to be returned the following school day. There is no limit to the number of times a student can sign out a device providing we have a device available. It is also worth mentioning that there is computer and internet access in Homework Club in the library each day till 4.30pm.
By completing the google form and submitting it, you acknowledge and accept the terms indicated below should your son/daughter choose to loan a school laptop. Without this consent the student will not have access to this service so we would ask all parent/carers to complete it as soon as possible.
The laptop, charger and any other provided peripheral equipment remains the property of St John Plessington Catholic College.
My son/daughter will only use the laptop for school work purposes and in accordance with the school's ICT policy, as written in the student planner and available on the school's website.
The laptop will be only logged onto using the students school log in for google classroom (eg 01/01/07jb@stjohnplessington.com)
I or my son/daughter will not download or install any new software onto the device, or allow others to do the same, without prior authorisation from the school's ICT department.
The laptop has been assigned to my son/daughter, and as such I take full responsibility for its care. I am liable for any damage or loss that may occur.
I understand that if my son/daughter leaves the school whilst in possession of a school device, I am to return all items in the same condition as they were loaned, or I will be charged for any repairs or the full replacement cost of the device as appropriate.
Please complete the Google form using the following links:
Yr 7: https://tinyurl.com/Y7LaptopLoan
Yr 8: https://tinyurl.com/Y8LaptopLoan
Yr 9: https://tinyurl.com/Y9LaptopLoan
Yr 10: https://tinyurl.com/Y10LaptopLoan
Yr 11: https://tinyurl.com/Y11LaptopLoan
Yr 12: https://tinyurl.com/Y12LaptopLoan
Yr 13: https://tinyurl.com/Yr13LaptopLoan
Please do not hesitate to contact your child's Year Team if we can help in any way to support your child with their school or home work.
Yours faithfully
Ciara O'Connor
Assistant Head Teacher