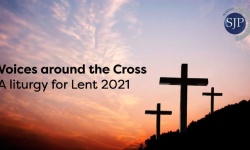 Once again this year we have celebrated a different kind of Lent in our College Community due to the restrictions brought about by the COVID-19 Pandemic. Next week, Holy Week is the most important weeks in our Christian Calendar.
We recall the events leading up to the death of Jesus on the Cross and his Resurrection from the dead on Easter Sunday.
Our Lent Liturgy, Voices around the Cross helps to reflect on the thoughts and feelings of the people closest to Jesus. Who stood at the foot of his cross during those final hours
Watch our liturgy here.