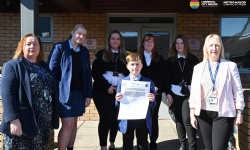 As part of Earth Day, pupils at St John Plessington Catholic College, Bebington are promoting their 'Ban the Bottle' Campaign.
SJP was recently awarded funding from the Liverpool Community Environment Fund to increase the recycling that takes place across the school. The members of the school's Eco-Committee are using Earth Day to promote the importance of the project. Pupils are being asked to reduce the use of single use plastic bottles across the school and to sign a pledge. The project is introducing recycling bins and reusable water bottles as part of the initiative and aims to change the habits of teachers and pupils across the school.
Mrs Hopkins, Geography teacher states, 'Earth Day on April 22nd is an internationally recognised day for people to stop and consider how they can make a difference to the world they live in. This year's theme is 'Restore Our Earth' and here at SJP, we want to show that every pupil can make small changes that make a big difference to their local school environment. A single plastic water bottle takes 450 years to decompose! The 'Ban the Bottle' campaign not only reduces the amount of plastic waste generated at school going into landfills but it teaches important messages about being responsible, acting sustainably and protecting their local area for future generations...