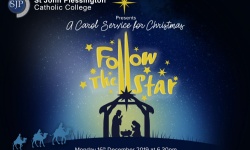 The days leading up to Christmas can be frantic and planning is essential, but it has always been a part of our tradition here at SJP to gather together as a community of Staff, Students and Parents to celebrate this most important event in our worlds history the birth of a baby, "Emmanuel – God with us."
Our Carol Service allows each of us an opportunity to stop amid all of the commercialism that surrounds Christmas to celebrate together the true reason for the Christmas season.
We are holding two Carol Services in College Hall, the first will take place on Monday 16th December 2019 at 6.30pm and the second on Thursday 19th December 2019 at 6.30pm.
We do hope that you will be able to join us. Tickets are available from the School Office.
A collection will be taken on the evening in aid of our college charity, The Wirral Foodbank.