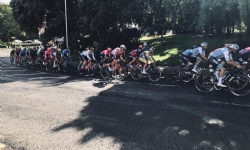 On Wednesday 11th September PE staff took 70 students to watch stage 5 of the OVO Tour of Britain as it raced through Bebington.
Our students positioned themselves at the bottom of Heath road so they could feel the full impact of 90 professional cyclists ride by. The race started in Port Sunlight so when the cyclists reached us they had only been cycling for a short time but were already reaching speeds of 48 kmph?
This particular stage was a fast and undulating 108 miles and saw the cyclists ride to all corners of the Wirral before crossing the finish line at Birkenhead Park.
A brief but exhilarating experience for our pupils that will last long in their memory.