Now the autumn is here, remember to take extra care on your journey to school.
During term time, the majority of road collisions involving young people happen in the afternoon and evenings, especially in the autumn and winter when it gets dark earlier in the day.
Walking or cycling to school is the healthiest option if you can. During lockdown, people started to get out and exercise more and it's important we continue to do that during the autumn and winter months - even if it takes more of an effort. Exercise is a great mood-booster - something we all need in these difficult times! Active travel like walking or cycling improves alertness, lowers stress, and increases concentration. It also takes away the stress of using busy buses and trains, especially when capacity may be reduced due to social distancing.
Tips from Wirral Road Safety Team to help you stay safe on the roads
Walk the Bright Way
Make sure you can be seen. Coats and jackets in dark colours make it difficult for motorists to see you when it's dark. Bright or fluorescent colours will help you to be more visible on dull days, but not when it gets dark.
At night, wear something reflective - road users see you.Did you know reflective clothing helps drivers see you up to 3 seconds sooner at night and those extra seconds could save your life? A brightly coloured coat or bag with reflective panels are simple things to help you stay safe
Hoods reduce your peripheral vision - when you're crossing a road make sure you can see everything around you, not just a snapshot of the road from inside your hood - it could make the difference of seeing a car coming towards you before it's too late
If you're out running,
Always choose routes and cross at places that are well-lit and where possible, cross the road at a pedestrian crossing
Never expect a driver to see you, always be responsible for your own safety
If you listen to music or use your phone while you're walking, remember that distractions affect our ability to spot hazards, take your eyes off your phone and take earphones out before you step out to cross a road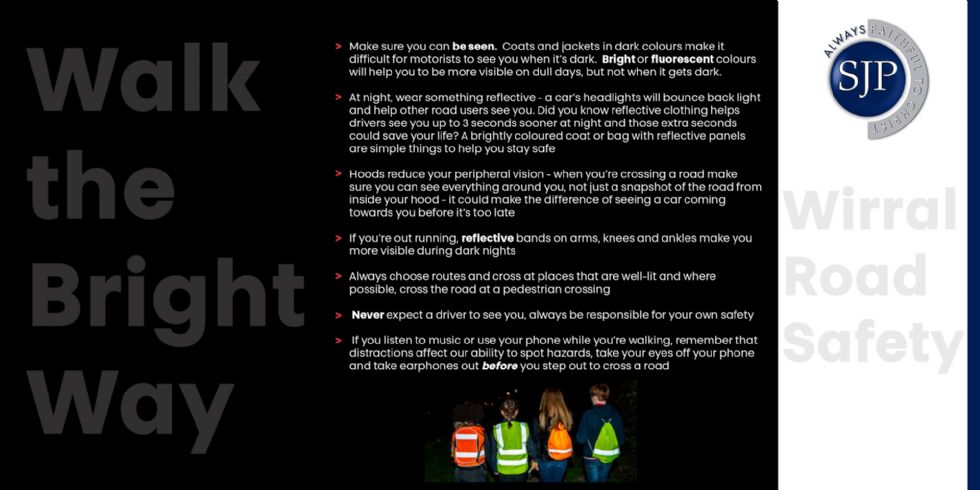 On 2 wheels?
Many incidents involving bikes during the darker nights are often due to cyclists in dark clothing with no lights or reflectors. Streetlights are not enough for a motorist to see cyclists at night, if a cyclist appears with no lights, they often don't see them until it's too late
At night, your bike MUST have working white front and red rear lights lit, it must also be fitted with a red rear reflector (and amber pedal reflectors, if manufactured after 1/10/85). White front reflectors can also help you to be seen and spoke reflectors will help other road users see you from the side
Wear bright and reflective clothing - high-vis vests are a cheap option that you can wear over coats and jackets and accessories like reflective rucksacks can make a big difference
Protect your head - wear a cycle helmet that fits securely and is fastened
Make sure everything is working, check out http://hype-merseyside.co.uk/bike-hub/
for free bike health check clinics
Distractions like phones and earphones will increase your risk of being involved in a collision - cyclists are vulnerable road users and the roads need our full attention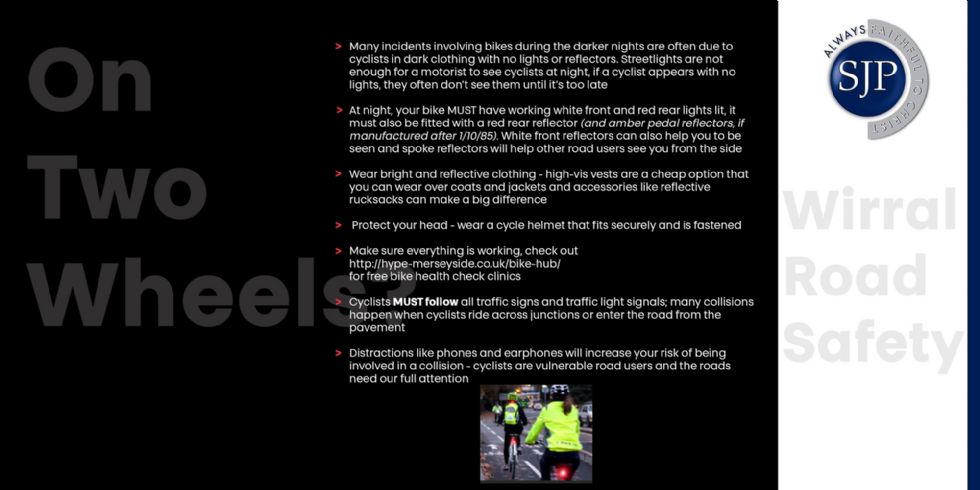 If you can't walk or cycle and you're using public transport
Remember your face covering will normally need to be worn if you are older than 11 years, keep it in your bag so you don't forget
Wear bright and reflective coats and bags so you can be seen even if you're only walking a short distance
Get off a stop earlier and walk the last part of your journey
Remember never take a chance and cross behind or in front of a bus
Check Merseytravel bus or rail timetables and get your pass or ticket in advance.