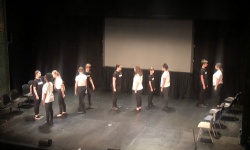 Well done to our Performing Arts students who were asked by Merseyside Youth Association to create a piece on the theme of 'Mental health and Belonging.'
The piece needed to explore typical issues teenagers from around the country have identified are issues they face and the impact this can have on their mental health.
The project was organised with Liverpool CAMHs too. The group of 11 worked together to create an original piece of work which they performed at the Liverpool Epstein Theatre on Wednesday night. They received the award for 'Best Mental Health Message' on Wednesday as well as 'Best Overall Performance' out of all the groups to perform on Wednesday, bringing two trophies back with us.
They were then invited back last night as the guest act to share their piece as MYA said their piece was very powerful. They were also filmed by Liverpool TV during the rehearsals and were interviewed on their piece and their views on mental health - the interview is a real credit to them.
The group were really proud of the piece and were given really amazing feedback on how well they did and how professional they were.
We are looking forward to getting them to perform the piece to our own students in assemblies after half-term.