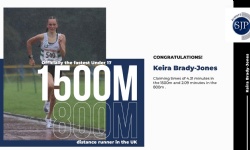 Keira Brady-Jones is officially the fastest Under 17 1500m AND 800m distance runner in the UK (and she's only 15 years old!).
Claiming times of 4.31 minutes in the 1500m and 2.09 minutes in the 800m .
WHAT AN INCREDIBLE ACHIEVEMENT .... REMEMBER THE NAME!
Watch KBJ's incredible 4.31 in the 1500m .