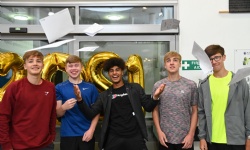 SJP is pleased to celebrate the results of all our students in their GCSEs this year. We are pleased to report some of the many outstanding achievements, for example:
Emilia Pawlikowska - eight grade 9s and two distinction*
Natalia Niebrzegowska - eight grade 9s and a distinction*
Priscilla Fatokun - nine grade 9s and a distinction*
Joshua Diel - one grade 9, four grade 8s, three grade 7s, one grade 6 and a distinction*
This year, following the cancellation of exams, grades were awarded through a process of teacher assessed grades, against a national standard and approved and awarded by the exam boards. The government is not publishing performance data for any schools or colleges this year due to the varying impact of the pandemic.
Maria Sharratt, Headteacher said: "We are immensely proud of all the work and achievements of our students, especially after such difficult and disrupted years. They have risen to each and every challenge presented to them and have responded positively to the ever changing demands placed on them. As a school community, we have worked tirelessly to ensure students are all able to progress onto the next stages in their education journey– they are a generation with a unique set of achievements and we are proud of each and every one of them. We look forward to welcoming many of them back to sixth form in a few weeks' time"