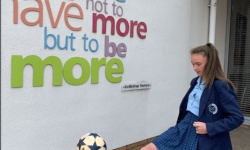 When did you start playing football? I started playing at the age of 6 for a local team - Shorevilla.
What do you get out of playing? It's really fun to play and I like being part of the team. I especially enjoy leading and have had experience of being a captain.
Have you ever wanted to give up? Yes, when I got injured and broke my collar bone I thought I wouldn't be as good anymore.
Where do you think your skill comes from? I learnt how to play on my own as no one plays football in my family, lots of practice and I used to play around lots of boys but moved when I was a certain age to the girls' team.
What did you have to do to be accepted into the Academy? There were free trials to go and attend in Kirby, Liverpool. There were lots of drills and games and then it was more specific passing and 1 vs 1. I got through to the round of 30, and the final round there were 10 girls. Then we trained with the girls already at the academy who had been there for a year and finally myself and one other were selected.
What is your hope for the future? I would like to become well-known in girls' football as it's not very big. I know it's getting more media attention, but I would like to be professional and get paid as much as the men!
What would your advice be to other younger girls who enjoy football? Don't stop trying and take chances and risks to attend open days and trials because I didn't think I would get in and I proved myself wrong!