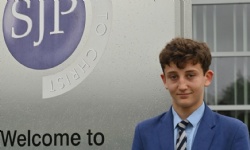 We are thrilled to announce that Edward has been chosen to represent the Merseyside Schools Athletics Association at the highly anticipated North West Region Combined Events Championships. This prestigious event will be held at the Northwood Stadium in Stoke on Trent on the weekend of June 24th-25th, 2023.
Being one of only four athletes selected from the entire Merseyside region in his age group, Edward's achievement is truly remarkable. We are incredibly proud of his dedication and talent, which have earned him this well-deserved opportunity.
To ensure that Edward can fully participate in the Championships, there are some costs involved. Each athlete is required to contribute £30 towards the cost of their kit, pay a £20 entry fee, and cover their own travel expenses, which we have estimated to be approximately £80. We kindly request any financial assistance you may be able to offer to support Edward in meeting these expenses.
Your generous contribution would be greatly appreciated, and it would go a long way in helping Edward make the most of this incredible opportunity.