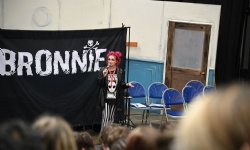 On Thursday May 5th we welcomed Bronnie to SJP and a special welcome to her base guitarist, Mason Levi. The students in Years 8 and 9 met in the college hall for the first two lessons and enjoyed a mini concert at which Bronnie performed a variety of her own songs and some well-known cover versions.
After Bronnie finished her performance, she spoke about the importance of mental health and resilience and how anxious she was to publish her first cover song on YouTube as she was very concerned about what her friends, teachers, family would think. She finally decided to take the risk and publish it, and it was a risk worth taking as she won the top prize in a contest run by US radio and TV star Ryan Seacrest with a little help from One Directions Harry Styles and Louis Tomlinson encouraging their Twitter following to vote for Bronnie.
She also talked about how Ed Sheeran, Beyoncé, Walt Disney and Steven Spielberg have all been rejected in their careers and the importance of believing in yourself and never giving up. If they had given up at the first rejection we wouldn't have their albums, singles and films we have today.
Each of the sessions ended with Bronnie holding a question and answer session, inviting all the students to ask any questions they had.
We want to thank Bronnie for coming to SJP and speaking to our Year 8 and 9 students.
"You lose 100% of the opportunities you don't take."