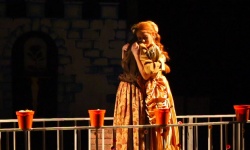 SJP were proud to present Disney's Beauty and the Beast this week. With strong characters and lively storytelling, pupils of SJP kept audience members enchanted with dazzling vocals and captivating dialogue as they told the story of Belle and her journey of self discovery as she attempts to rescue her Mother from the claws of the Beast. Pupils from all year groups took to the stage and stunned with their polished performances.
We met all of our well-loved Disney characters; Lumier, Cogsworht, Mrs Potts and Chip along with Gaston and Lefou graced the stage and brought with them a horde of villagers and castle objects as they entertained us for close to two hours. Audience members were left speechless by the fantastic performances of all pupils and it was fantastic to see new talent coming to the forefront in leading roles. Pupils once again proved that hard-work and commitment truly pays off and once again demonstrating the high quality performances SJP are renowned for.
Congratulations to all pupils involved for a performance to remember and for your invitation to be your guest for the evening.
| | |
| --- | --- |
| Niamh Lester | Belle |
| Tomas Vega | Beast |
| Harry Loach | Lumiere |
| Jack Kelly | Gaston |
| Daniel Edge | Little Lumiere |
| Cameron Clarke | Cogsworth |
| Ciara Lester | Marie |
| Ellie Dinnen | Mrs Potts |
| Caitlin Fullerton | Babette |
| Maggie Patino Murphy | Lefou |
| Abigail Bailey | Narrator / Old Beggar Woman |
| Isabelle cartmell | Chip |
| Mary Tootill | Madame De La Grand Bouche |
| Lennon Meadows | Monsieur D'Arque |
| Maddie Mitchell | SIlly Girl |
| Ellie Smith | SIlly Girl |
| Sophie Mitchell | SIlly Girl |
| Amy Armstrong | Villager |
| Daisy Fairley | Villager |
| Lily Ainsworth | Villager |
| Freya Price | Villager |
| Joseph Patino Murphy | Castle |
| Anabelle Hughes-Ikpoh | SIlly Girl |
| Cael Johnson | Castle |
| Andrew Sarson | Villager |
| Isabelle Hewitt | Villager |
| Florence O'Callaghan | Villager |
| Honey Ray Bailey | Villager |
| George Swift | Villager |
| Joseph Fletcher | Villager |
| Rhys Dakin-Mills | Villager |
| Tillie young | Villager |
| Maddison Hargreaves | Villager |
| Ella Palin Young | Villager |
| Jack Lally | Villager |
| Grace Singleton | Villager |
| Harriet Wooton | Villager |