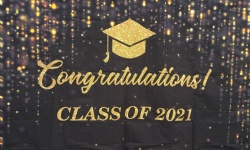 SJP is pleased to report some outstanding achievements by our students in their A levels, BTECs and other qualifications this summer.
For example, Megan Callister, achieving A*, A*, A* in English, Theology and Art, who will study Fine Art at Loughborough University; Joel Mahabir achieving A*, A*, A* in Physics, Maths and Chemistry, who will go on to study Physics at the University of Cambridge; Sam Loach achieving Dist*, A, Dist* in Media, DT & ICT, who will study Media at LJMU and Lydia Evans, achieving A*, A*, A in History, English & Art, who will study History at the University of York.
This year, following the cancellation of exams, grades were awarded through a process of teacher assessed grades, against a national standard and approved and awarded by the exam boards. The government is not publishing performance data for any schools or colleges this year due to the varying impact of the pandemic.
Maria Sharratt, Headteacher said: "We are immensely proud of all the work and achievements of our students, especially after such a difficult and disrupted year. As a school community, we have worked tirelessly to ensure students are all able to progress onto further education and study, and we look forward to seeing what they will achieve in the future – they are a generation with a unique set of achievements and we are proud of each and every one of them."