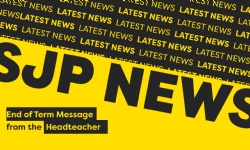 Dear Families
At the end of a very busy and challenging term, I would like to thank the pupils for their hard work and achievements so far. I would also like to thank the staff for their dedication and commitment, as well as parents and carers for your continued support of our SJP community during these challenging times.
Once again, we have many success stories to share and good news items to celebrate together. Please do read about these stories and more in our end of term newsletter which will be available on the school website.
Advent
Despite constraints, we have continued to focus on what we can do to prepare for Christmas through our collective worship and in what we are still able to do to support our community including collections for the foodbank. We have focused in our curriculum and outside of lessons on kindness and how we can demonstrate this in all that we do.
We have worked with our family of schools in our multi academy trust to create a joint liturgical celebration – A Lockdown Christmas – you will find it on our website. We hope you enjoy it!
Ready Respectful Safe
Our new behaviour policy, with an emphasis on recognising and celebrating positive behaviour, is becoming embedded in the minds and hearts of our pupils. It is encapsulated in the three words - Ready Respectful Safe - which we use as our reference points for celebrating the positive behaviours and in guiding our pupils to self-regulate when behaviour has fallen short of expectations
Be ready, be respectful and be safe. Please ask your son or daughter to explain what these expectations mean.
Full Uniform and piercings
The SJP uniform is an important part of the culture and ethos of our school. Uniform helps ensure equity between pupils, creating a sense of pride, aspiration and professional identity for our pupils and for the school. High standards of dress are expected at all times as an indication that they take pride in belonging to our SJP community. Please ensure that your child has the correct uniform to start the spring term and do not hesitate to contact us should you require support. Piercings are NOT allowed. Your support in this matter is greatly appreciated.
Wearing of Face masks
The wearing of face masks in communal areas will remain compulsory until we are advised otherwise. Can I thank you for your support for this both in supplying your children with them and for urging them to wear them. Can I ask that you provide your child with 2 masks at all times. It is helping to keep us all safe.
Diagnostic Trial Exams and Remote Learning
As you will be aware, the government is intending to go ahead with GCSE and A Level exams this summer. Over the past two weeks, our Year 11 and Year 13 pupils have been undertaking trial exams which for many is their first experience of formal examinations at their respective levels. These will provide us with crucial information to inform our planning for the time that remains on their courses. They have been revising hard and invariably they have been mature and focused in their approach.
All year groups should have been accessing remote learning and/or paper based resources over the last few days when school has been closed to pupils. Please ensure that your child has been spending 4 hours per day on schoolwork and do not hesitate to contact us should you require any support. Google Classroom will not be monitored from Friday 18 December until Monday 4 January.
Please join me in urging everyone to enjoy reading one book over the Christmas holiday period and perhaps, the whole family could pause for a moment and take pleasure in a shared read.
What if there is a positive Covid 19 test in the holidays?
Please be aware of the following information and relevant arrangements regarding positive cases in the holidays:
For the first 6 days after Thursday 17 December, if a pupil tests positive for coronavirus (COVID-19), having developed symptoms within 48 hours of being in school, we will identify close contacts advising self-isolation, as the individual may have been infectious whilst in school, the school should be contacted via schooloffice@stjohnplessington.com
Please do not message/contact school via ringing the school office number, messaging Google Classroom or via social media as these platforms will not be monitored.
Where a pupil or staff member tests positive for coronavirus (COVID-19), having developed symptoms more than 48 hours since being in school, the school should not be contacted. Parents and carers should follow contact tracing instructions provided by NHS Test and Trace.
Start of Spring term arrangements
Pupils will return to school for normal lessons on Tuesday 5 January 2021 and should arrive in school before 8.30am ready for academic review at the usual time of 8.40 am. Please ensure your child is in school on time with the correct uniform and equipment so that lessons can commence with the minimum of disruption.
Once again, I would like to thank you for your continued help and support. I hope you and your family have a restful, peaceful break and enjoy this holiday period. I look forward to seeing your children refreshed and ready to learn in January.
Yours faithfully
Ms Maria Sharratt
Headteacher