27/05/2011

Twenty students set of this morning to L'Estartit in the Costa Brava, where they will spend a week taking part in many different water sports activities such as sailing, snorkelling and diving. Keep checking back on this page for an update on all of the activities taking place on the trip. Click here to view the photo gallery.
Water Sports Trip
Spain.
Day 1
Friday 27th June
The 2011 SJP Water Sports adventure to L'Estartit, Spain started with a 4.00am pick up from school. Everybody was tired but excited as they waved their parents goodbye and set off for the airport. After a short plane journey to Barcelona and a coach transfer we arrived at Les Illes Hotel. We quickly changed and unpacked so that we could set off and explore the town. We found the local beach, water sports centre and the shopping area then arrived back for tea at 7.30pm. The meal was a choice of salads, pastas, potatoes and meats that finished with a desert of jelly and ice cream. After tea we played some games and then headed off to bed with talk of kayaking and snorkeling in the morning. A super first day with more excitement to come.
Quote of the Day- ''Sir this holiday is amazing and it's only the first day''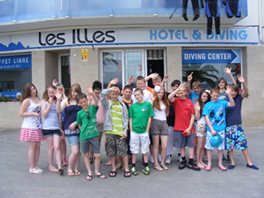 Day 2
Saturday 28th May 28, 2011
The day started at eight a.m. with a breakfast of cereal, toast, juice and tea to prepare us for a day at sea. At 9.30am we met our instructors, grabbed a kayak, pulled on our wet suits and started off. We spent two hours kayaking over a mile of deep blue sea . With Shannon Metcalf and Jessica Jones providing a running commentary on local fashions while Joe O'sullivan, Bradley Gallagher, Andrew Madigan and John Madigan decided to set up a race. It was a great two hours crashing over the waves. Natalie Griffiths and Carly Hannon, two of our year 9 pupils, were only too happy to get into the water as soon as the opportunity came along. After lunch we caught a speed boat and headed off to the local islands to snorkel with the fishes. Miss Perry thought that Laura Habberly, Julia Strelczuk , Micheal Kelly and Harvey Clayton swam like fish themselves once they got used to the snorkels, they really didn't want to come out of the water. We were lucky to see on octopus amongst the massive variety of fish. I was a really great day at sea but we were all ready to go home and have a rest.
Quote of the day '" Sir I don't want to get out ever because this is amazing"
Julia Strelczuk year 8 (Whilst snorkeling).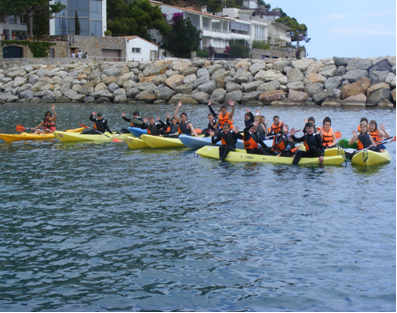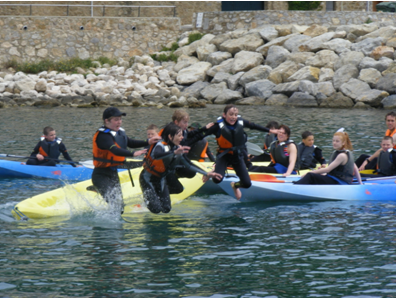 Day 3
Sunday 29th May 2010
Again the day started at 8.00am with a good breakfast to prepare us for another exciting day by the sea. The sun was very strong even at this time in the morning as we headed off to the local shops to find some presents and souvenirs. After a short walk around the town we found ourselves back at the beach where we spent the rest of the morning sunbathing and relaxing. When the sun became too hot we cooled down in the beautiful clear blue sea and had fun playing with rubber rings and beach balls.
After lunch it was time to meet our instructors for an afternoon of sailing and bike riding. The sailing was 'awesome' (Bradley Gallagher) and everybody had a chance to steer, rig the sails and tack across the Mediterranean. Everybody had a really good time.
The bikes meant that we could get to the most beautiful secluded beach with fresh water to paddle or swim in. It was a wonderful afternoon. The only downside was the three mile bike ride back to the hotel in blistering sunshine – well done everybody!
Another great day.
Quotes of the day
"I love it here, I don't ever want to go home"
Joe O'Sullivan Year 8 – When walking down the sandy beach
" I can't believe I went in the sea "
Natalie Griffths Year 9 – When sailing across the sea
Day 4
Monday 30th May 2010
The students were a little bit nervous about the scuba diving today, they were unsure of what they would encounter in the water – in particular how big the fish would be!
We set off at 9.30am for a safety briefing and then headed off to a secluded cove where we could explore the magical underwater sights. Everybody kitted up with tanks and fins and then one by one we entered the sea.
WOW this was a whole new world for our students, and those who had been nervous before were amongst the first to get lost in the excitement of exploring this strange but beautiful environment. They found hidden caves and fish that were amazing colours they really didn't want to come back up. It was yet another unforgettable experience.
After a brief play on the sand and in the sea we headed off to lunch still talking about the wonderful underwater adventure but looking forward to a fun and competitive afternoon of mini golf.
That evening everyone was tired and we were all happy to get to our beds. We all needed a good night's sleep before Tuesdays theme park and Waterworld!
Quotes of the day
"Sir, I did it…, can I do it again, please, please, please"
Harry Baines Year 7 – After conquering his fear of scuba diving
"Sir, I think just those who are here this year should be the only ones who come back next year. This is great".
Kallum Brindle Year 8- When leaving the boat after scuba diving.
Day 5
Today we all set off early with a packed lunch to Porta Venturature theme park were we had a fun packed day of roller coasters and candy floss. There was something for everyone although 'Dragon Ride' was a particular favourite. Everybody had so much fun that the 6 hours we spent there felt like 10 minutes and everybody wanted to stay for just 'one more ride'. Even a tropical storm at the end of the day couldn't damp our enthusiasm and it was 20 very soggy students that made their way back to the coach for a much needed sleep on the journey home.
Once again a fantastic day!
Quote of the day "These rides are awesome" Michael Kelly when talking to Harry Baines over lunch.
Day 6
Our final day in the Spanish sunshine took us to a Water Park located in the nearby town of Lloret de mer. We had hours of fun splashing about on the huge slippery slides and wild water rides. A particular favourite amongst the group included 'storm' and 'the rapids' as they were fast and furious. The blistering sunshine made for a great day and the 'four slides' gave a great setting for the most competitive amongst us that wanted to set up races. It was a really fun day and a good way to finish the holiday.
We were all tired as we headed for home and slightly down as we remembered that it was our last day. We all agreed that it had been an amazing and memorable holiday, and we are all looking forward to the chance to do it all over again!!!