The Ann Benson-Burke Memorial Fund
The Ann Benson-Burke Memorial Fund was established in 2012 to celebrate the memory of one of our former pupils Ann Benson. Ann was a pupil from 1952 at St John's RC High School in Rock Ferry (the predecessor to what is today St John Plessington Catholic College). Ann's journey eventually took her to America and sadly she died in 2011. Her husband Bill Burke contacted the school and came to visit. Bill was very keen to provide opportunities for students who otherwise may not be able to meet the needs financially of some extra-curricular activities that are offered. He has very generously donated a large sum of money which will generate an income in a fund which is to be known as 'The Ann Benson-Burke Memorial Fund'. The initial sums of income generated will be fairly modest and our PTA have agreed to match fund the sums to provide a larger pot.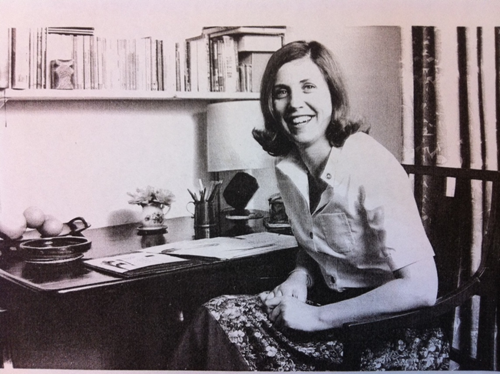 Ann believed passionately in every person having an opportunity to develop to their fullest and in the place of education - intellectual, social and religious - in achieving that realization, without constraints from economic circumstances or discrimination of any kind. It was always Ann's desire to contribute to the opportunity that her schools provided and to help others be able to realize the most from that opportunity, a desire that her husband shares. The Ann (Benson) Burke Memorial Fund has been created with that objective.
We are delighted to share Ann's story which has been written by Bill and we look forward to him visiting the school again in the near future.
Ann (Benson) Burke
Eileen Ann (Benson) Burke – Ann or "Annibe" to all who knew her – was born on Quarry Avenue in Bebington on May 7, 1941, the second of the two children of Thomas Edward Meredith Benson and Eileen Elizabeth (Hullock) Benson. She was born during a German bombing raid on the docks in Liverpool, at home because of the danger of trying to get to a hospital and under a bed because that was thought to be the safest place. In the event a bomber aborted its run on Liverpool and swung over the Wirral to jettison its bombs on turning back to Germany. Her crib for the first few weeks of her life was the bottom drawer of a chest of drawers for the same safety reason.
Ann's father had lost almost all of his hearing at the age of three from a meningitis infection that he barely survived. Although he showed a sharp and inquisitive mind, his disability led his family to decide that he should learn a trade. He was apprenticed to Cammell Laird shipyards at an early age to become a joiner. He became exceptionally accomplished at his craft, but continued to work at Cammell Laird's until his retirement. As a result of those circumstances, Ann's family financial circumstance was always one of the most modest means. She had a childhood made rich by her parent's love, however.
Ann attended St. John's School in Bebington (the predecessor to what is now St. John's Catholic Infant School and St John's Junior School in Bebington) and St. John's Catholic High School in Rock Ferry (the predecessor to what is today St. John Plessington Catholic College in Bebington). From an early age she absorbed her father's sense of commitment to do the best that one could do in whatever one undertook, always holding to the highest standards. Her parents also instilled in her their religious faith, adherence to integrity and compassion for fellow human beings. All of those principles and values were furthered in her education at the St Johns schools and formed who she would be and the foundation for what she would accomplish throughout her life.
Ann faced many challenges in her life. As a Catholic in a heavily protestant area who was educated in Catholic schools, she was marked by her distinctive school uniforms and frequently endured harassment during her school years. For awhile after she graduated from the High School, she remained at home, working to supplement the family's income. She moved to London to further her education when she turned twenty-one. To support herself and save enough money to put herself through an advanced course at a business college in Slough, she shared a flat with several other girls and took various temporary jobs (including one with Margaret Thatcher when the emerging politician was still a "back bencher" in Parliament moving up the political ranks on her way to becoming Prime Minister).
From that background, she took on the challenge of pursuing a business career. Ann proved to have an exceptional ability to assess people and their strengths and weaknesses. That ability, coupled with her work ethic and her joyful, friendly nature, brought opportunity at which she succeeded, and she rose to the higher echelons of management at a time when women were rarely found in that sphere. She helped found and develop Logica plc, a computer consultancy company, and then became the director of human resources at a petrochemical engineering company in the UK. While she would not readily disclose it in her typical modesty, she was the first (or one of the first) women to rise to that level in the UK and was known and respected by her peers in that field all over London. In reaching those levels, she also had to overcome her fear of speaking before a group, something that was especially challenging for her to achieve.
Ann was a relatively tall woman for her time (5'8") and enjoyed playing sports. When she took up a sport, she applied the same determination and discipline that she followed in all aspects of her life. Awhile after she moved to London, she took up fencing. She showed natural ability for the sport and was competing in international competitions in a relatively short period of time. She progressed to the final eliminations for the UK fencing team for the 1972 Olympics in Munich (a notable accomplishment for someone fencing the short period of time she had been in the sport) but suffered a collapsed lung that forced her to withdraw before the final selection.
She also took up skiing after she moved to London. On a skiing vacation in Zermatt, Switzerland, she met an American the same age as her who, like her, had never married. Like her, he came from a family situation of most modest financial means where the same values were taught as in her family. Scholarships and other financial assistance had given him the opportunity to study and travel abroad and receive an education at a university and law school that were amongst the best in the US. Like Ann, he was someone who enjoyed travel and the enlightenment that it could bring. When they met, he was a partner in a prominent "Wall Street" law firm and was living in New York City. Earlier in his career, he had spent almost a year in the Paris office of his firm, an experience that sparked his appreciation of English and continental culture and manners. They had a transatlantic romance for more than a year, greatly aided by an air fare war during that time which afforded very inexpensive "standby" travel between London and New York (and by Ann being persuaded to measure distance in terms of travel time rather than miles). They were married in Farm Street Catholic Church in London in 1981, and Ann moved to the US where they settled in Greenwich, Connecticut and continued to live until she passed away over thirty years later on August 25th in 2011.
Ann also had to confront serious medical challenges during her life. In addition to the collapsed lung in her twenties, she developed breast cancer when she was late thirties (shortly before her marriage), which recurred again fifteen later. The strength of her faith and her determination helped her to endure the intensive treatment that she underwent in connection with each of those occurrences (which allowed her to successfully fight off the malignancy, but the treatment weakened her heart and over time caused it to fail another sixteen years later).
It was not an aberration that Ann went London, moved through a career in business and on to the US. Throughout her life, Ann was someone questing for knowledge and not afraid to stretch into the unknown, or at least outside the familiarity of the "Linus blanket" of the Peanuts cartoon. At one point in her life prior to moving to London, she was going to accept an offer from the Australian government to immigrate to Australia before an assigned travel date of Christmas day caused her to reconsider. She lived in San Francisco for a period and at one point lived for several months in South Africa before declining an offer of marriage from the son of one of the most prominent families in that country. She relished travel and the experience that it could bring. Over her life, she travelled to more than thirty countries spread across every continent except South America and Antarctica, visited almost half the states in the US (including Hawaii) and almost half the provinces of Canada.
Although Ann lived more than three decades in the US and came to think of it as her home, England (and the Wirral in particular) remained very dear to her. She refused to compromise any of the "Englishness" that she took with her to America. Her English accent stayed pristine. It was known all over Greenwich and enjoyed wherever she went (making her a celebrity according her husband the recognition of "Ann's husband"). A tea bag was occasionally seen in their house, but tea normally was made from one of the several kinds of loose tea to be found in the cupboards. And whether made with loose tea or a tea bag, in their house tea was ALWAYS made in a teapot with a cozy and ALWAYS only after the pot itself had been properly warmed. The 4th of July presented something of a challenge for Ann and her husband. Neither of them compromised, but they reached an accommodation that allowed them both to enjoy the day. On the day, they flew both the union jack and the stars and stripes at their home. He celebrated Independence Day; she celebrated good riddance day.
In her person, Ann was joyful of disposition, modest of manner, reserved in the forcefulness of the language she used to express herself and always dressed in an understated, classical style. But her "northern" upbringing led her to be someone who would enter into conversations easily with even complete strangers, say hello to strangers as she passed them on the street and hate to pass up an opportunity for a good chat with friends.
Throughout her life, Ann remained a devout Catholic, attending mass regularly, actively participating in the life of her parish church, and striving to live the life of the Church's teaching. It was in her deepest nature to reach out to help others when she could even when it was inconvenient or uncomfortable for her to do so.
Ann was not granted a long life, passing away at the age of seventy, but she lived fully the time that she was given. What she accomplished during it attest to her courage and strength and to her religious devotion, kindness and compassion for all things around her, offering an example to others of what can be achieved. Ann believed passionately in every person having an opportunity to develop to their fullest and in the place of education -- intellectual, social and religious -- in achieving that realization, without constraints from economic circumstances or discrimination of any kind. It was always Ann's desire to contribute to the opportunity that her schools provided and to help others be able to realize the most from that opportunity, a desire that her husband shares. The Ann (Benson) Burke Memorial Fund has been created with that objective.