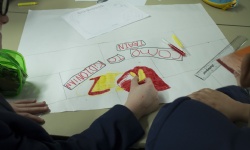 All Year 7 students in Year 7 participated in an exciting and motivating Enterprise day to look at developing their employ ability skills using the skills of the company " Inspirational Learning company.
The activities were based around a "Dragons' Challenge", where pupils had to come up with a new product for a company that would be profitable and sustainable in today's market place. Their task this year was to design a new real life activity for the company called KidZania based in London aimed at 11-14 years old children. This is an indoor activity theme park where children get a realistic insight into the adult world by taking part in a choice of 'jobs' which earn them points to take part in other activities. The winning team will represent the College at the National Enterprise Challenge in the summer term with Dragons' Den star Theo Paphitis.

All teams had to give a presentation which included information on the design of their activity, promotional material that was included in the advert and contents of a email to their target company.

The winning was from 7OR and their idea was " design with Disney" where children would have to design their own Disney story and produce a book. It was a very interesting concept and put across in a very confident way.
The team was made up of Erin bibby, Rosie Meaney, Siara Robinson, Beth Lewis, Ciara Sutton and Amelia Lonsdale

Click here to view photos