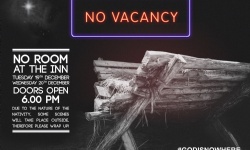 We would like to invite you to this year's SJP Nativity called "No room at the Inn."
As with our previous Nativity productions, scenes will take place in different areas of the College and several scenes will be outside. Please be prepared for winter weather and bring suitable coats, gloves, hats and torches! There will be lots of movement both indoors and outdoors, so this event may not be suitable for anyone with restricted mobility.
The SJP Nativity will be performed on Tuesday 19th December 2017 and Wednesday 20th December. You are asked to arrive at 6.00pm for a 6.30pm start.
Tickets are available from the College Reception and will be £3.00 for adults, and £2.00 for concessions. Children must be accompanied by an adult.
We very much look forward to welcoming you to share in our celebration of the Christmas story.