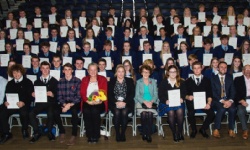 Our Duke of Edinburgh Award programme enjoyed a fantastic awards evening with special guest Gill Burns, MBE, and former Captain of England's Women's Rugby Team. During the evening we celebrated the achievements of 134 of our pupils by awarding them with this highly prestigious award at Bronze, Silver and Gold level.
The evening had a wonderful feeling of friendship, family and success about it. This was due to pupils being surrounded by friends and supported by family. Gill Burns congratulated our pupils on their achievements, whilst challenging them to always think about the next step. This message was backed up by Gill's stories of her incredible career in Women's Rugby – a tremendous message of accomplishment and challenge.
Those who know about the Duke of Edinburgh Award know that it is not easy at any level. It is a challenge, one which all of our pupils not only attempted but accomplished. It is wonderful to hear the many stories our pupils have about their expeditions as these indicate that the Duke of Edinburgh Award is a real experience with memories that will last beyond their time at school.
Due to the achievements of our pupils, this was the first of two scheduled awards evenings which will take place this academic year. This is a testament to the commitment and enthusiasm our pupils show towards this challenging yet invaluable award. Well done everybody!