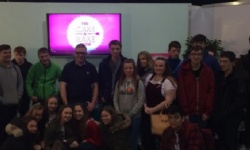 Food and Nutrition pupils visit the Cake and Bake Show!
On Friday 10th November Year 11, 12 and 13 Food and Nutrition pupils attended the Cake and Bake Show in Manchester
This was a wonderful and enjoyable opportunity for the pupils to enhance their presentation skills and meet to specialists in the field. Pupils viewed a Baking Academy session from Juliet Sear on how to decorate a tiered Unicorn cake and also watched super theatre showcases from Candice Brown and the Baker Brothers.
Students were able to witness the skills in action as cake decorators and professional bakers showcased their skills and work. One particular highlight was the Narnia scene made entirely from cake.
There were hundreds of professionals in the building for pupils to talk to and learn from, and many comments were made about how polite and mature our young people were. Everyone who attended thoroughly enjoyed the day and it was a huge success. Many of the pupils are already excited about a potential visit again next year!