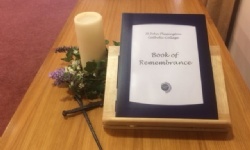 During the month of November we especially remember those who have died, from our families and among our friends.
We are grateful to them for the faith and for the gift of family they have passed on to us or the friendship they have given to us. We thank God for all those who have touched our hearts and our lives.
REMEMBERING THOSE WHO HAVE GONE BEFORE US
The most beautiful memorial we can give to those we love is a living memory nourished by prayer, gratitude and ever-deepening affection.
During November our College Book of Remembrance will be displaced in the College Atrium.