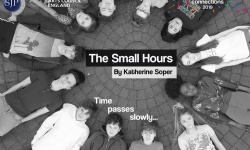 Earlier this year, the Performing Arts department was accepted onto the National Theatre Connections Festival. The programme provides schools, colleges and youth groups with the opportunity to rehearse and present a new play written by a professional writer and to perform at a home venue and at a regional theatre. We are currently in the process of rehearsing the play, The Small Hours by Katherine Soper and are very excited to be performing at SJP next week and subsequently at Home Theatre, Manchester in April.
A National Theatre representative will come and see the performance on Tuesday and there is a chance we will be invited to perform at the National in London.
The play we have been assigned is a straight drama and involves twelve fantastic actors from Years 9 - 13. The company has been working very hard on the performance since January and we would really appreciate a good audience for the performers next week.
The dates are Tuesday 19th March and Wednesday 20th March and the performances will start at 6:00pm. The show will run for no longer than an hour. Tickets are available at Reception for £2.00 each. If you are able to spare the time to see the play, please come along!