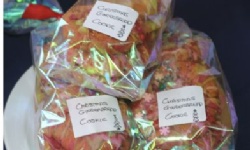 18 pupils from various year groups brought to school their delicious and artistic creations for the Bake Off competition this year. The winter theme shone through the food department all day as staff and sixth formers judged each showstopper on taste, texture and appearance. It was overwhelming to see the efforts of so many of our talented pupils as each will receive a token for contributing to such a successful school event. Congratulations are sent to all our winners and their awards will be delivered during assemblies next week.
Overall Winner Kian Davies 7VP – Well done for being our most voted for product your flavours and light cake impressed every one of our judges!
Winners for Best Taste Louis and Archie McCarthy – Well done for working as a team and creating this delicious cake boys!
Appearance winner had to be awarded to Katie Clark 7MT for this outstanding creation of a Christmas tree. Well Done!
(Our award for best texture goes to Cameron Pierce 10MK for these amazing gingerbread cookies, decorated and presented beautifully and with a crunchy texture, these were a huge hit!
Finally, our outstanding effort award goes to Natalie Ryan 8BH and Harveer Kaur 7TL for these delicious and well produced pastry products – Well done girls!