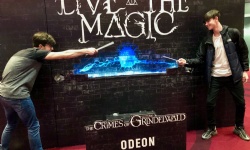 On Thursday the 22ndof November, 60 SJP and SMCC pupils embarked on an exciting media adventure to London.
After an early start we headed straight to Warner Bros. Studios where all of the Harry Potter films and also the Fantastic Beasts franchise were made. Warner Bros. Studios was a brilliant and exciting example of "behind the scenes" action and illuminated the brilliance of the British film industry to a captivated audience. Please do look at the images that we have taken: in terms of enhancing our media skills, there was much here to learn!
After that we returned to our designated hostel with brilliant views of the River Thames and The Shard: we were lucky to see the sights and sounds that our capital has to offer!
We had a hearty cooked breakfast on Friday and we headed out on a long walk up and down the Thames. It was wonderful just to experience and absorb being in London. At the end of our walk we arrived at the James Bond film exhibition where we saw the real vehicles and gadgets used in the critically acclaimed and much loved British classics.
After the exhibition we walked down the street to the wonderful and bustling Covent Garden, which had any shop you could possibly imagine hidden within it. After a meal at Pizza Express we set off to watch the timeless and magical Wicked at the Apollo Victoria theatre. Again we were able to spot aspects that we cover within our course taking place before our very eyes.
For our final day we loaded up our bags and headed to the BFI IMAX to watch the brand new "Fantastic Beasts: The Crimes of Grindelwald." The cinema was absolutely enormous and instantly captivated us. It really got us into the mood to watch an epic movie with constant surround sound and crisp visuals (even the adverts were fun to watch!). After the film and a short coach tour of some more London sights, including the Buckingham Palace, we made on our way back home, tired but fulfilled, enthused and wishing we could do it all over again!
Jack B.