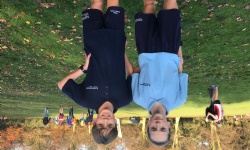 On Saturday morning SJP attended the 2nd Cross Country meet of the season. In cold conditions, SJP once again proved to be a force as the team raced their way to great results.
Highlights of the morning saw Keira Brady Jones win gold in the Year 9 girls race and her twin brother Ethan achieve 4th in his race. AdohanCorrr in the boys Year 8 race achieved a brilliant 13th place is a very competitive field
Well done to all runners.
If you are interested in your child getting involved in cross country, please contact Mr Nunnery