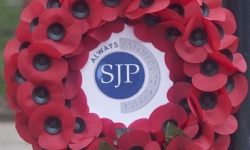 During the month of November, we especially remember those who have died, from our families and among our friends. We are grateful to them for the faith and for the gift of family they have passed on to us or the friendship they have given to us. We thank God for all those who have touched our hearts and our lives.
Remembering those who have lost their lives in the service of their country
On an overcast morning last Friday 9th November 2018, the whole of the SJP college family gathered together to show their respect for those who have died in service of the country in the armed forces. Fifteen hundred students, as well as all the members of Staff, stood together on the college yard in an Act of Remembrance during which a two-minute silence was observed, following the sounding of the Last Post by Mr Austin a former member of Staff.
It was a wonderful reflection of the values upon which our community is founded.
undefined