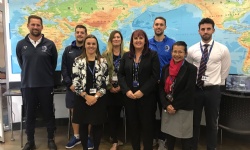 At SJP, it is not only the pupils who are put through their paces to achieve! Here, the staff are also encouraged to develop further skills for themselves by taking part in a whole range of extra continued professional development programmes.
As an outstanding school and a teaching school, it is vital we are able to offer our staff the ability to develop school strategies, whether it be at middle management level or Senior teacher level.
For this reason, we have our own staff who are trained in facilitating the courses NPQML and NPQSL. These qualifications are designed to prepare teachers for more responsibility in their carers, dependant on their career stage.
We are delighted to announce that out of the 25 staff who completed this qualification, an amazing 25 passed! This is an incredible achievement and reflects the commitment and diligence of teachers within SJP.
We believe in instilling a love of learning and the importance of lifelong learning in all of our students. We are, therefore, delighted to see our staff leading by example and gaining the successes they also deserve.
A huge congratulations to the following:
NPQML:
Catherina Carragher
Sarah Moore
Lynsey Stearne
Michaela McCarthy
Srirat Arthur
Kirsty Bowden
Diane Walker-Cairns
Sam Chesters
Rebecca Smart
Chris Courtnage
Kevin Lysaght
Heather Moore
Lindsey Phelps
Jon Sewell
Jen Richards
Michael Harris
Greg Hughes
NPQSL:
Fred Chatwin
Emma Hughes
Byron Bowden-Graham
Rose Austin
Brendan Nunnery
Jo Kaloumenos
Nadia Kaye
Kim Penny