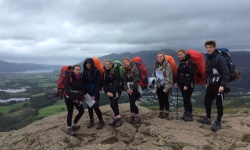 Last week saw 20 of our pupils begin the final chapter of their DofE Award as they successfully completed their Gold practice expedition. It is wonderful to see the journey these pupils have made from completing Bronze in Year 9, Silver in Year 11 and now Gold in Year 13. It is a testament to their character and resilience as they completed a challenging four-day expedition.
The expedition began on a wet Tuesday morning as pupils travelled by minibus to the north of Bassenthwaite Lake in the Lake District. Pupils completed a mid-length walk south to Keswick where they reached camp just before 19.00. Pupils demonstrated excellent camp craft and teamwork as they helped each other set camp in the fading light.
The second day saw pupils travel East over Latrigg Fell before the long walk through St John's in the Vale. All pupils demonstrated exceptional navigational skills during the second day as they navigated through towns, fells and vales.
The third day saw pupils travel south following the contours of Derwent Water in the Borrowdale Valley. Pupils worked hard to climb Walla Crag but were rewarded with stunning views over both Derwent Water and Bassenthwaite Lake. Pupils really motivated each other on what was an exhausting penultimate day.
The final day began with an early depart and heavy rain. This did not deter pupils from completing their final walk which took them north to arrive back in Keswick for early afternoon.
I am so very proud of each and every one of the pupils that completed this expedition. It is a pleasure to support pupils who are so independent, polite and resilient. I look forward to supporting them on their qualifying expedition in three weeks.