22/7/15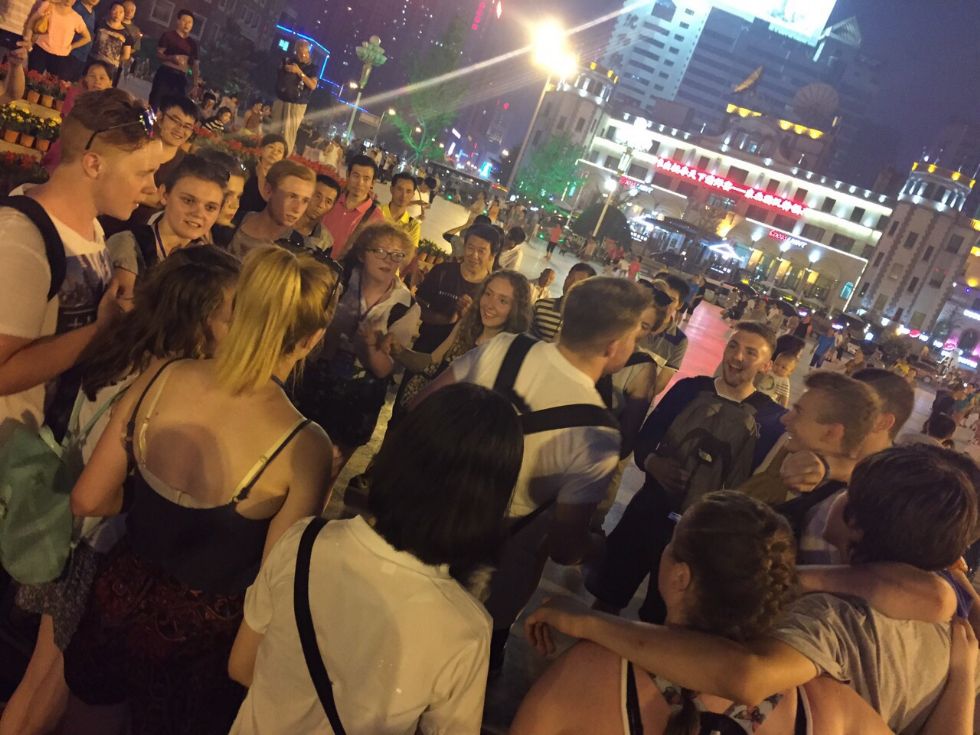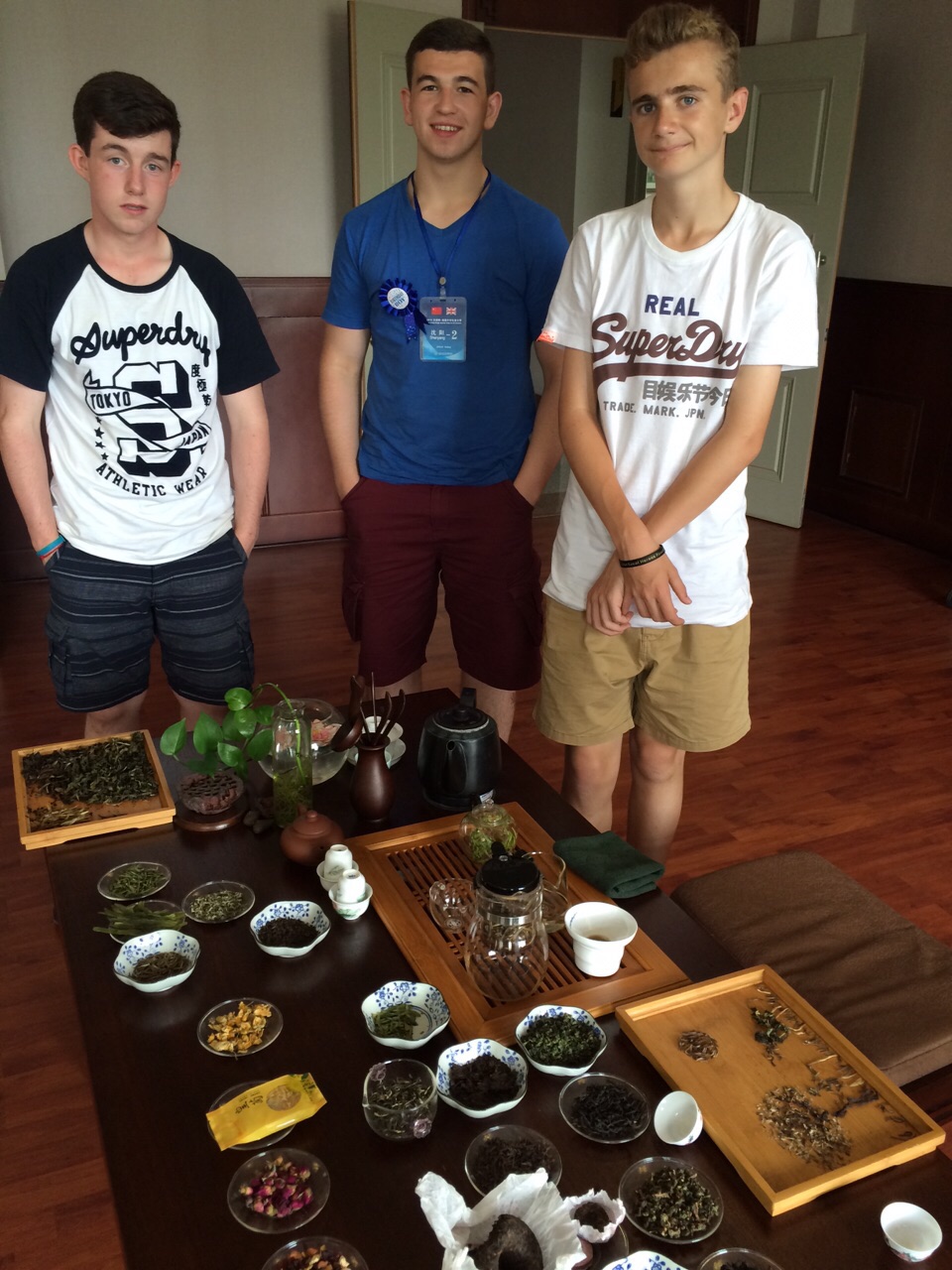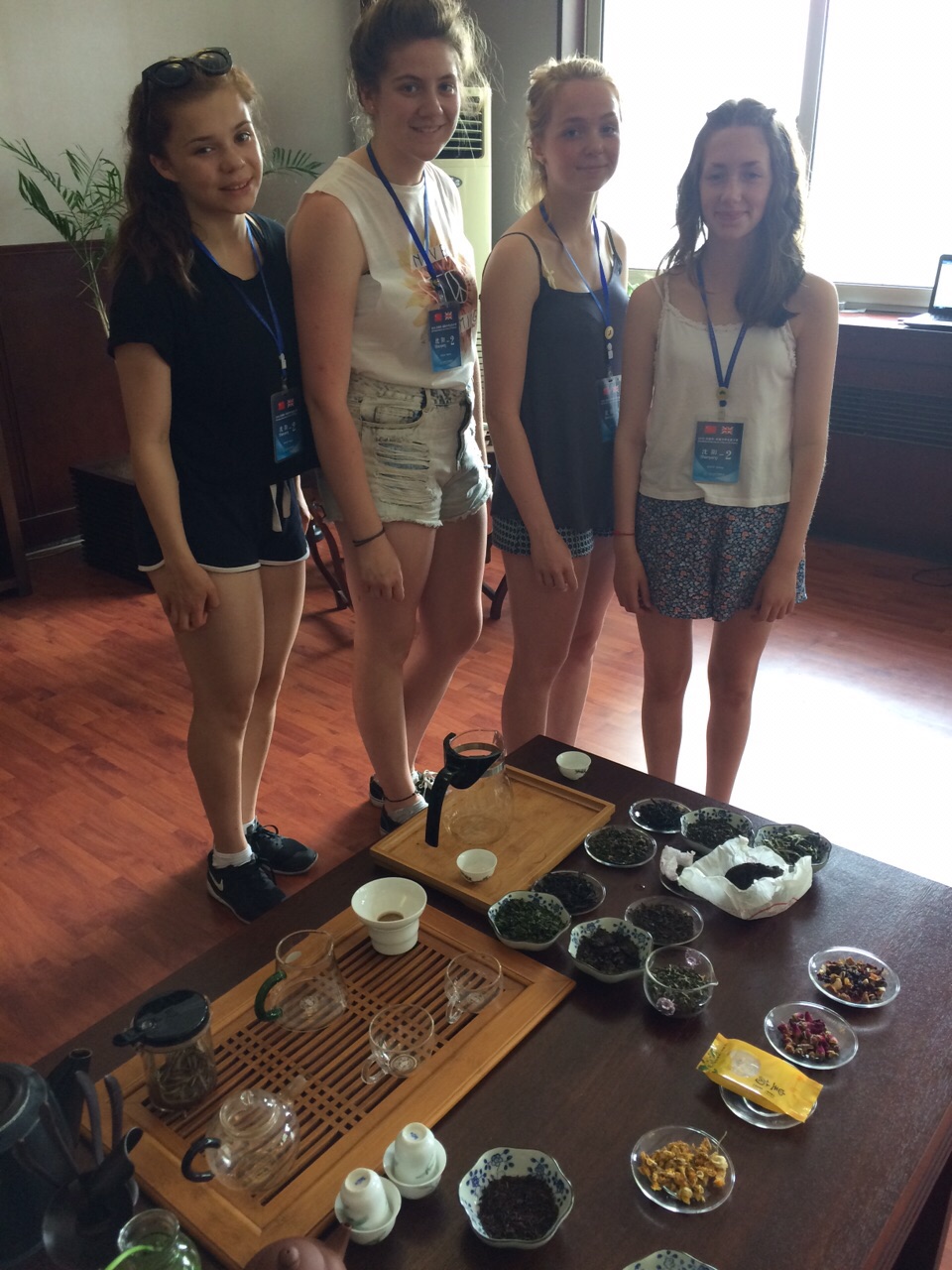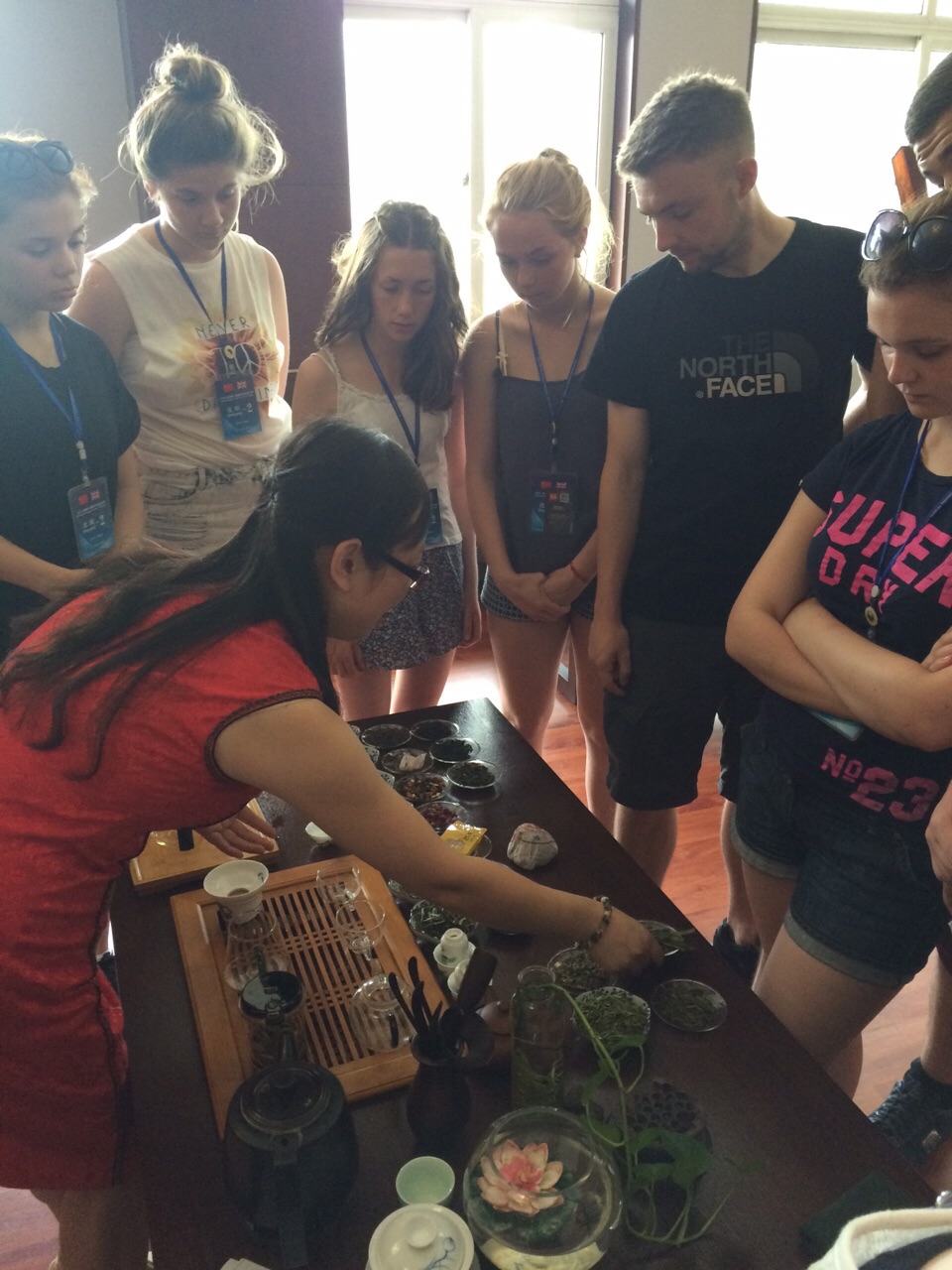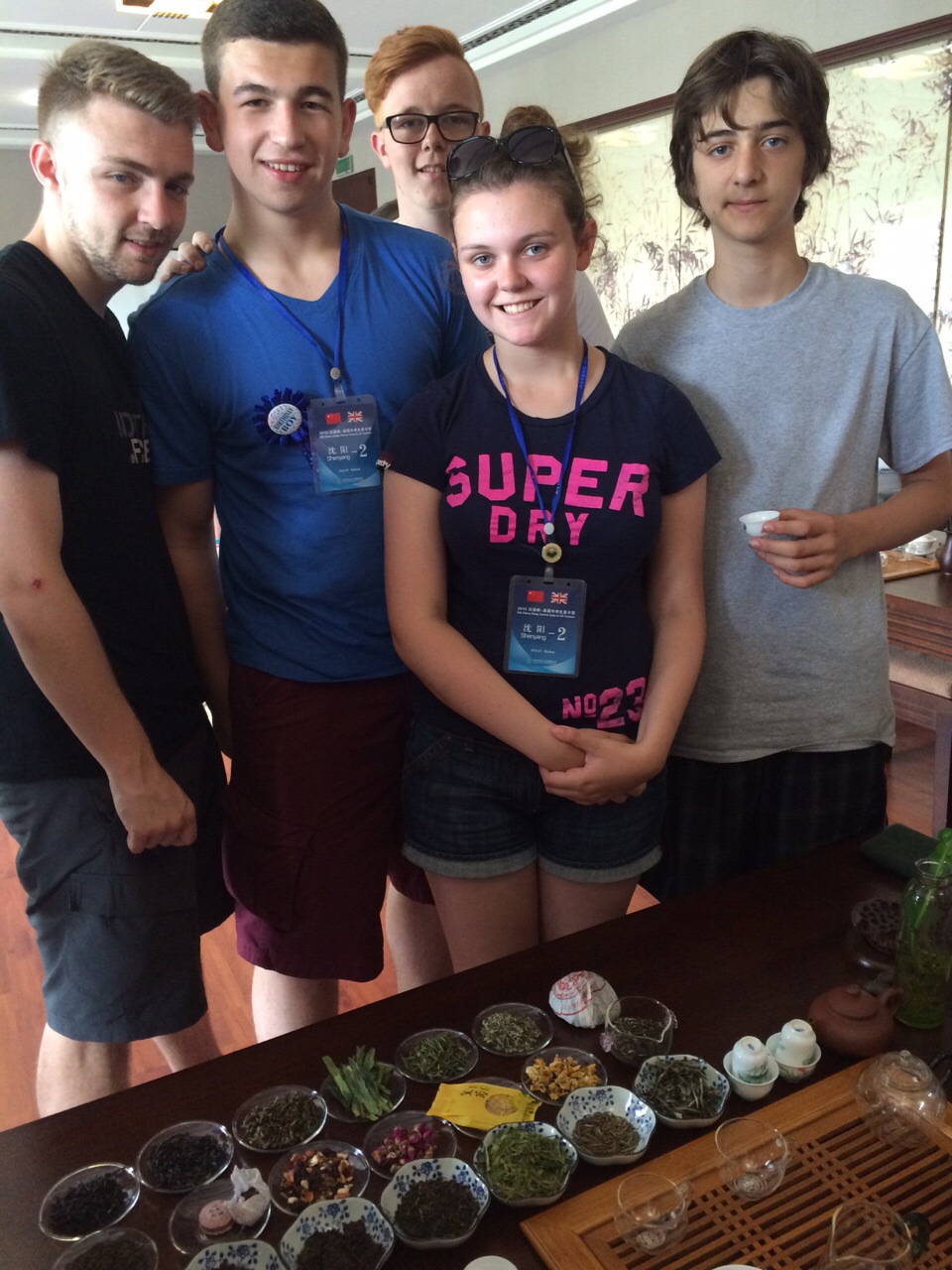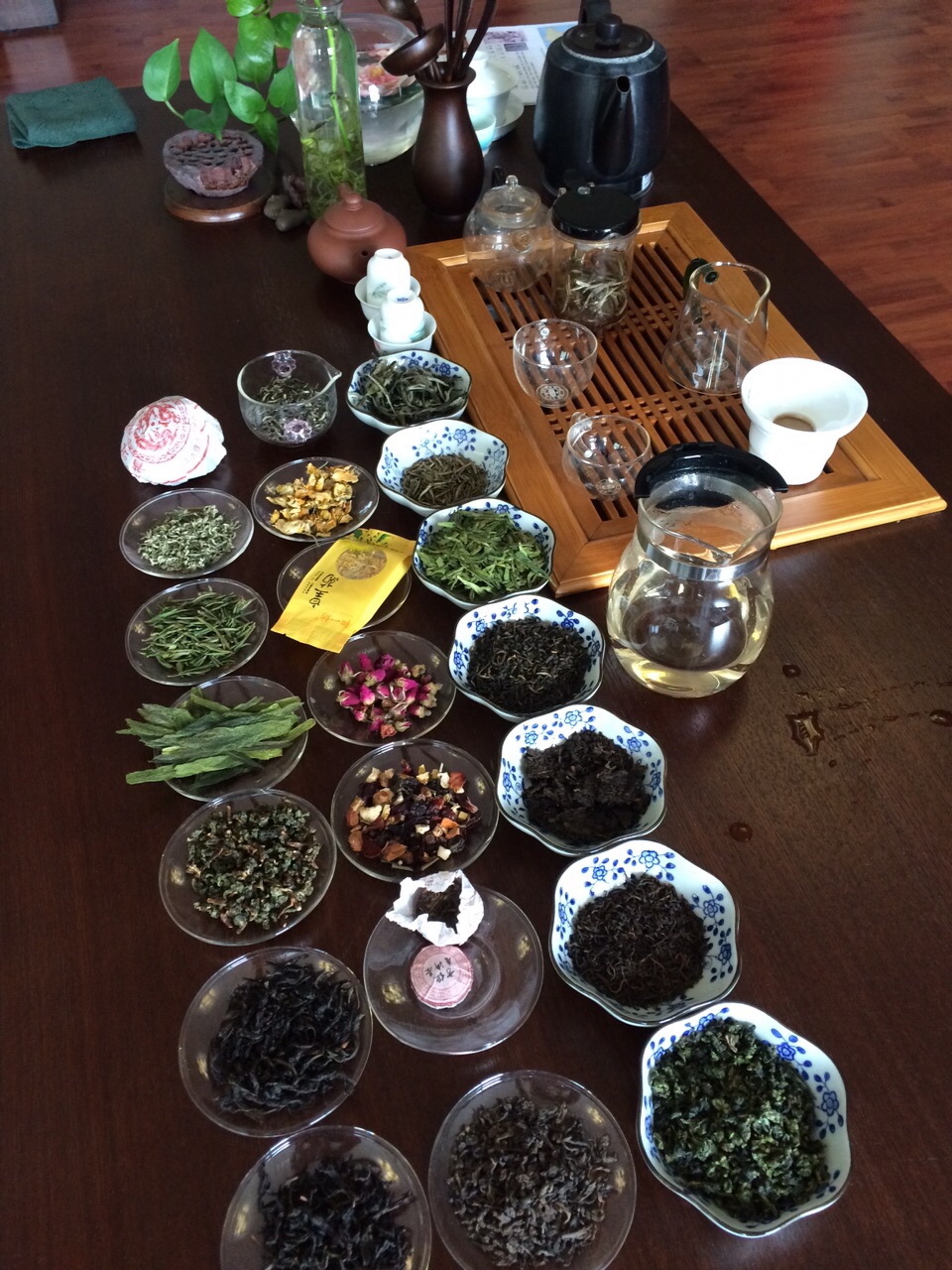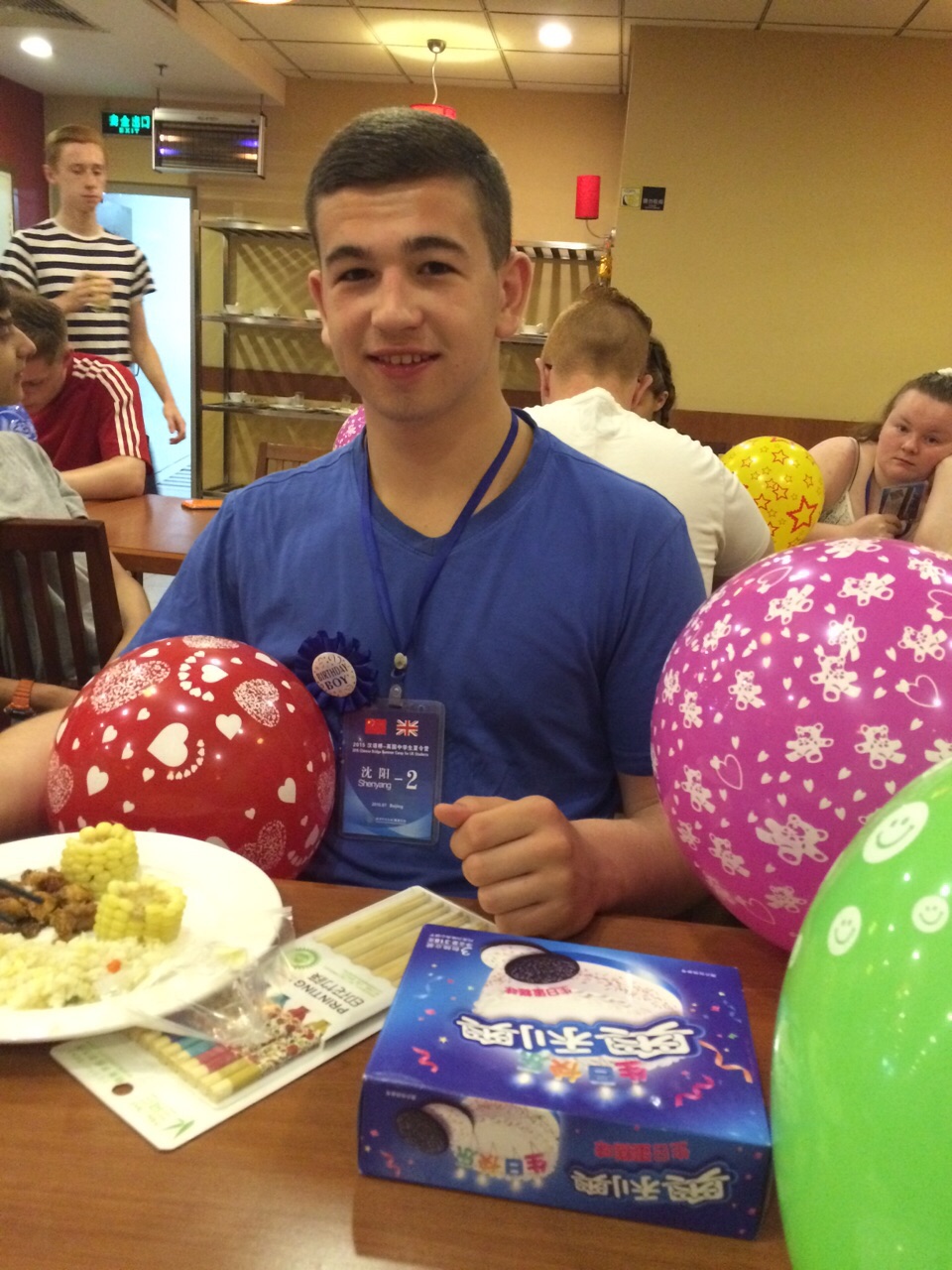 The day began slightly differently today as everyone surprised Joe Shields at breakfast for his birthday. He was given a lovely set of multi coloured chop sticks, balloons, birthday cake Oreos and a slice of cheese! We then went to school to commence the day with our usual Chinese lesson in which we learnt the basics that we need to write a paragraph about ourselves including details like where we have been and what we enjoy.

After short break we had our first tea art lesson. This was more formal than making a simple brew at home. We learnt how to sit, pour tea, move objects and say thank you in the correct, traditional manner.

For the second time, Joe was surprised but this time with a beautiful cheesecake at lunchtime and everyone singing happy birthday. Feeling refreshed, we began our second Kung Fu lesson. After previously learning the moves that we would need for the upcoming show, effort levels were exceedingly high from all while we refined our martial arts abilities.

After our Kung Fu lesson we had a quick break then went to the music classroom for rehearsal for our closing ceremony. We had to learn a dance routine while five of us have to play instruments to the music. We then had one of our favourite parts of the day, free time at school. Some of us played touch rugby and basketball with others opting to relax.

Once we arrived back at the hotel, we had ten minutes to run upstairs to get ready for our evening activity. Once we were all ready we made our way for the second time to the square. The square is always very lively with many people dancing, doing yoga and sport around the huge statue of Chairman Mao. When we arrived we were given the challenge to distract the crowd away from the break dancers. We were all up for the challenge and therefore took our Kung Fu positions with Mr Lysaght counting us in. By the second time we had gone through our routine we had a crowd of over a hundred people watching us. Taking this opportunity we all started to sing a variety of songs for our audience like songs from Frozen, Bohemian Rhapsody by Queen and Do Re Mi from the Sound of Music. The square was insane! We all defiantly felt like celebrities with many people taking our picture and videoing our performances.

After the square we went for a special family time for Joe's Birthday. Here we all sat down and discussed our highs whilst having drinks and snacks. Joe even got up and did a speech about having his 17th birthday in China.

After an eventful and spontaneous day, I reflected that it had been one of the best birthdays I've had. So many people made such a big effort to make it a great day. It was truly a day full of surprises and I would just like to thank Mrs Bedke, Miss Pritchard and Mr Lysaght for organising the day and also the rest of the group for making my birthday such a memorable day.

Blog written today by Beth and Joe S
---
21/7/15

Today started off bright and early as we began our morning with martial arts where we learnt a series of stances, this tested our core strength and it was so much fun! Our day continued with a music lesson where we were taught how to play a traditional Chinese flute, we even got to play a Chinese song.
In our daily Chinese lesson we were able to tell people about ourselves including our zodiac sign. As the day came to a close, students from all schools got involved in various sports activities such as hackie sack, skipping and an alternate version of dodgeball where instead of a ball, two people would have a beanbag and their objective would be to get the people in the middle out. As for the people in the middle you can guess what their objective was! Our day ended with a walk through the local park where we all danced to classical Chinese music. We also visited the local supermarket to buy snacks for our family & friends back home.

Tonight was so exciting as the sixth formers were invited to a local night food market by Joe's buddy Hally. The market was situated in a little alley which didn't look too appealing to start with but we were greeted by the locals and shown to a table where we ordered pigs foot, duck tongue, chicken heads, butterfly larvae, egg plant & chicken wings. They arrived on the table and we took turns to try each of the different foods making sure we got the pictures for evidence! When I tried the butterfly larvae it felt like I was taking part in a bush tucker trial because I had to chew that hard, Mr Lysaght decided it would be a good idea to record my reaction! We started to make our way back, but when we saw the fried squid it was a must that we stopped and took it in turns to try some. It was very tough at first but once we had broke it down it got a lot easier. After that we started to make our way back to the hotel, it was such an experience to be able to try these new things and we all thanked Joe's buddy for giving us such an amazing evening.

Blog today written by Ben, Nathan and Reece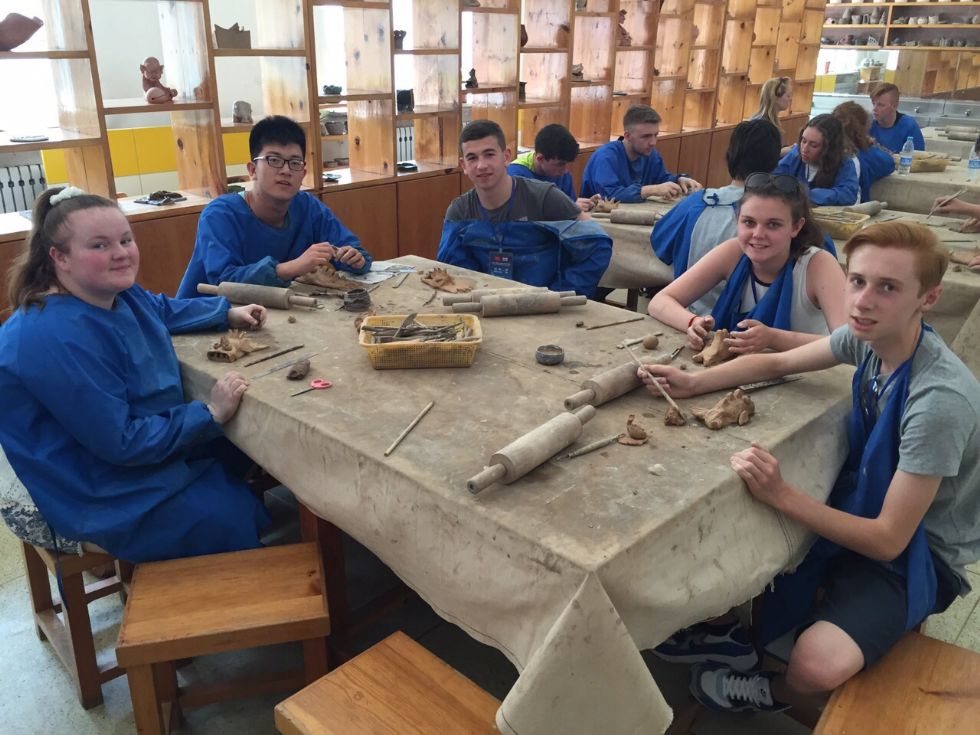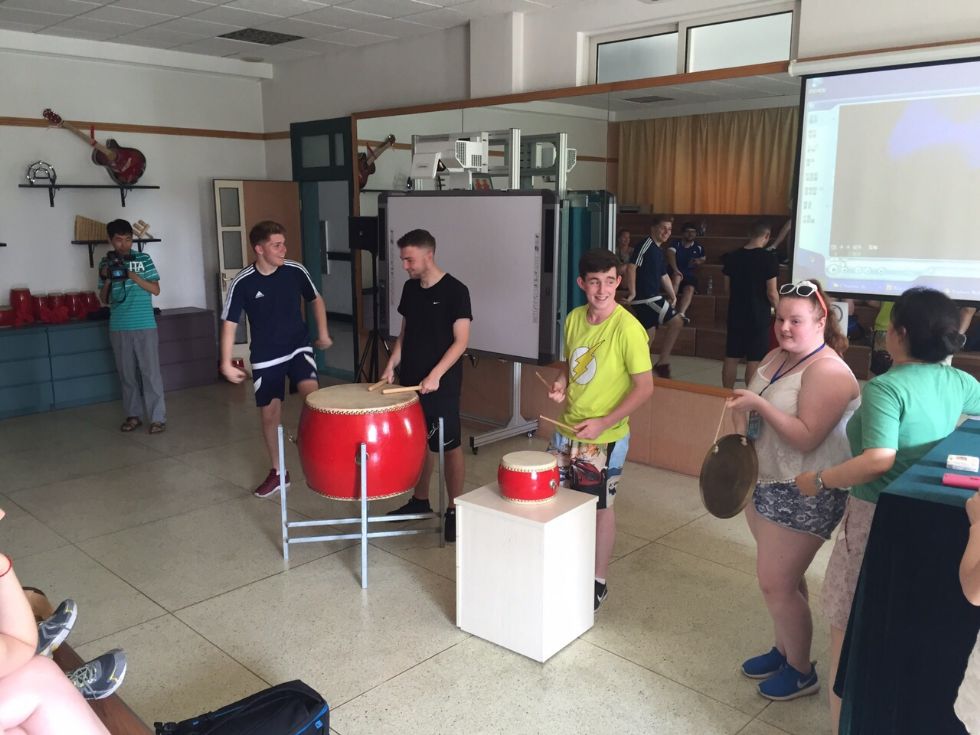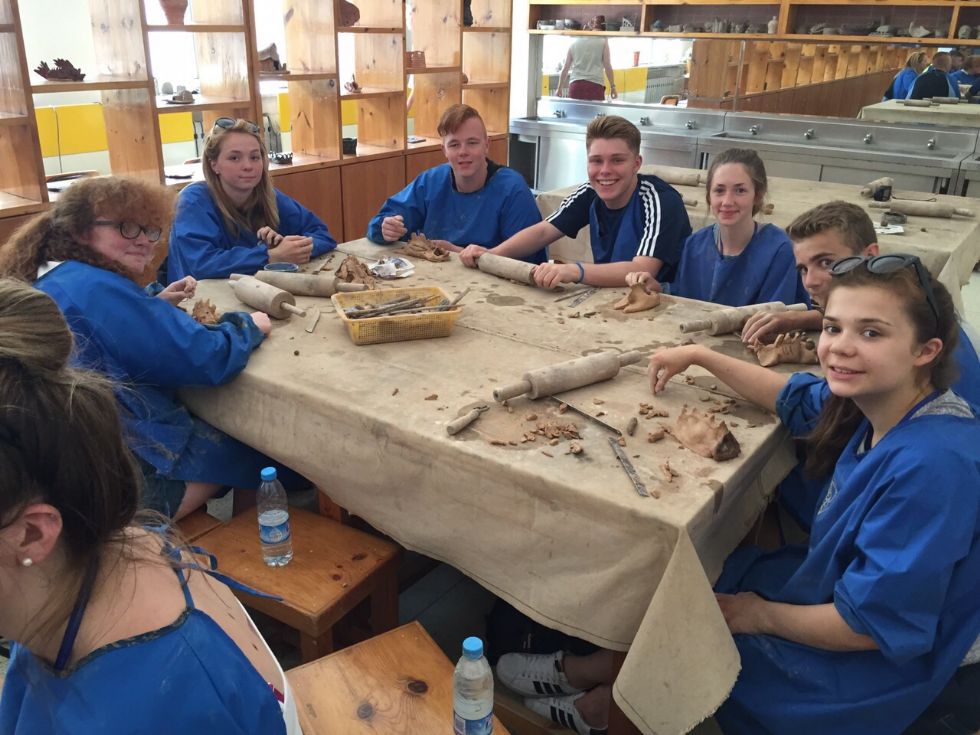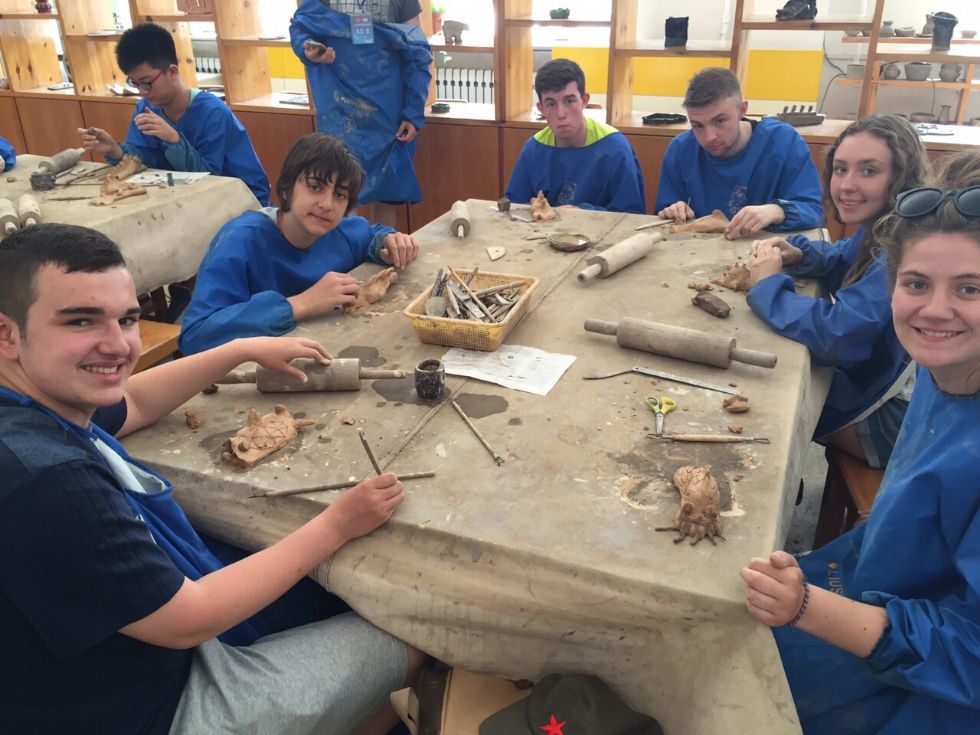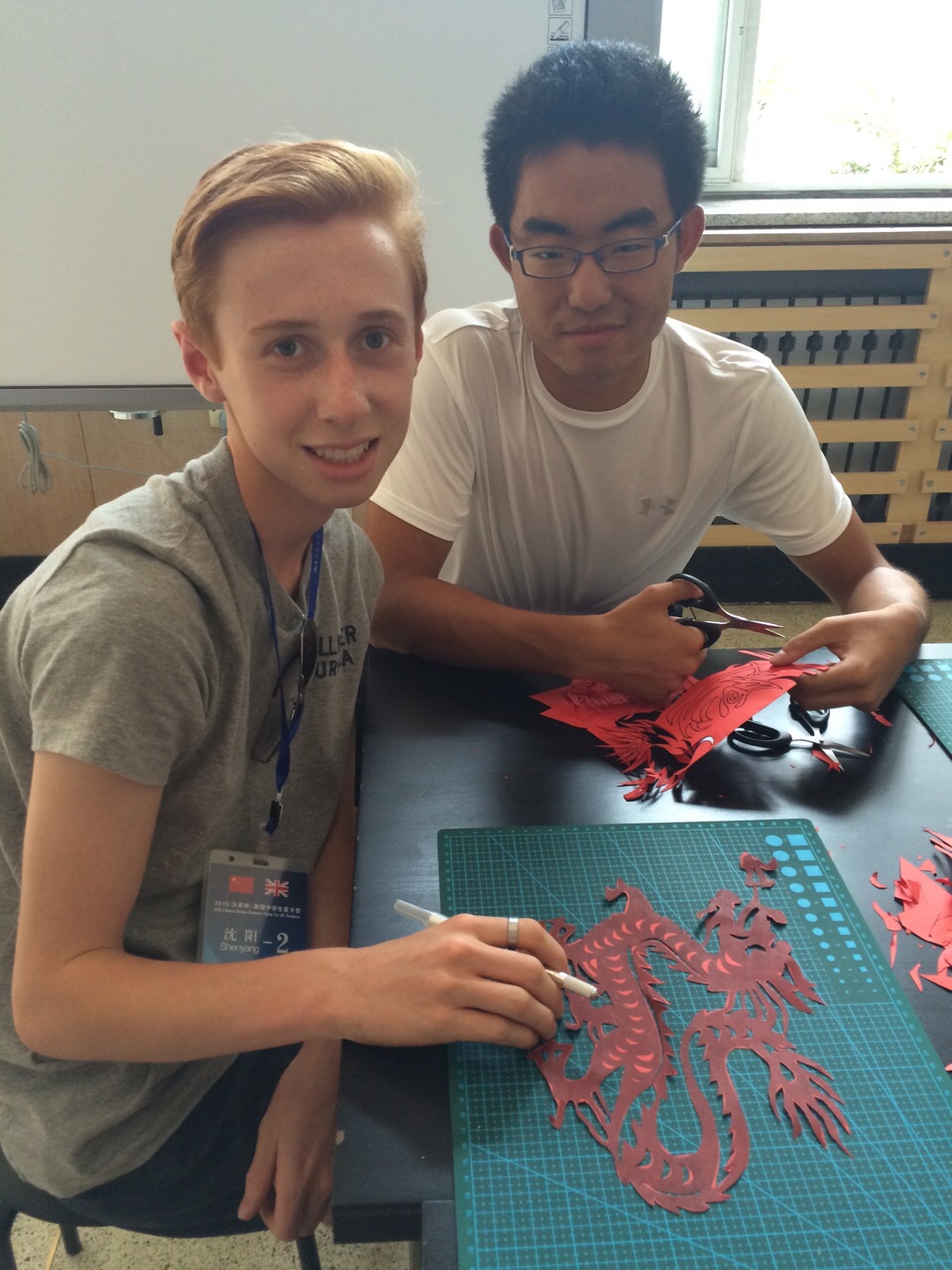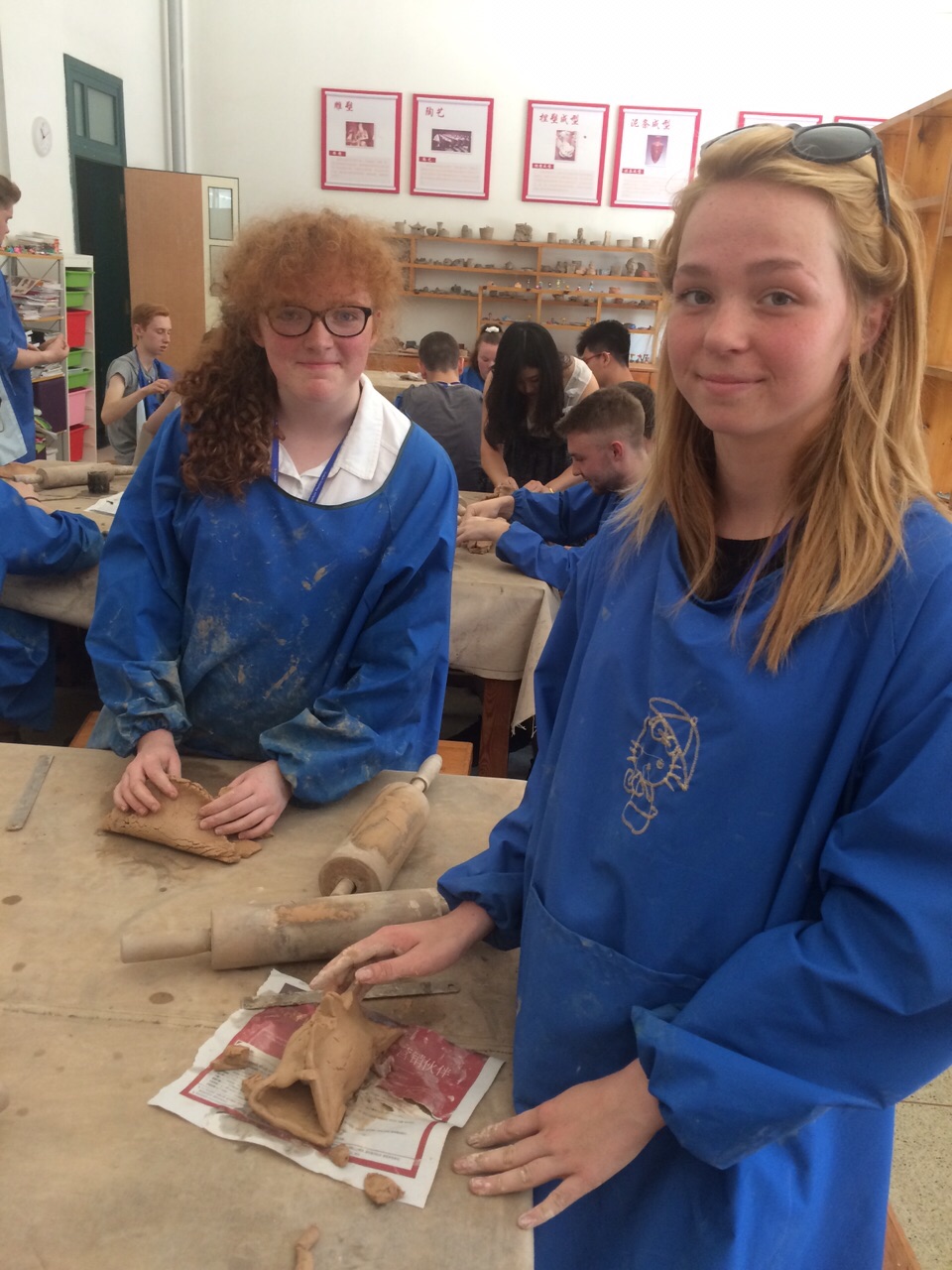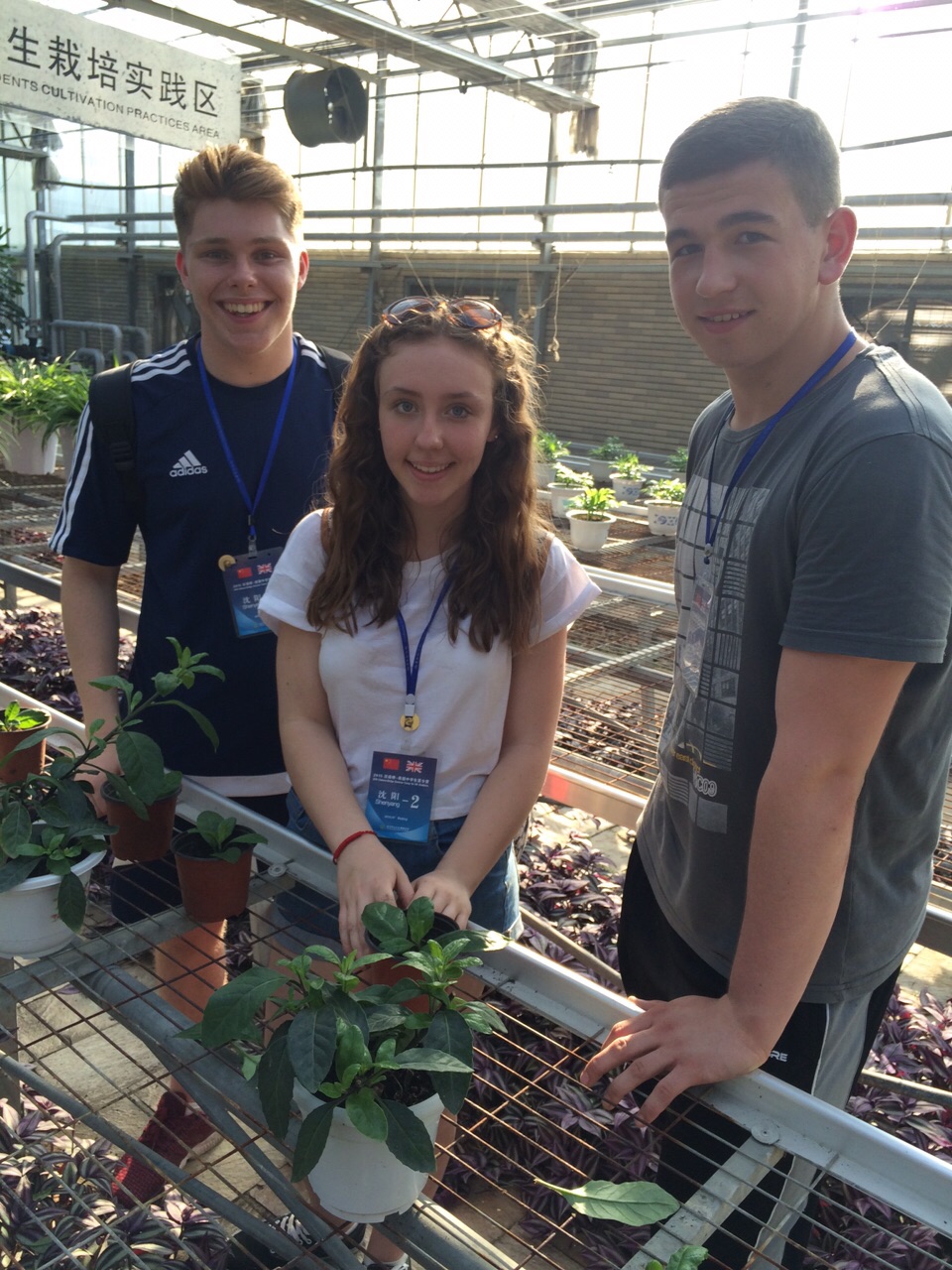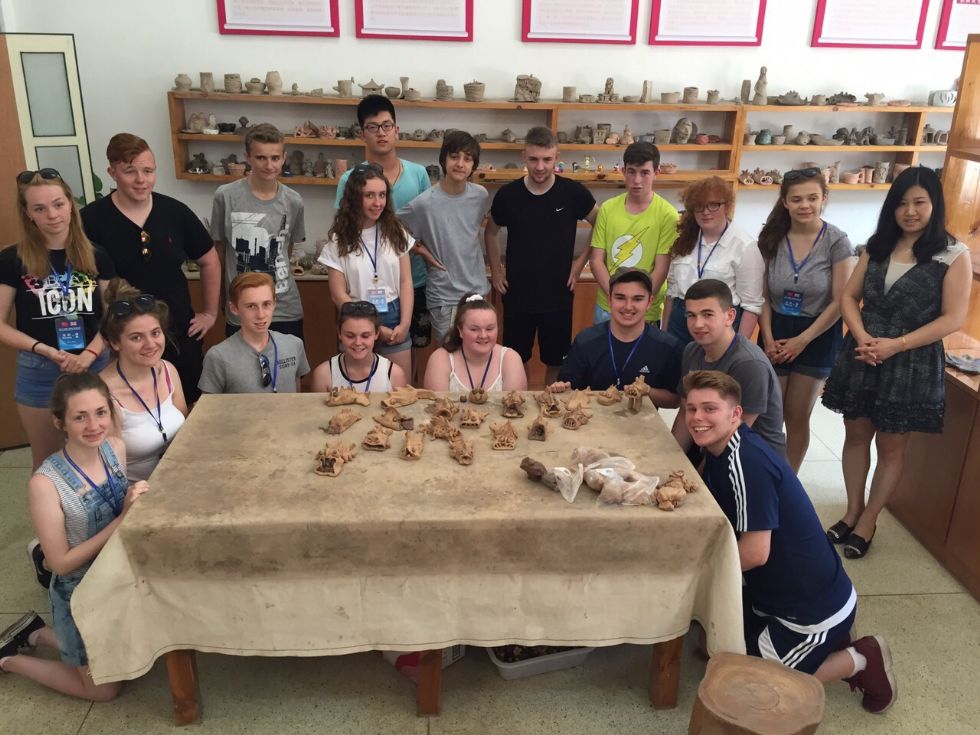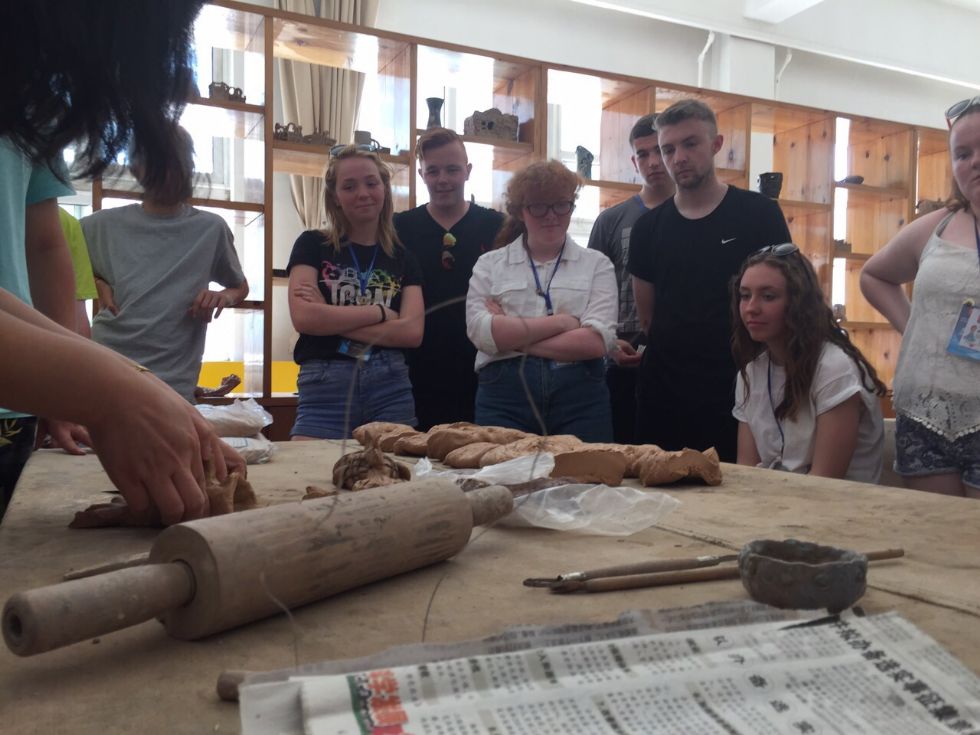 20/7/15
Commencing the day with an early 6.30 start after the weekend, we started off with Chinese lessons at North East Yucai School. We learnt how to tell the time along with coinciding activities such as waking up and watching T.V which proved difficult at first. Nevertheless we succeeded in the end.
After class, round 2 of netball got underway as when were given a break. Although I did not play myself this time, the competition was on under the morning Chinese sun.
We then got a chance to really get our hands dirty with pottery lessons in which our task was to construct a fish out of clay. This too was challenging as it required patience, attention and a steady hand however it was a challenge that was embraced positively and resulted in many happy faces. Even Hally (one of our buddies) joined in with great enthusiasm.

Lunch was more relaxing for most of us as we took to sitting in the shade and enjoying the serenity of the school's yards. Some were involved in football with pupils from the other schools as well.

A definite highlight for us all was the music lesson where we got an opportunity to play some traditional Chinese instruments and dance with our teachers including Amanda our home room teacher. This was not only fun but got the whole group laughing together in an activity which was out of some peoples' comfort zone. Then again for others it was their perfect "cup of tea" as Joe Owens put it.

Arguably the most difficult section of the day was the paper cutting. Here we had to use scissors and scalpels to carve out a template of traditional Chinese figures like tigers, dragons and butterflies, each with their own symbols and meanings. While some, Ben for example, thought it to be very relaxing it was definitely frustrating at times. On the other hand upon completion we were able to admire our work with pride. In addition it was very amusing for us to watch the teachers in competition to make the best cut out. The winner is yet to be confirmed!

We left the campus to go and visit the the school's very own Ecological Garden where we saw different types of nature including medicine plants. We were also given a chance to plant our own cuttings. To end the day at school we had an hour of sports including badminton, football, basketball, table tennis and rugby.

When we got back to the hotel we had family time which was as heart warming as ever and allowed us to reflect on the fantastic day we had experienced. We all felt good, especially when Connor's 'high of the day' was that his buddy was wearing a badge he had given to him as a gift.

Written today by Joe Shields.
---
19/7/15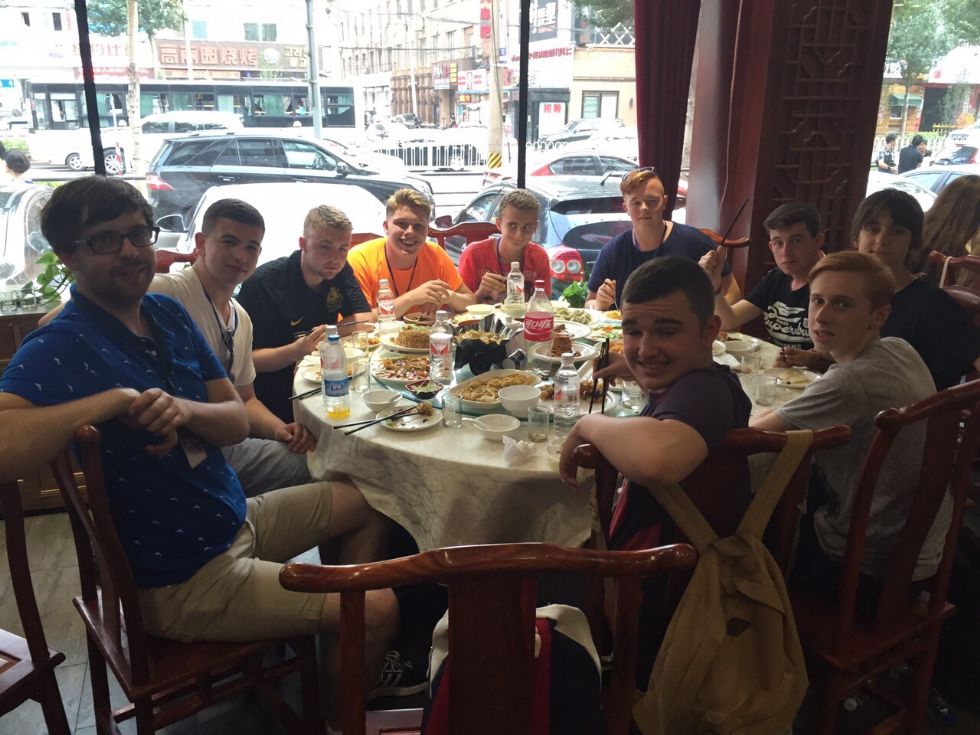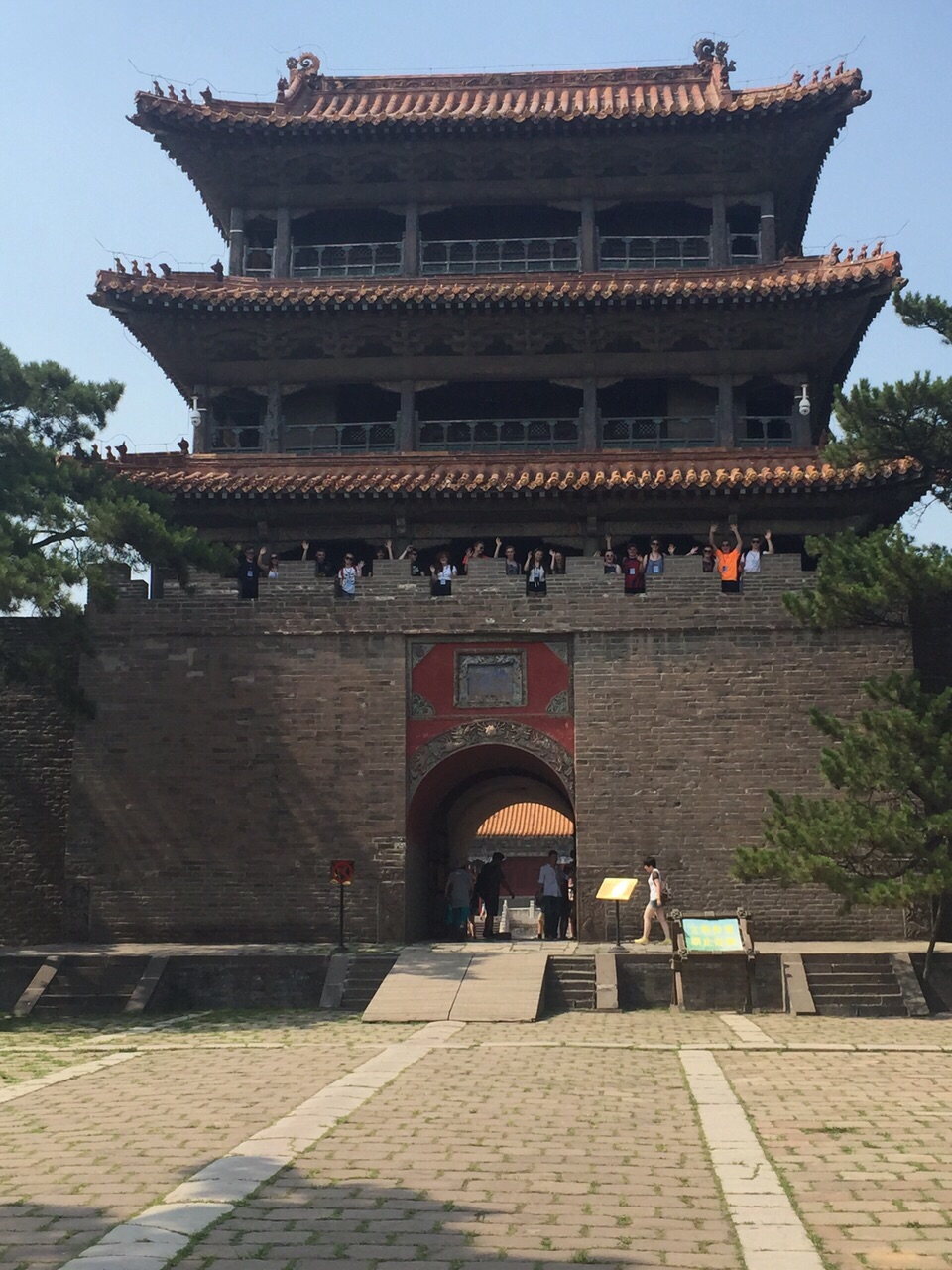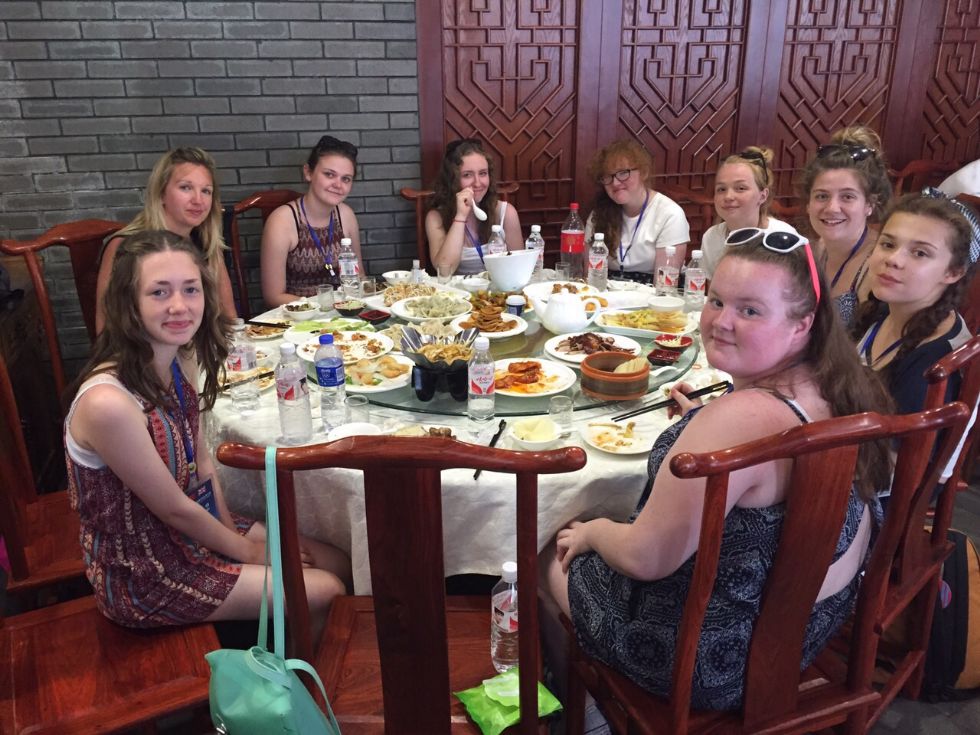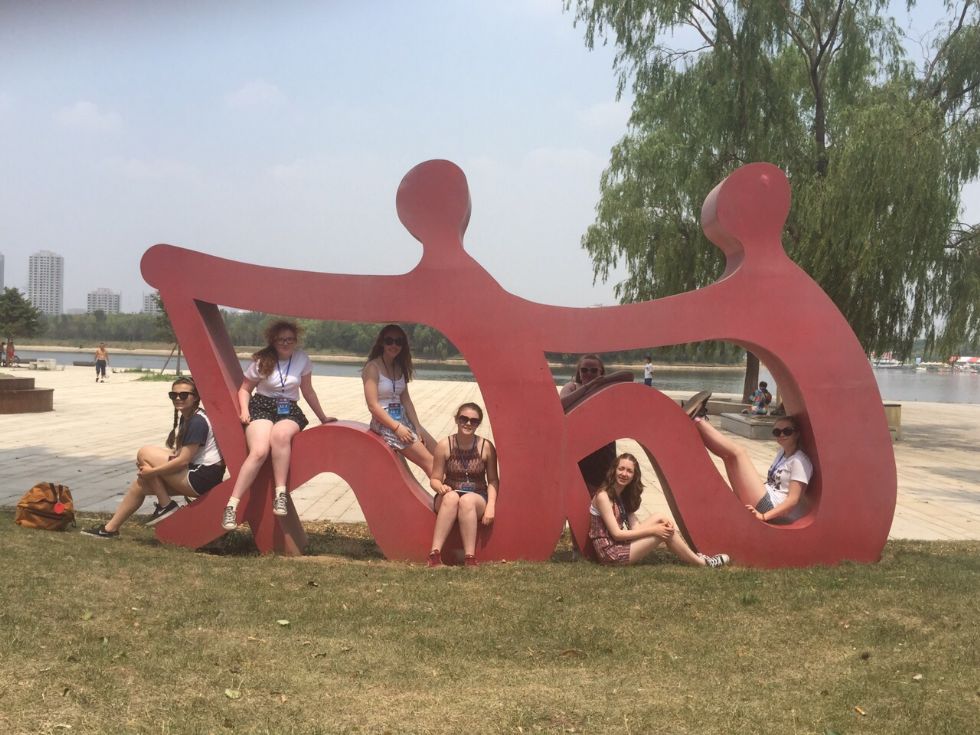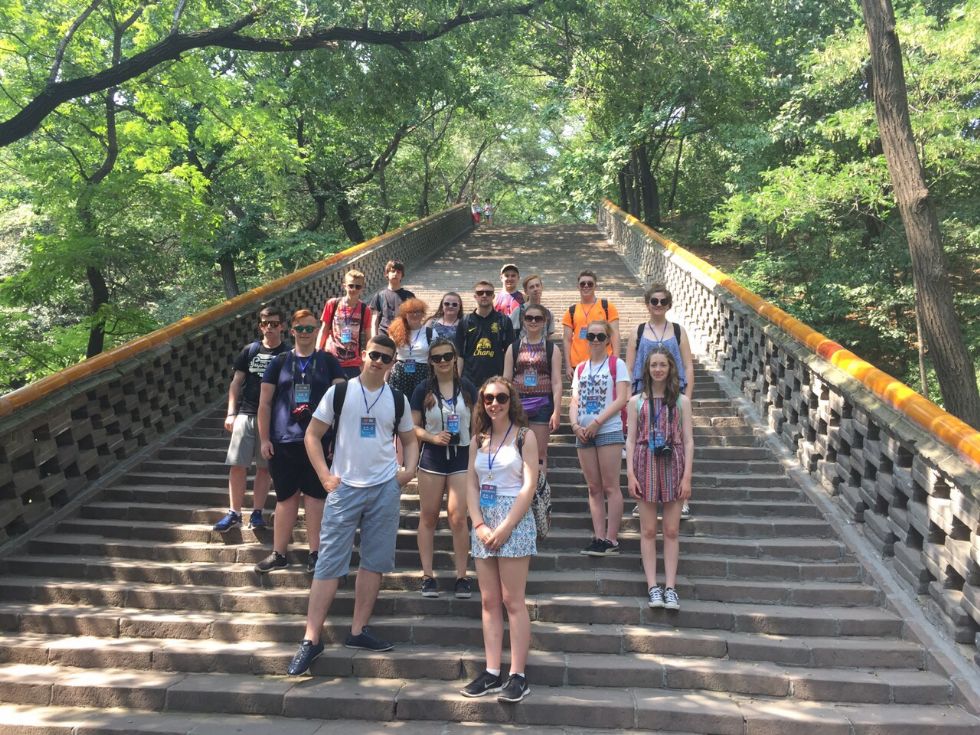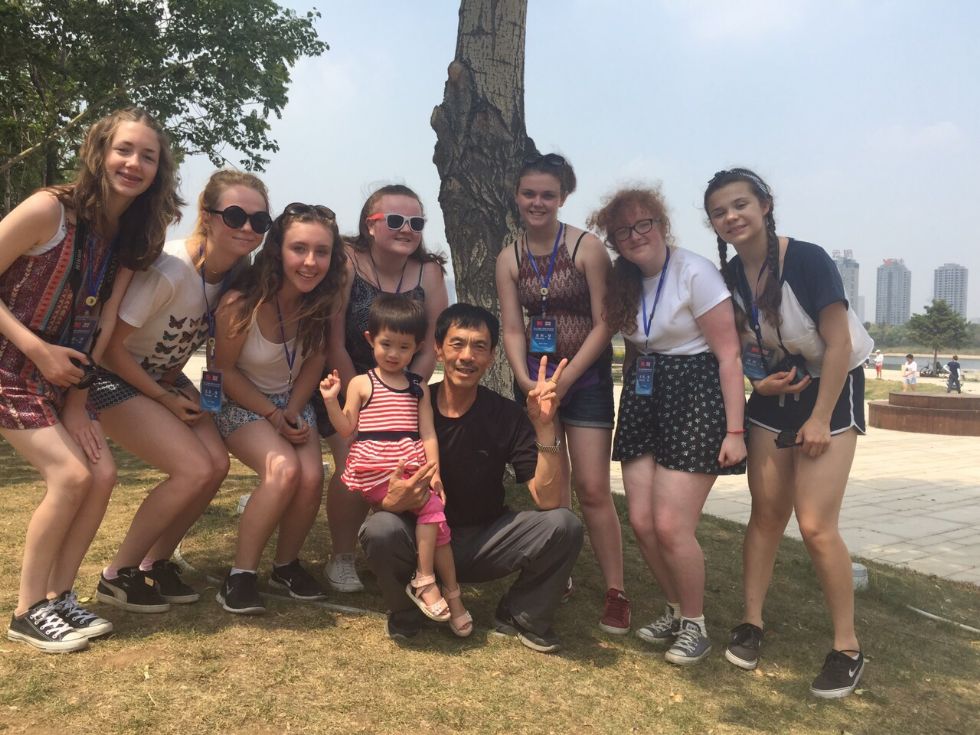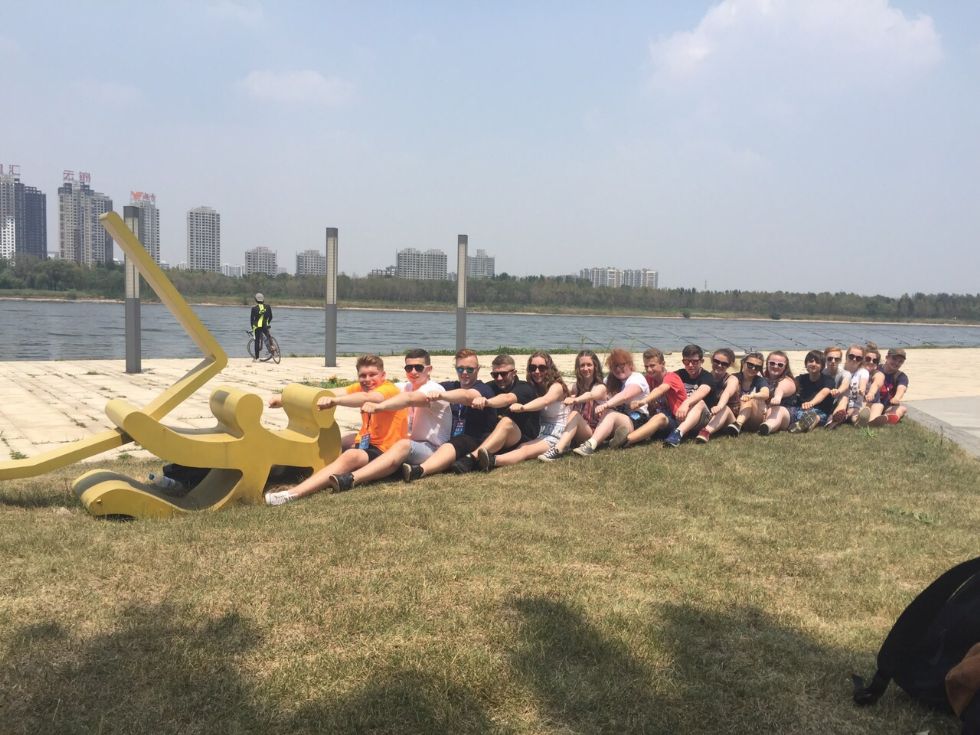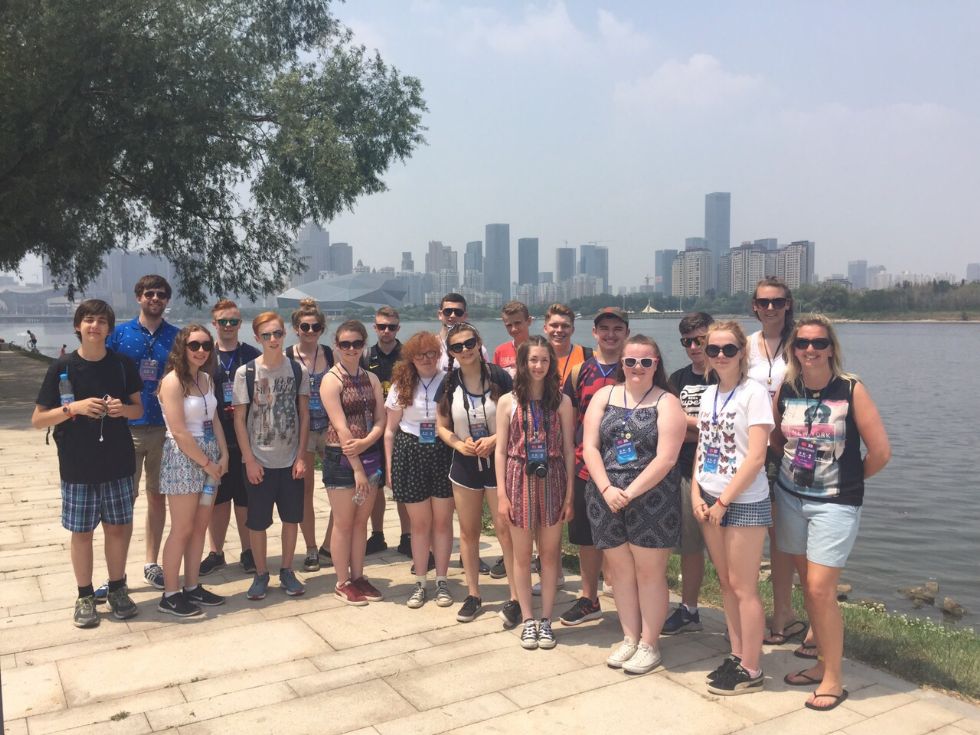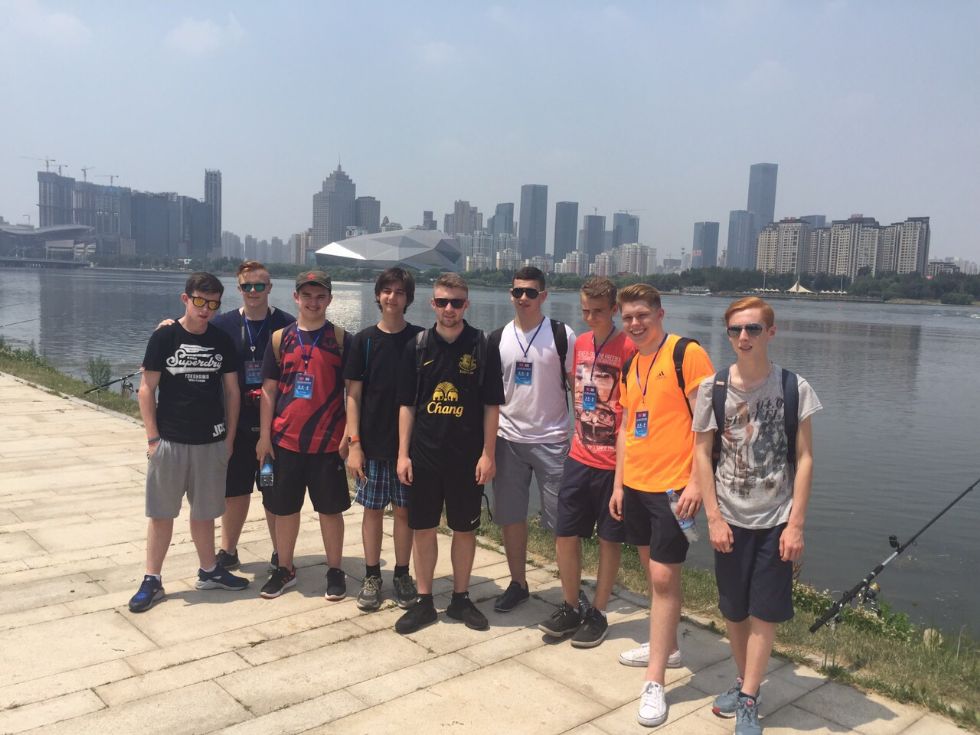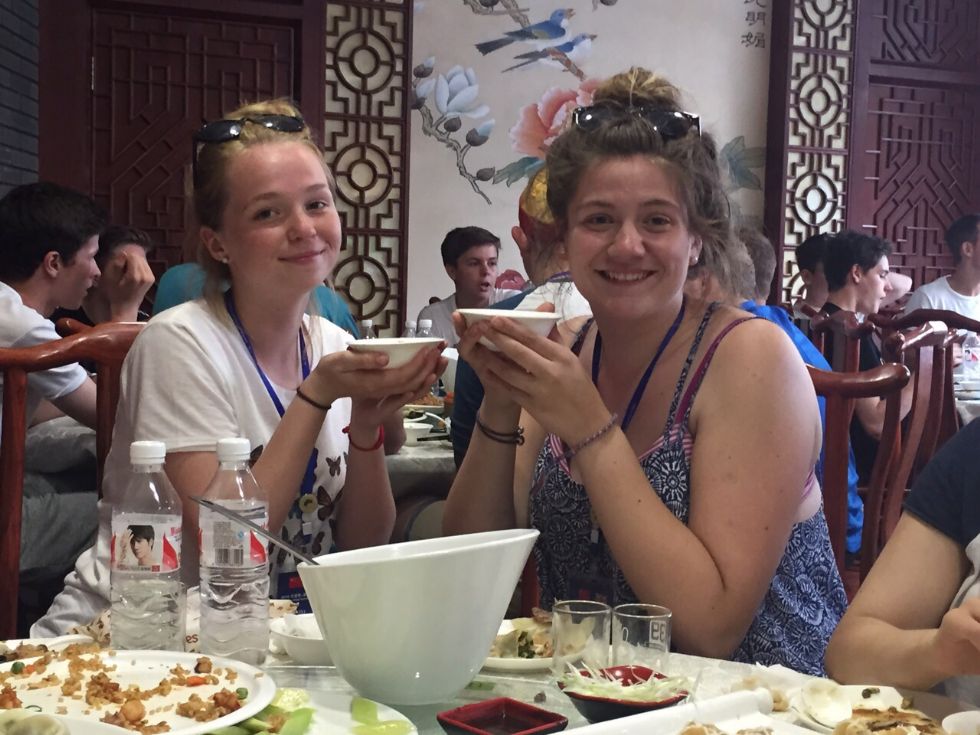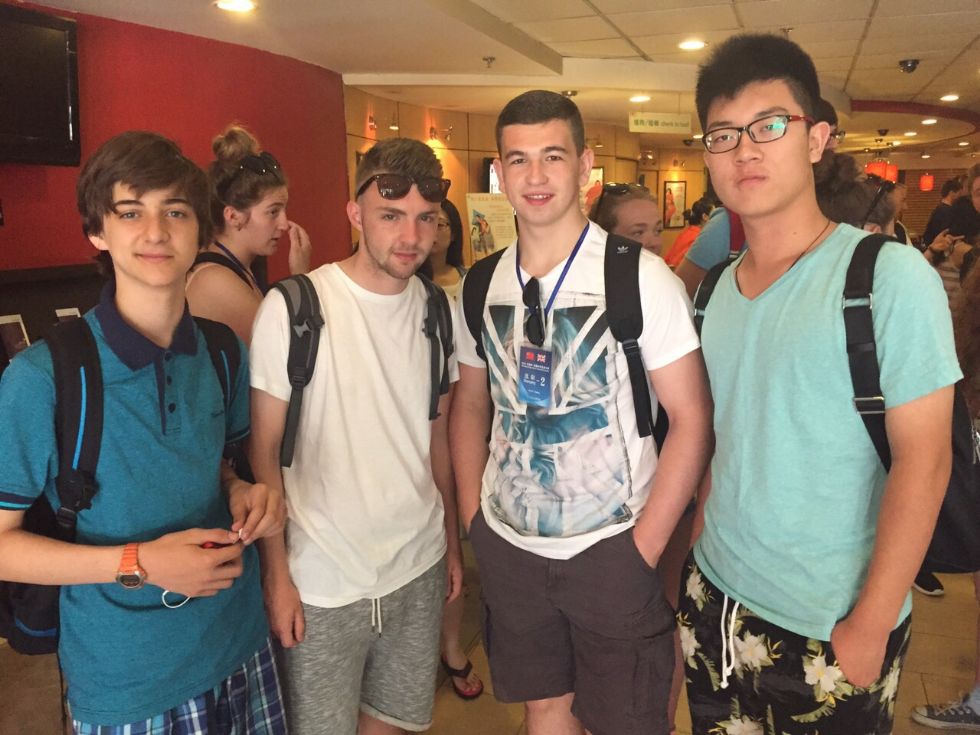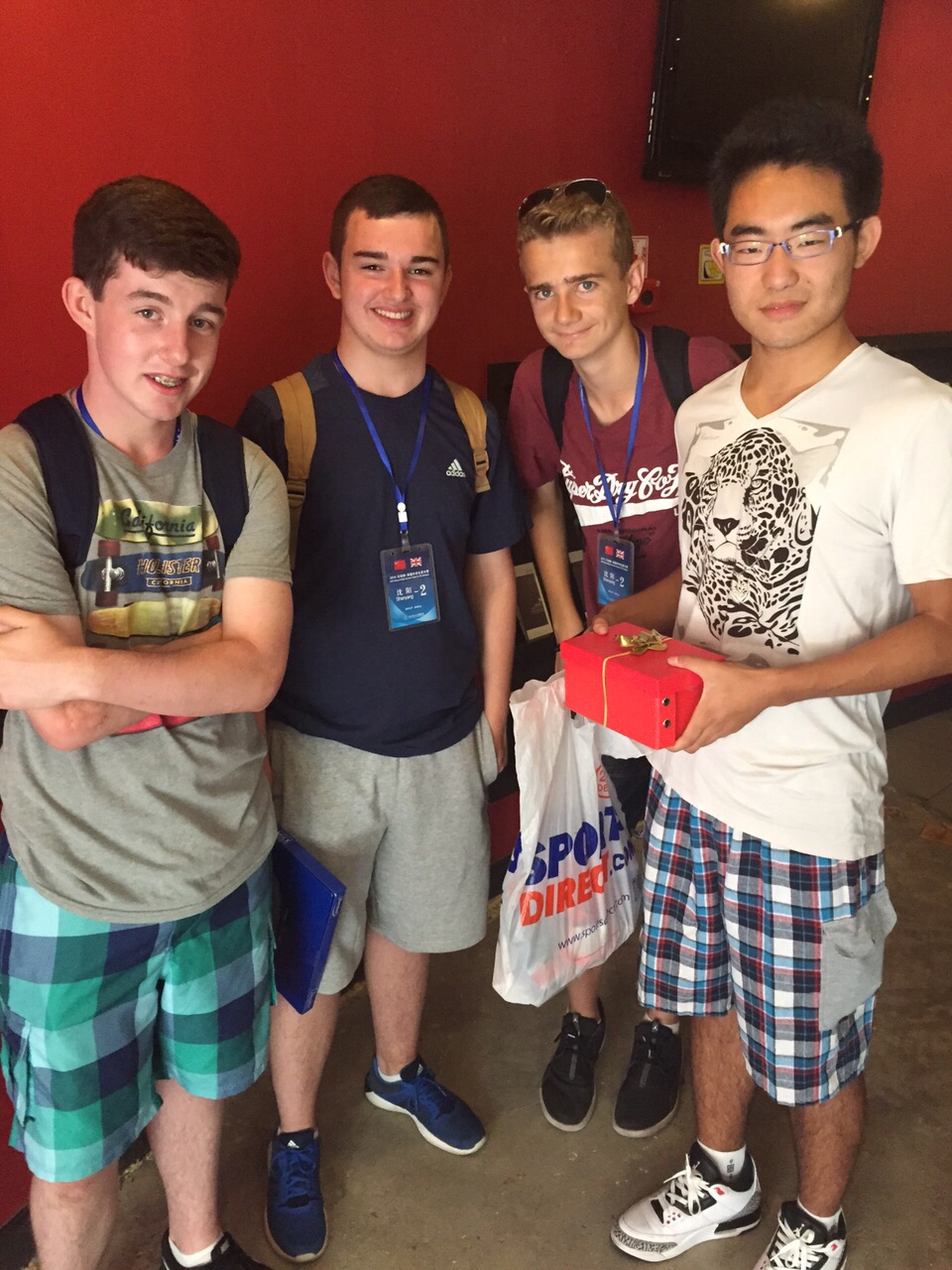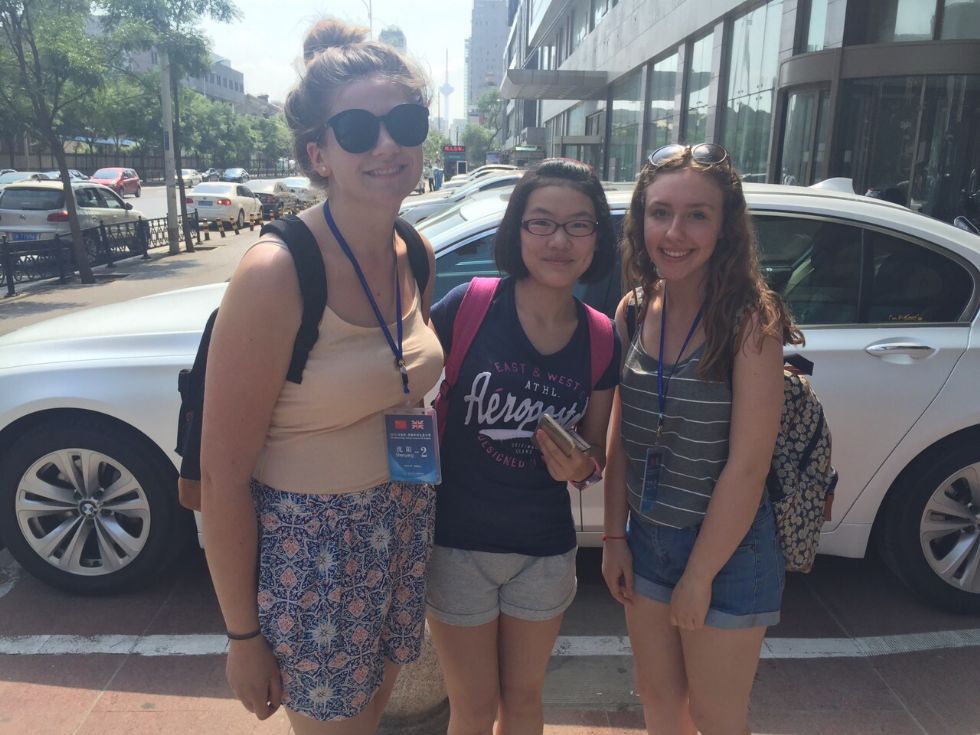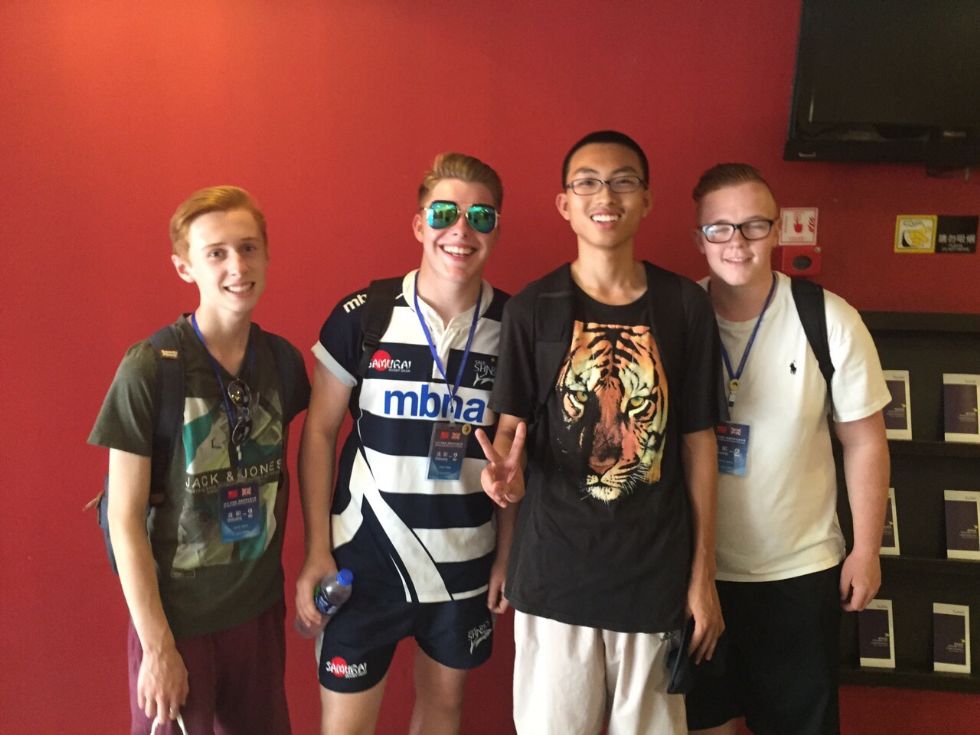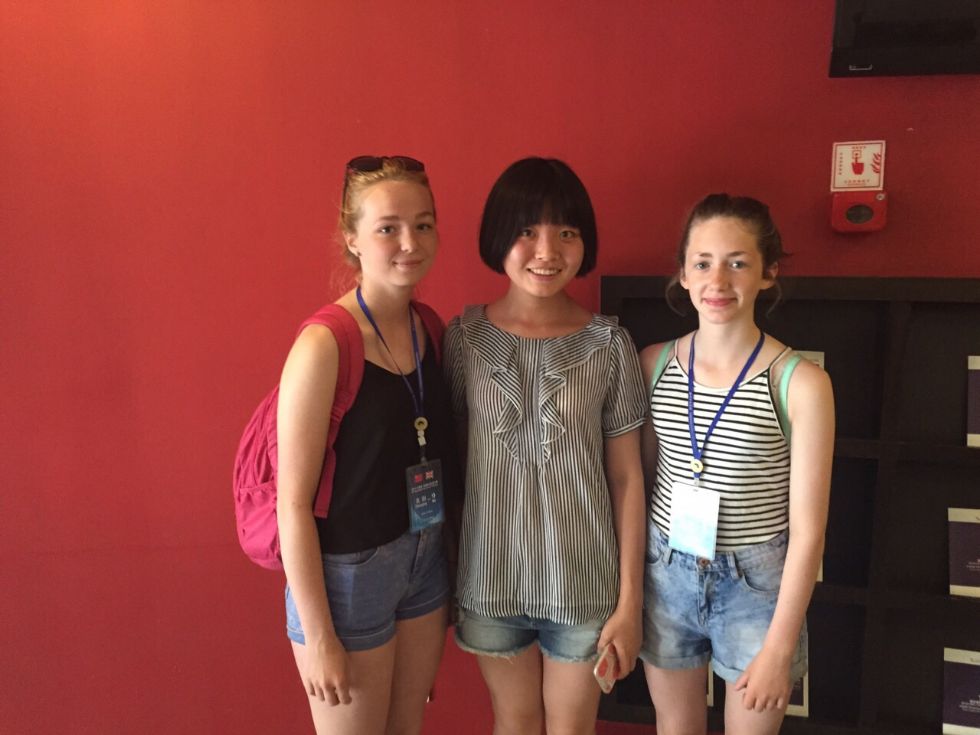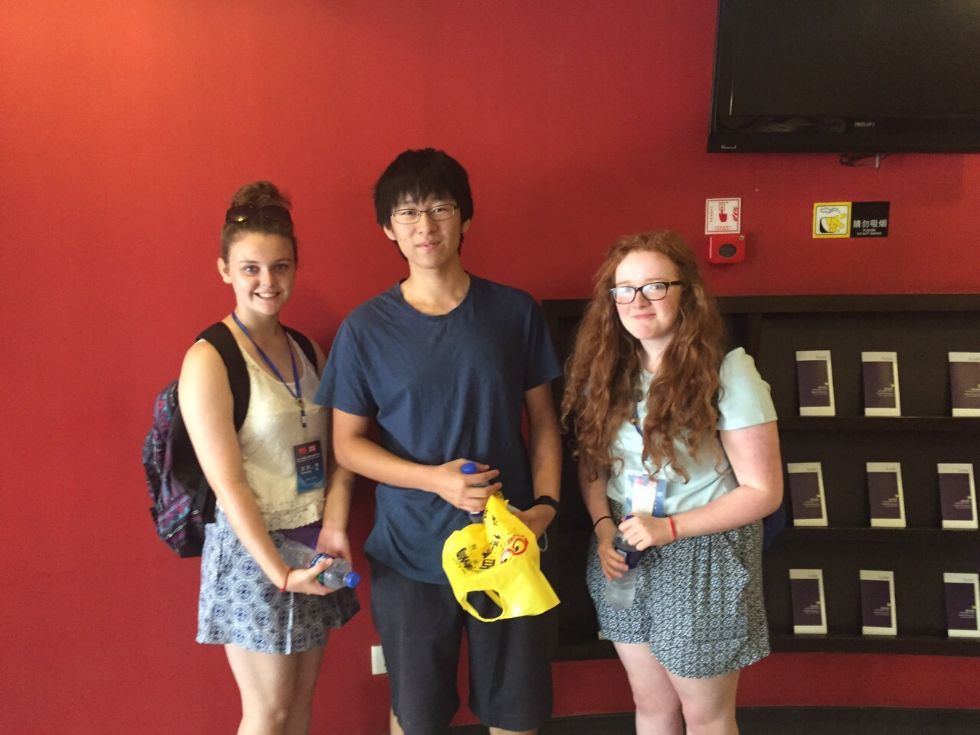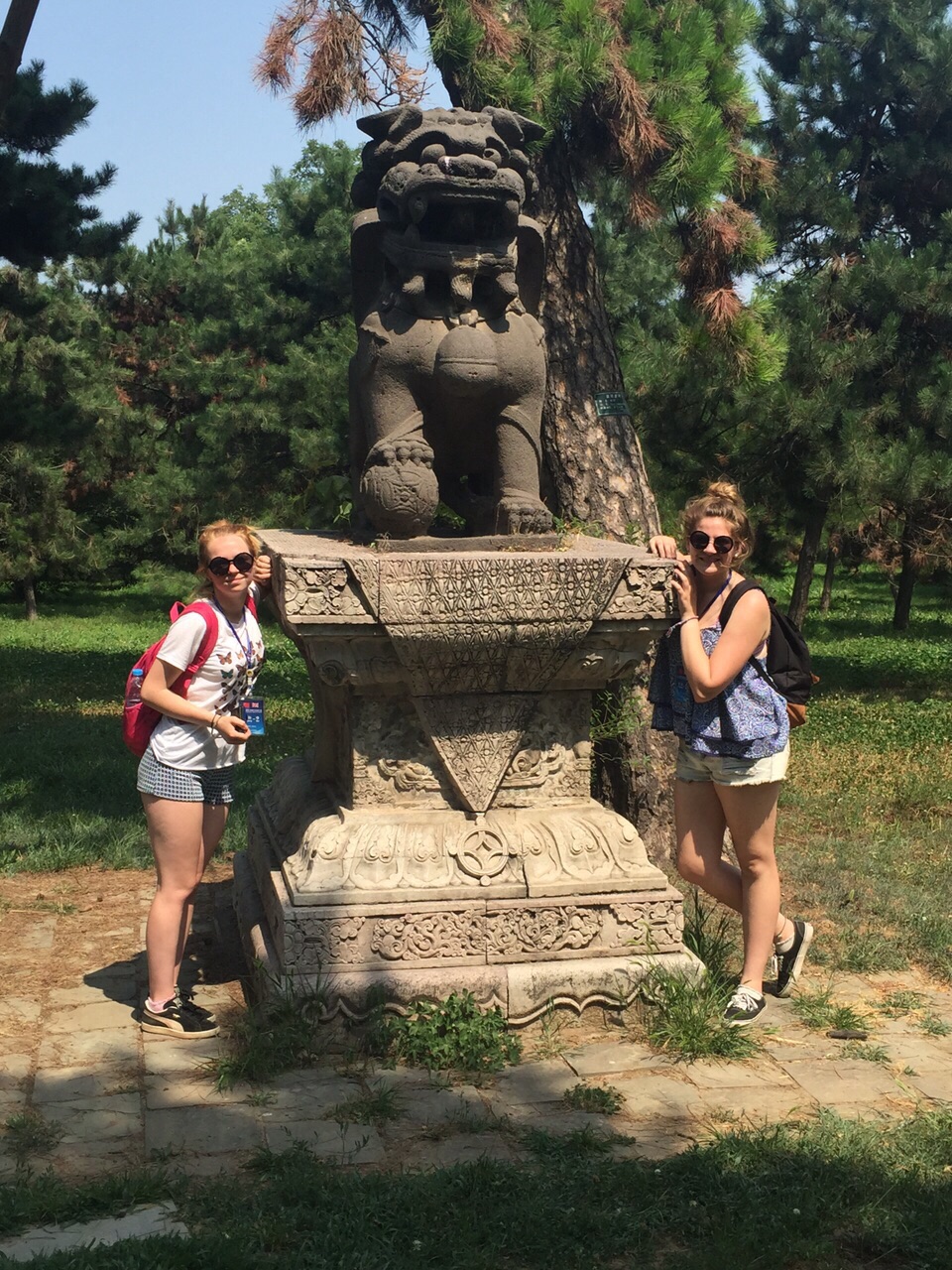 Today was the day we were all excited for, we got to go out with our buddies! Here is a snapshot of our day:
Amy & Charlotte
Our buddy, Raymie, greeted us at the hotel with her best friend Lucy and we were taken to a mall; it was so big I've never seen anything like it, we spent 40 minutes on massage chairs and exercise machines where we chatted and got to know each other. Then we were taken to a really fun activity room which were called escape rooms and we had to solve various puzzles to escape out of each different room. We made new friends and had a day full of laughter.
Ellen & Faye
We were first taken to an amazing fairground in Shenyang with our buddy Habby where we went on the Ferris wheel, then walking through the nearby park which was beautiful. Then we had a dumpling lunch in a humongous shopping centre which we of course explored. Afterwards we visited the underground market again and KTV, which is a popular teenage hangout. Overall a fab day.
Nathan, Connor & Alfie
Our buddy, King, took us to various places that he visits in his spare time around Shenyang. It was an amazing experience and stands to be one of the best days we have had while we've been here. Our day was full of food with Kings nan making so many different delicious dishes for us to try.
Reece, Joe.O, Jonathon, Beth & Gen.
Myself, Joe & Jonathon were buddied up with Mike. Mike arrived at the hotel with his friend called Oliver who was Beth and Gen's buddy which meant that we were going to do our activities as one big group. First of all, we went to the Imperial Palace and Mike and Oliver gave us some historic facts about each building. We then went for lunch at a noodle bar and got to try a variation of different types of noodles. We then went on a walk through the shopping district and got the metro to Mike's uncles house. We arrived at the house and immediately we were treated like royalty throughout our time at their house. We were privileged to be able to have this invaluable experience, this is a memory that none of us would forget.
Jack, Ben & Jo.S
Our day started by meeting Harry, our buddy, and we found out we would be with two other groups from different schools. This was good because we got to mix and get to know each other. We first went to play counter strike, which was a laser tag game that lasted for six rounds. This was good as it was completely different to any English laser tag. After that we went for our dinner in a dumpling restaurant, where we had a selection of dumplings including donkey! We then went to an arts museum which was a optical illusion museum and was so much fun! After we had finished here we finally went to a shopping mall too look around at some of the local Chinese brands. This day was a day none of us will forget, we couldn't stop talking about it all night!
Daisy & Jess
We were greeted by our buddy and her mum who took us to her friends house. When we got there we met her family and spent time getting to know each other. We then made sushi which was unique and delicious and we enjoyed learning new skills. Next we did some calligraphy and listened to our buddies play the piano. They were amazing. Lastly we played cards and made homemade spring rolls. It was such a good day and their family was so welcoming.
---
18/7/15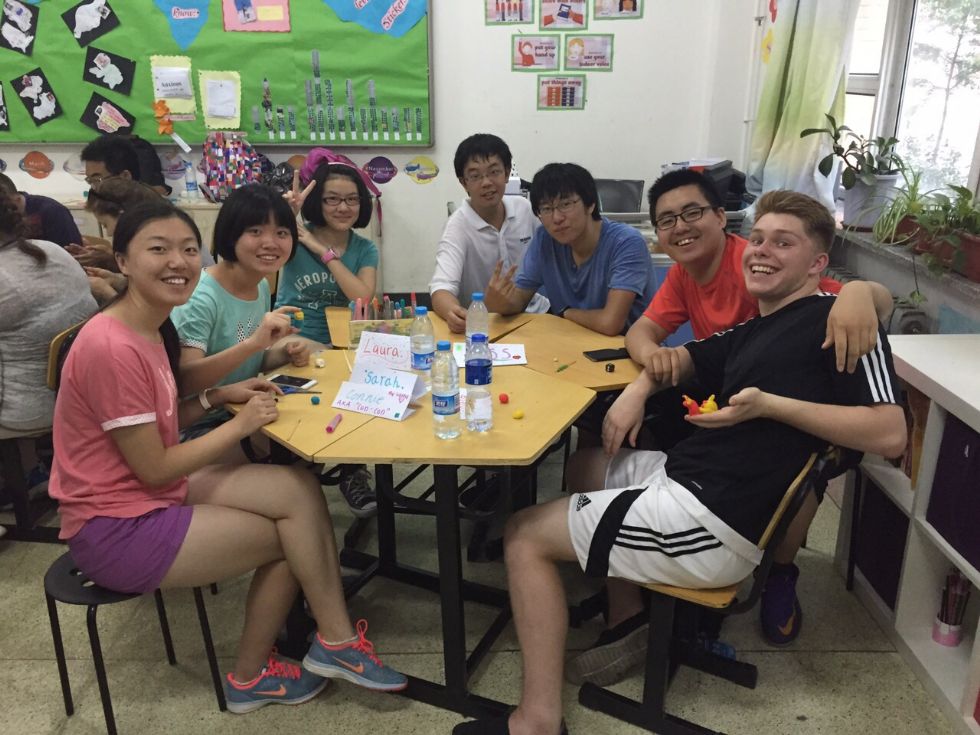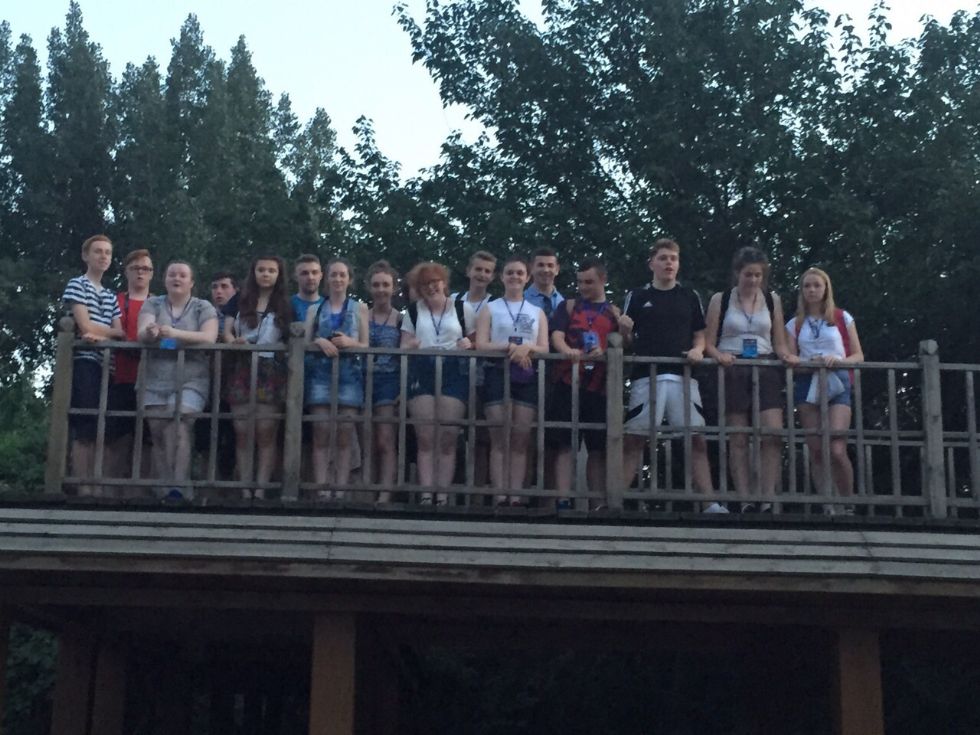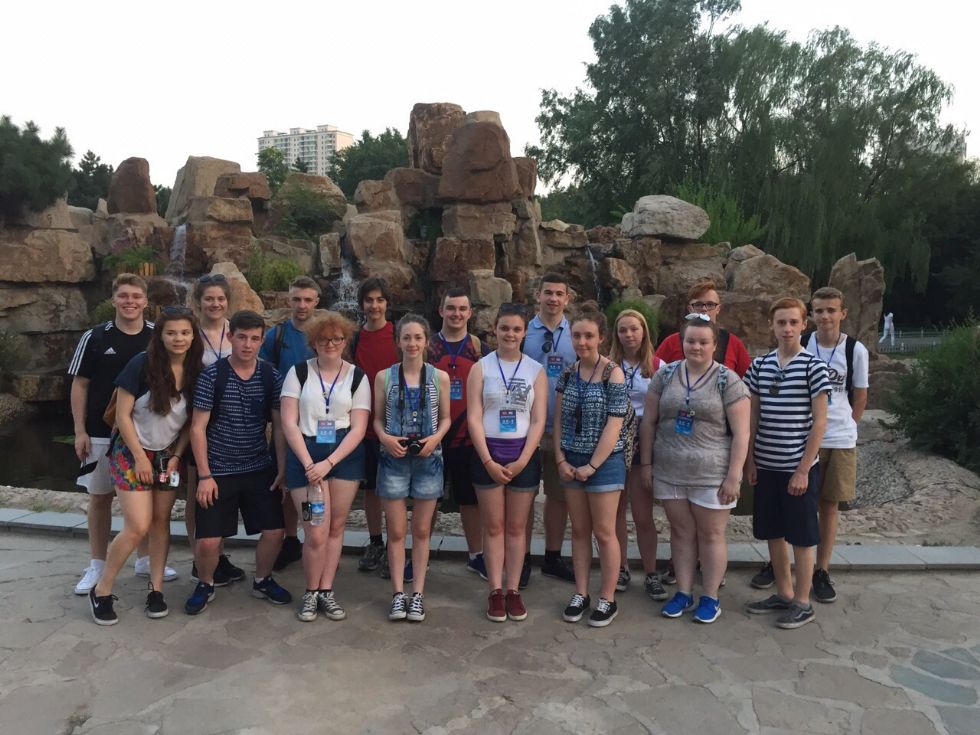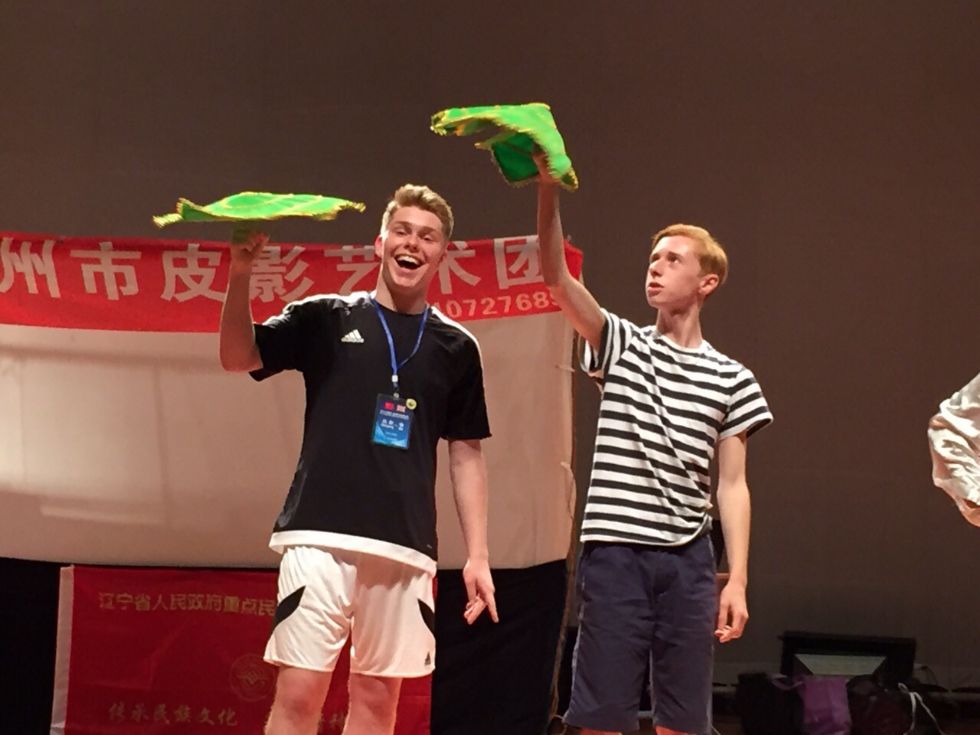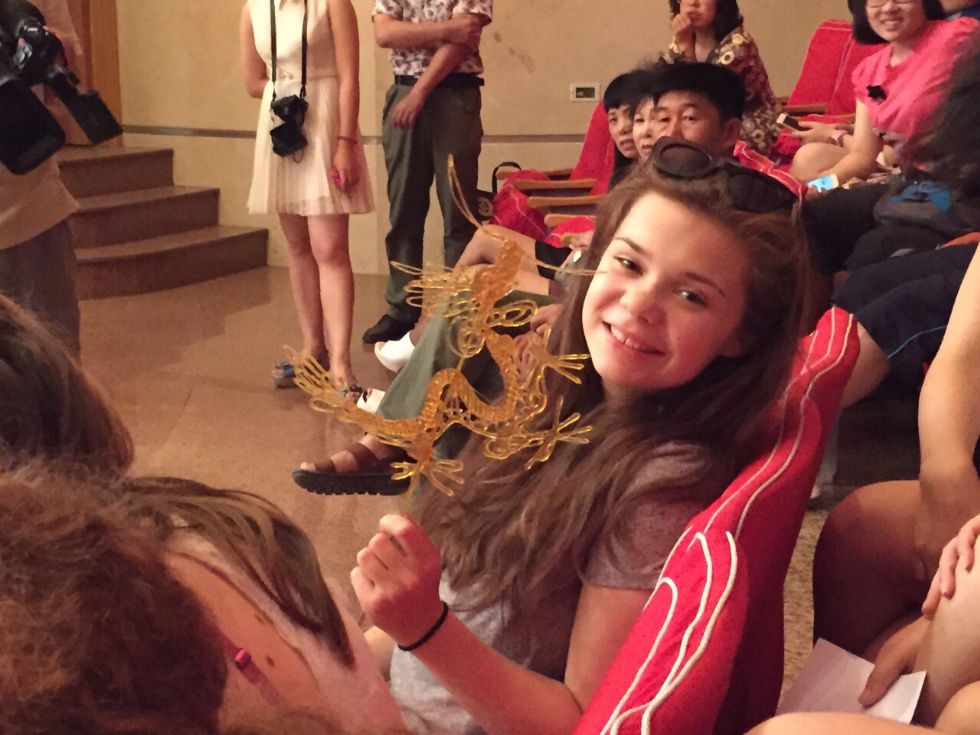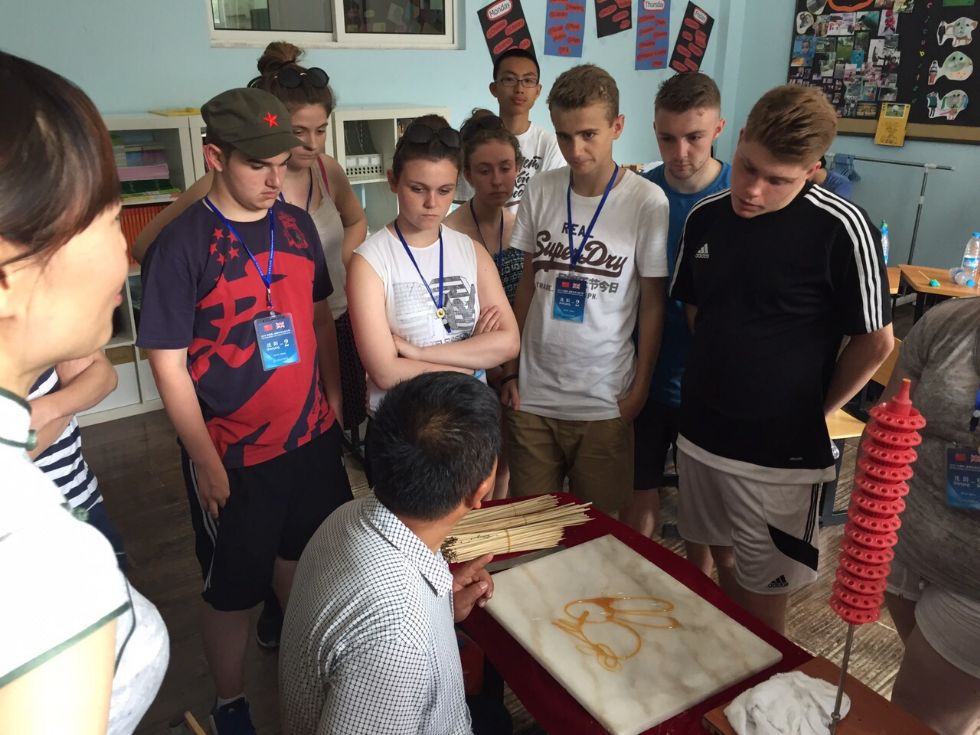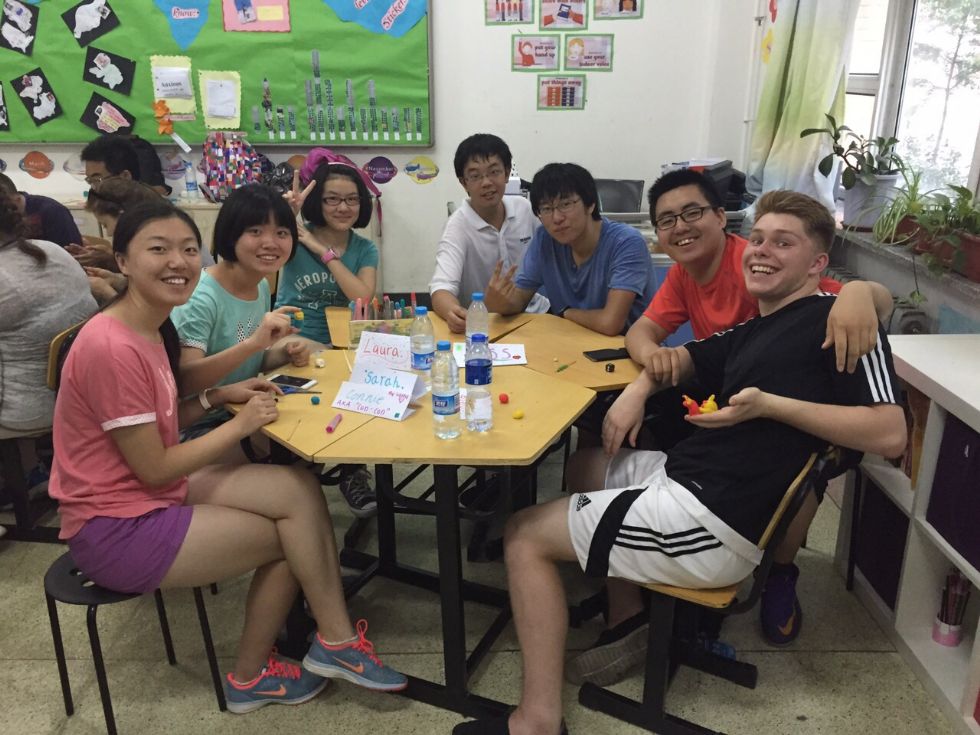 Today was very exciting as we visited the Olympic park in Shenyang. We arrived to see that our host school had a picnic ready for us which was so lovely as we were able to relax with each other and chat about our journey so far. We spent the morning playing games such as rugby, frisbee and football. The views were just out of this world and me (Jess), Faye, Daisy and Ellen took a moment to realise where we were and that we had been given such an amazing opportunity. The group took so many amazing photos and I feel like we are all becoming a family which we will never forget.
After the Olympic park we went to the tomb of the emperor of the Quing dynasty. It was beautiful, all the detail on the buildings were amazing, the colours and patterns were incredible. We walked up the 108 steps within the tomb which represents the 108 demons in our life and by walking up the steps the demons disappear. The history of the tomb was fascinating and we enjoyed learning about the history of such a important family within China.
After a busy and exciting day we went to a restaurant where we were able to try different foods which is something we have enjoyed doing on this trip. The restaurant specialised in duck and it was delicious! The duck broth was our favourite! Dinner time is one of my favourite times as tonight we had a girl table and boy table and it is so much fun spending time with each other and chatting to our teachers.
After dinner our teachers took us for a walk and we found an underground market. It was amazing and there were so many stalls we couldn't go to them all. Everything you could think of was there from bags, to shoes, to clothes and it was so much fun practicing our Chinese with the locals. While we where in the market we had to go round in fours which was good because it gave us all a chance to a bit more independent and work together as a team. Our day ended with family time where we reflected on our day and had our photography competition with the winners being Joe S and Joe O. Blog today written by Daisy & Jess
---
16/7/15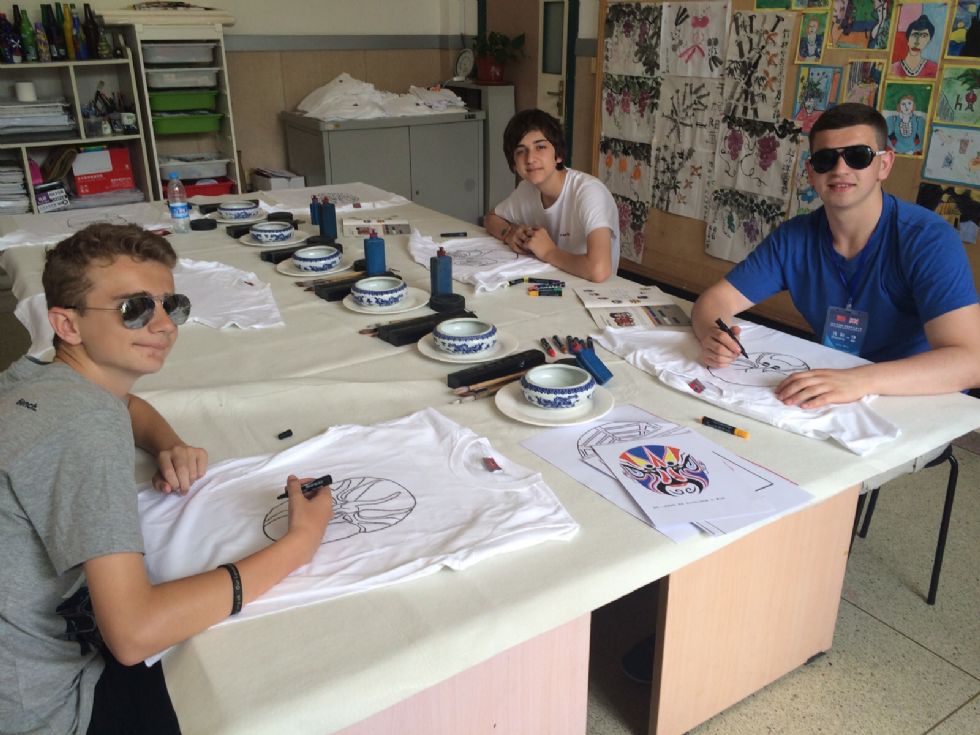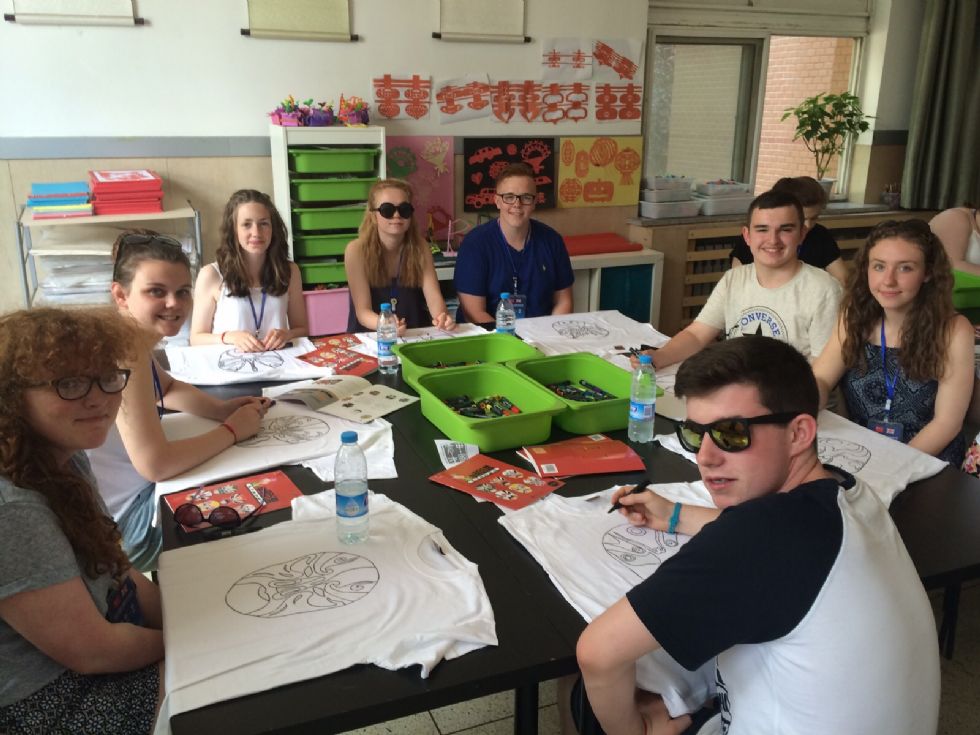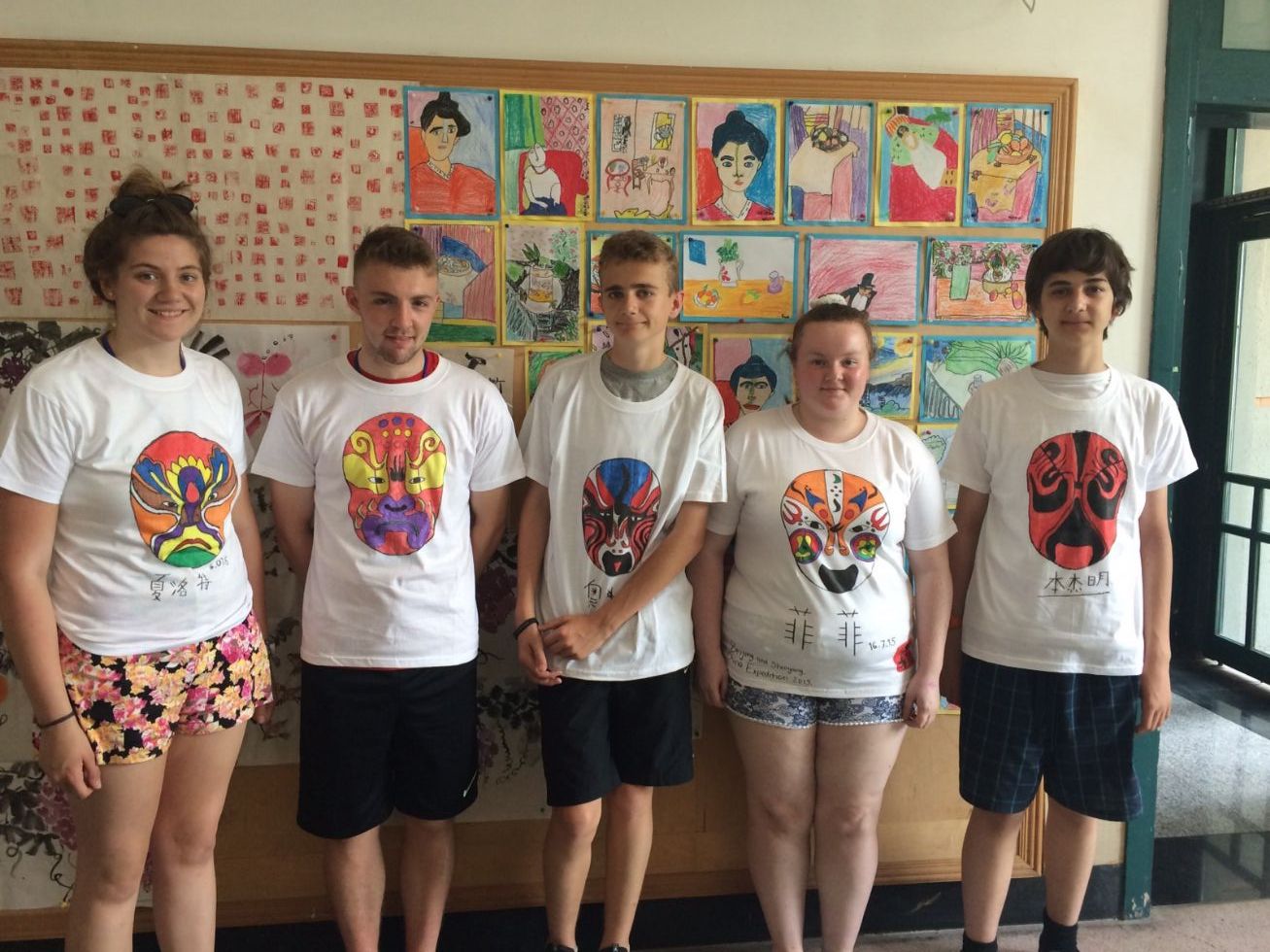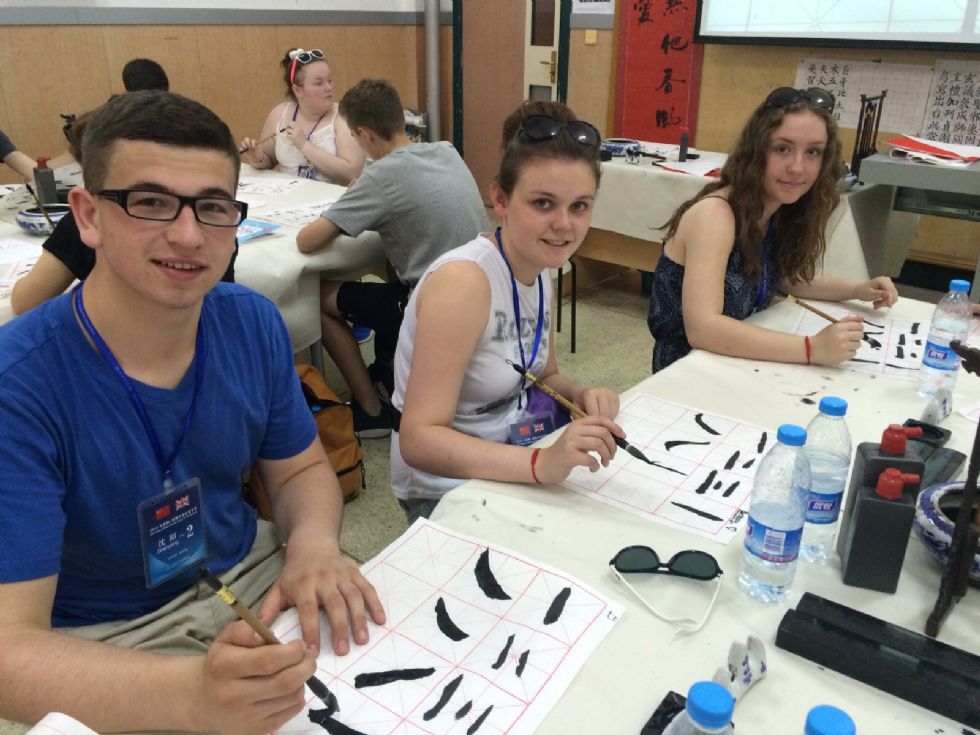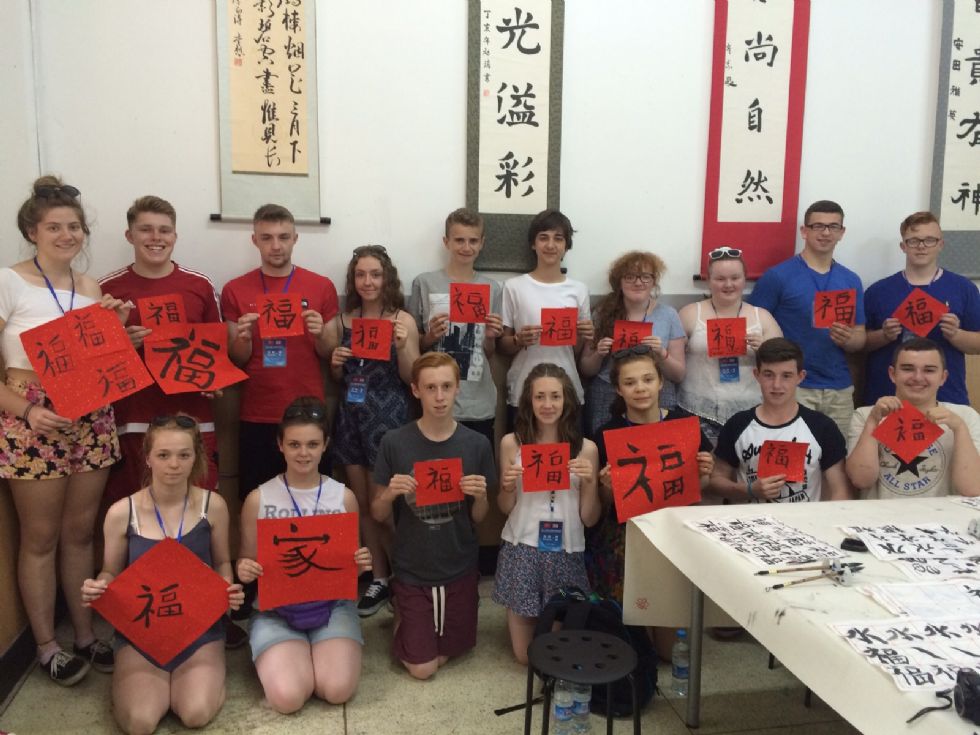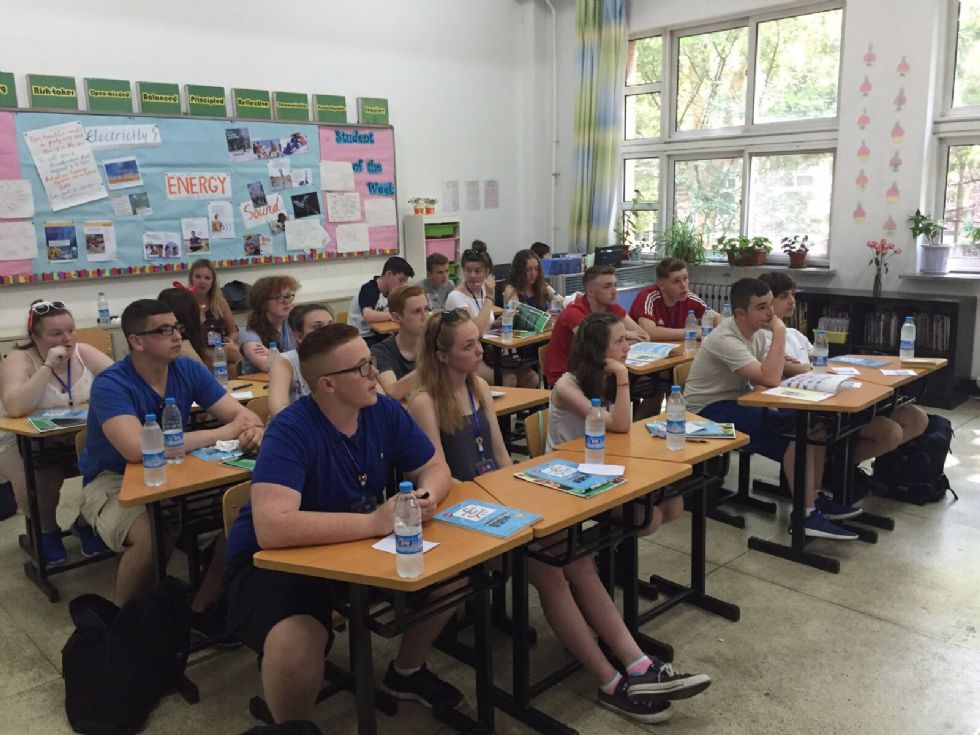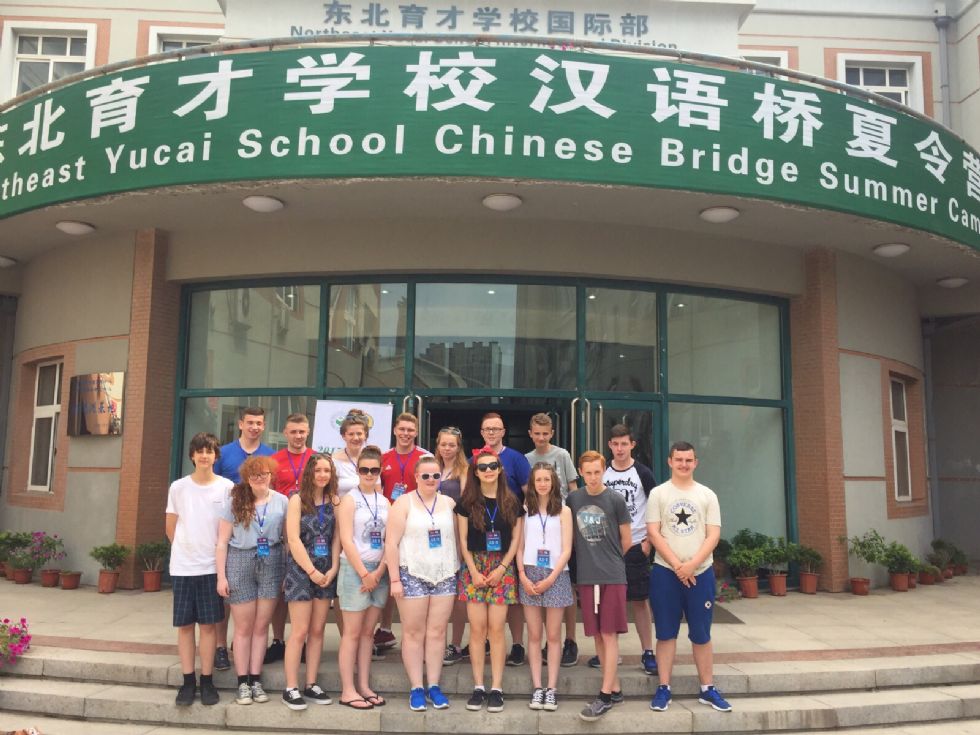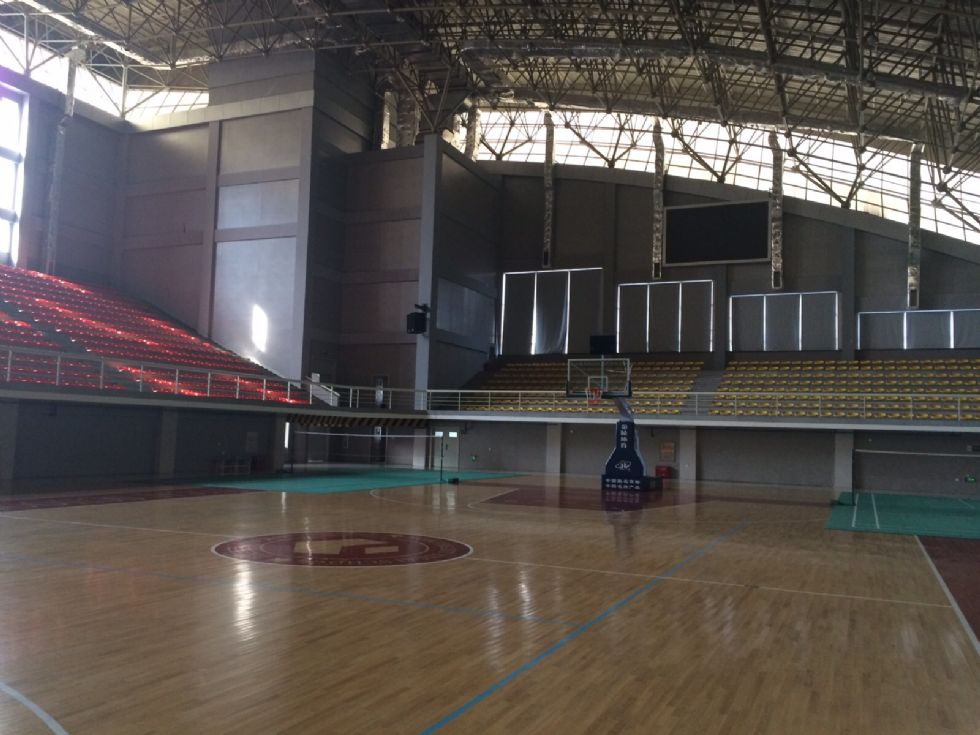 Today we had our first full day in the Chinese school, we started off by having a lesson on how to pronounce Chinese letters correctly using different tones. We also learnt how to count to 10 and we became familiar with the Chinese currency, which will help us later in the afternoon when we visit a local supermarket. The bell in the school to signal the end of a lesson was a classical Chinese song played through speakers, which was really nice to hear.

The second lesson we had we got our own plain t-shirt and we had to trace a mask on to the shirt, once it was traced we had to use certain colours to colour the mask design in. Each colour had a different meaning so red meant loyal and brave and other colours had other meanings so we coloured our masks in to reflect our personality.

Once we had our lunch we went outside to play some football on the very impressive sports field. It even has seats all around the outside for people to watch. We played football for a while and then we went back inside to experience our first calligraphy lesson.

The calligraphy lesson was hard but extremely fun. We started off by looking at how to use the calligraphy brush and then we moved on to basic symbols such as one to ten. After this we drew some more complicated symbols such as the one for water and the the good luck symbol that some people hang on their door during the Spring Festival called Chunjie.

In the afternoon we went to a supermarket, it was so big, if you wanted to buy a fish then you would pick the fish you wanted fresh out of the tank. There was so much stuff to buy; we all liked the different flavour Oreos including a birthday cake flavour, there was also white rabbits which is the best chocolate in China! Here we were able to practise some of our phrases we learnt earlier in the day!

When we returned to the school we had our tea and then everyone went to the Sports Hall where we opted to play badminton, rugby or football. The sports facilities at the school are amazing, inside the sports hall there is full size basketball court with about 200 seats looking down on it.There was also badminton courts and 10 table tennis tables.

We ended our day with family time where we reflected on our day and shared our pictures, the photographer winners for today were Beth and Nathan!

Blog today written by Alfie
---
15/7/15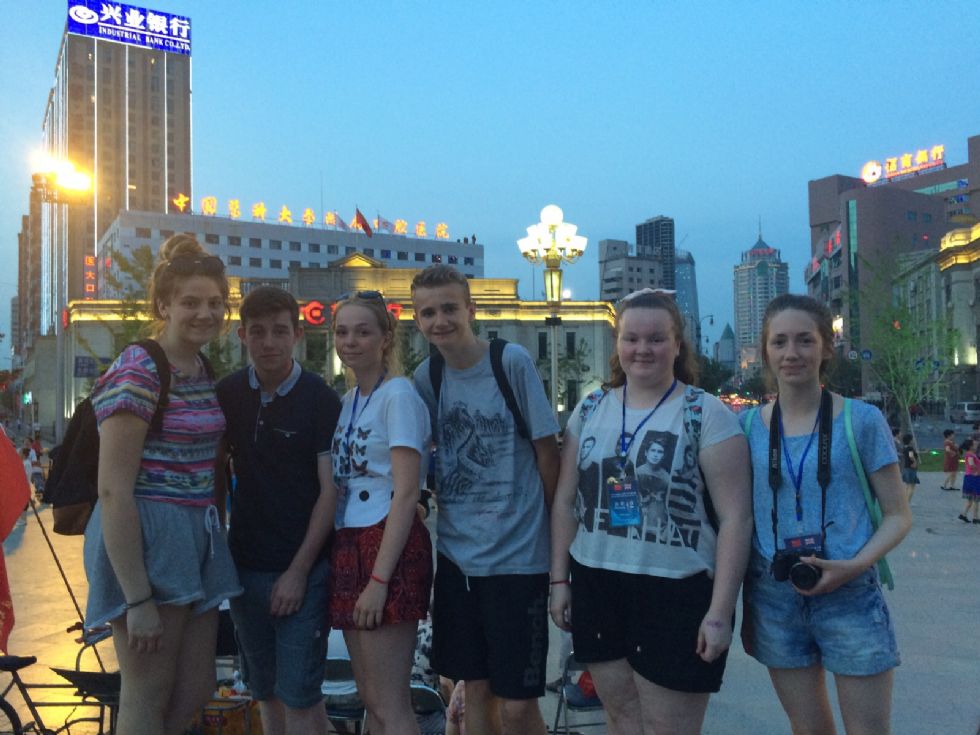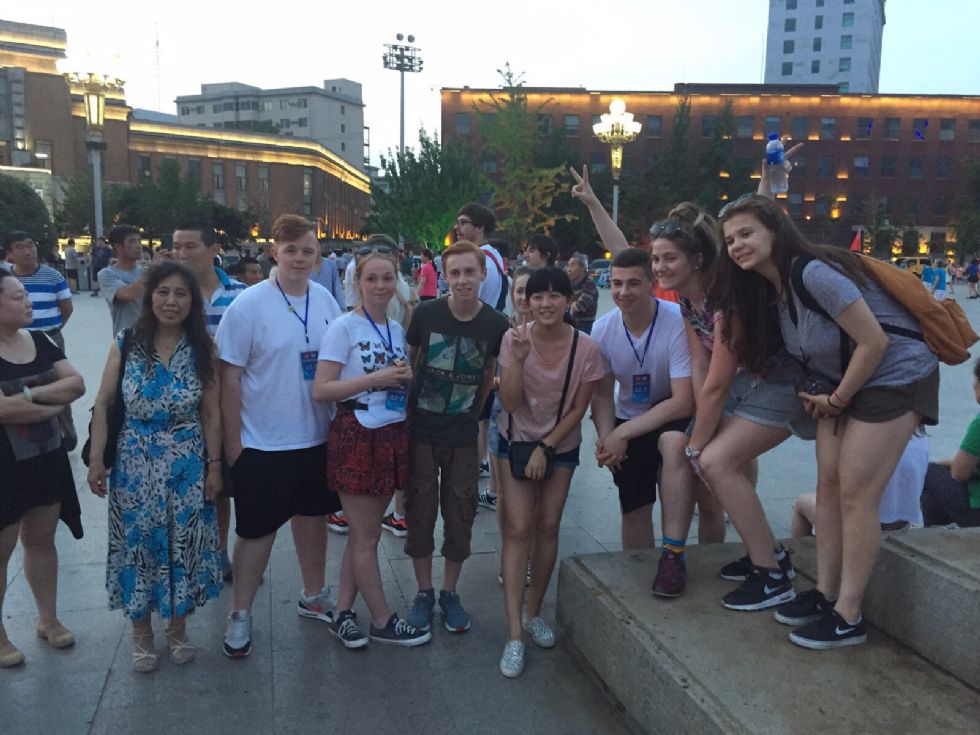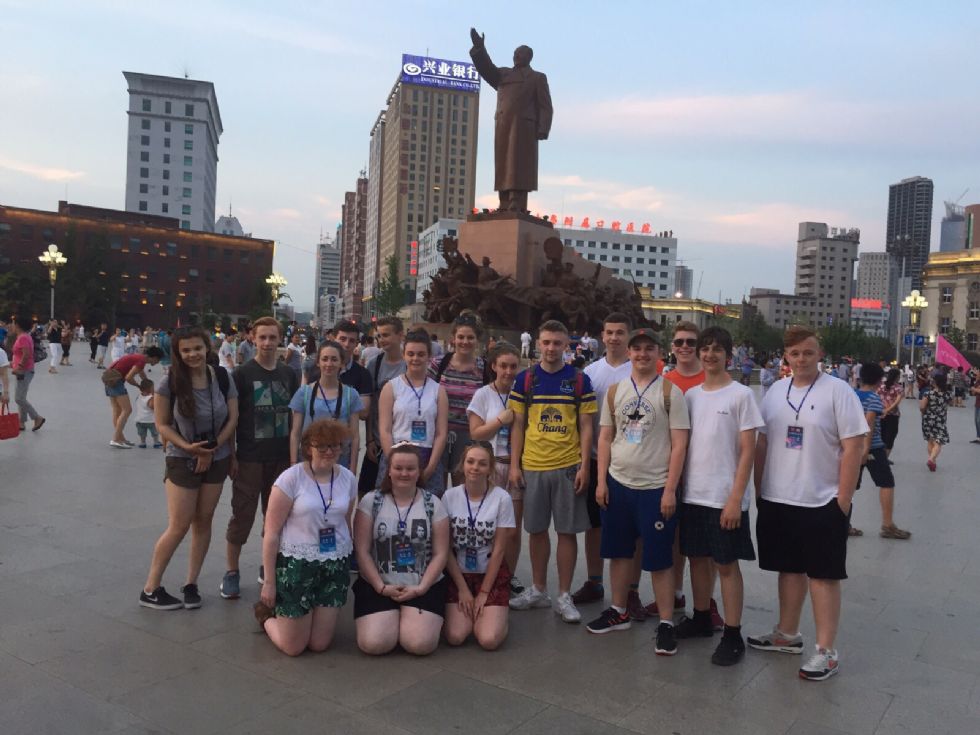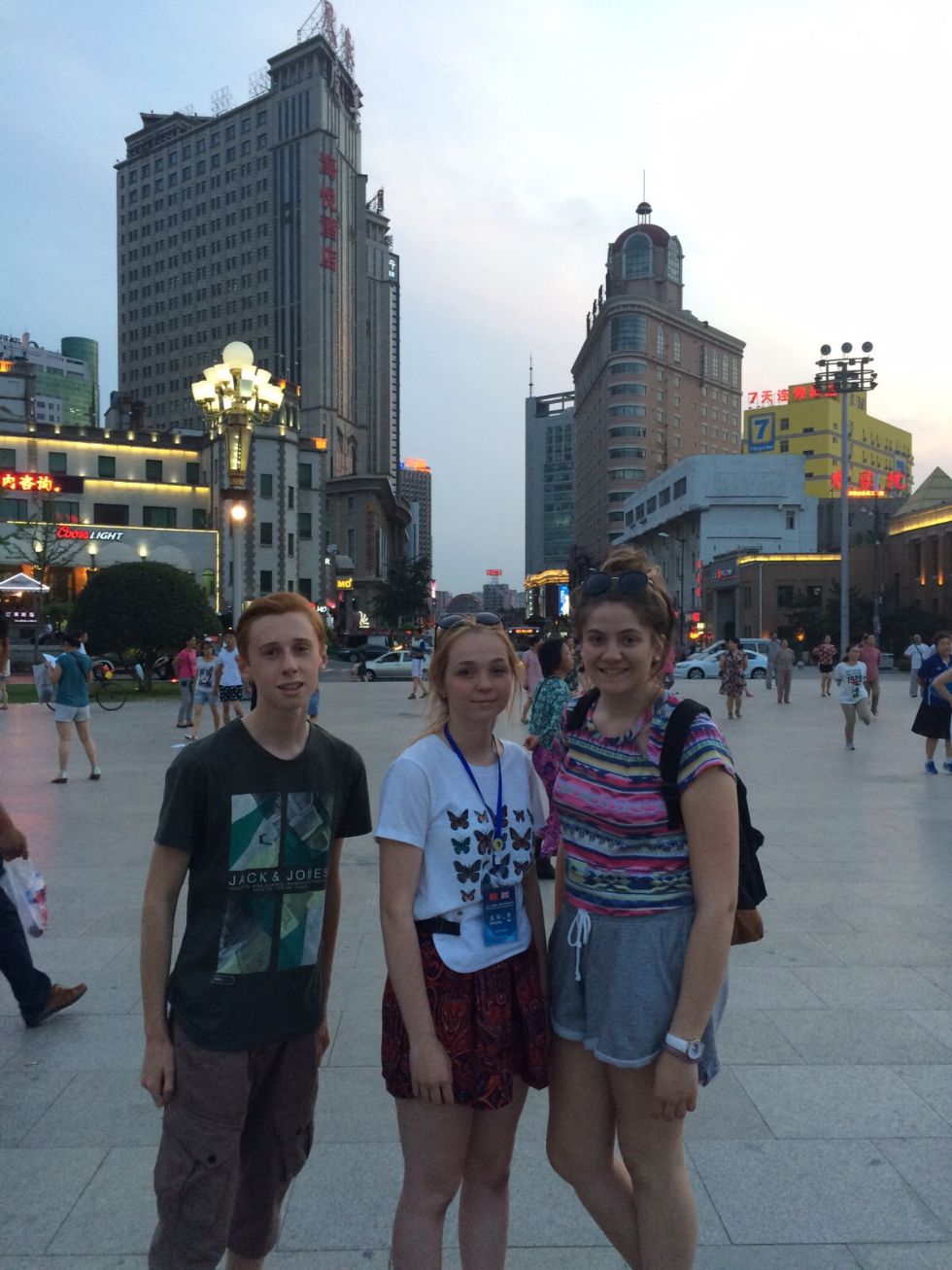 Our day began at 4.30am as we journeyed to Shenyang on the bullet train, which looked like something out of a futuristic sci-if movie. Our journey took 4 hours and we quickly made friends with the other commuters including a young Chinese girl called Sophie who taught us to count to 5.

Yet again we were hit with a barrage of humidity as soon as we stepped out of the air conditioned train station in Shenyang. The city was full of high rise buildings, brightly coloured lights and lots of traffic. We boarded the coach and made our way to our new school. It is called the 'North East Yucai School'. We made our way into the dining room where we had a very welcoming opening ceremony. We met all of the teachers and our teacher for class 1 is Amanda who was extremely pleased to be able to teach us and she greeted us in a warm way.

In our first lesson we introduced ourselves to Amanda and we were taken on a tour of the school campus where we visited the gym and sports hall and we got to look at some lessons taking place. The boys were excited to be asked to play football by some of the Chinese students and they felt very welcomed by everyone. After dinner we said goodbye to our teachers and made our way to the IBIS hotel.

After we had unpacked and settled in, Mrs Bedke announced that we would take a relaxing stroll to Zhong Shan Square but in fact is was anything but relaxing! Our journey to the square was an adventure in itself as we made our way through the hustle and bustle of the city's streets. In the middle of Zhong Shan Square there was a colossal monument in memorial of the founder of 'New China'. He was called Chairman Mao. It displayed the upmost respect the Chinese gave to their leaders because of its size, it resembled the authority and significance of the leaders within China. We explored Zhong Shan Square with awe and amazement as the square was full of locals dancing, playing music, groups taking part in Tai Chi, children roller skating and participating in skipping competitions. The public dancers were in incredible unison as they danced and exercised on the square. All the locals wanted to have their picture taken with us and practice their English which was so much fun. This experience was incredible and a wonderful way to spend our evening.

Written by Fay and Ellen.
---
14th July 2015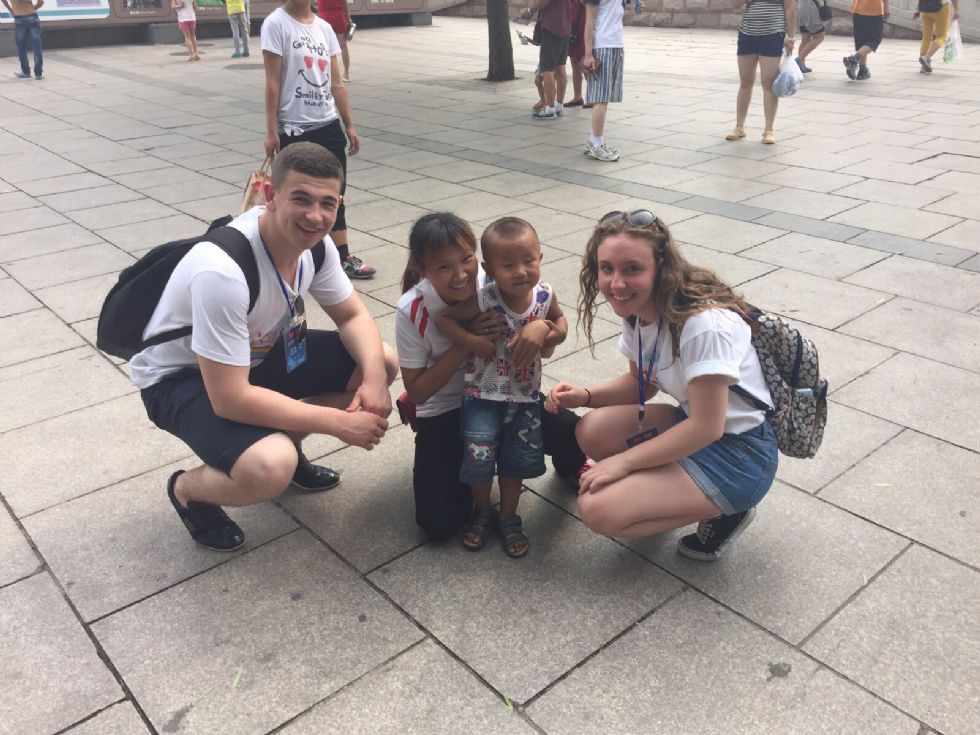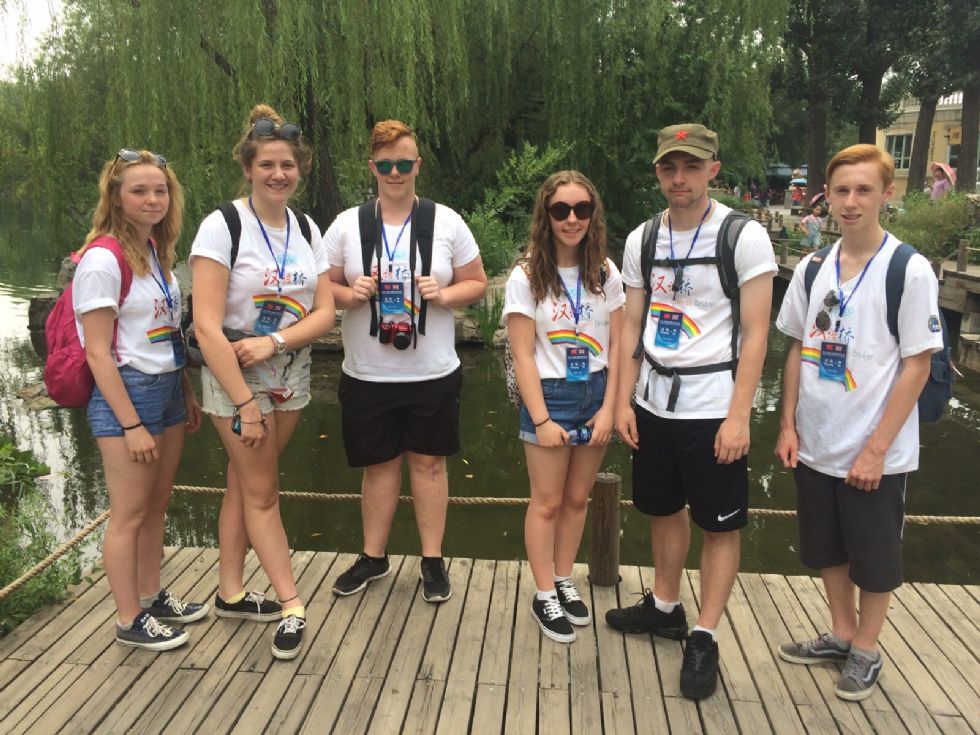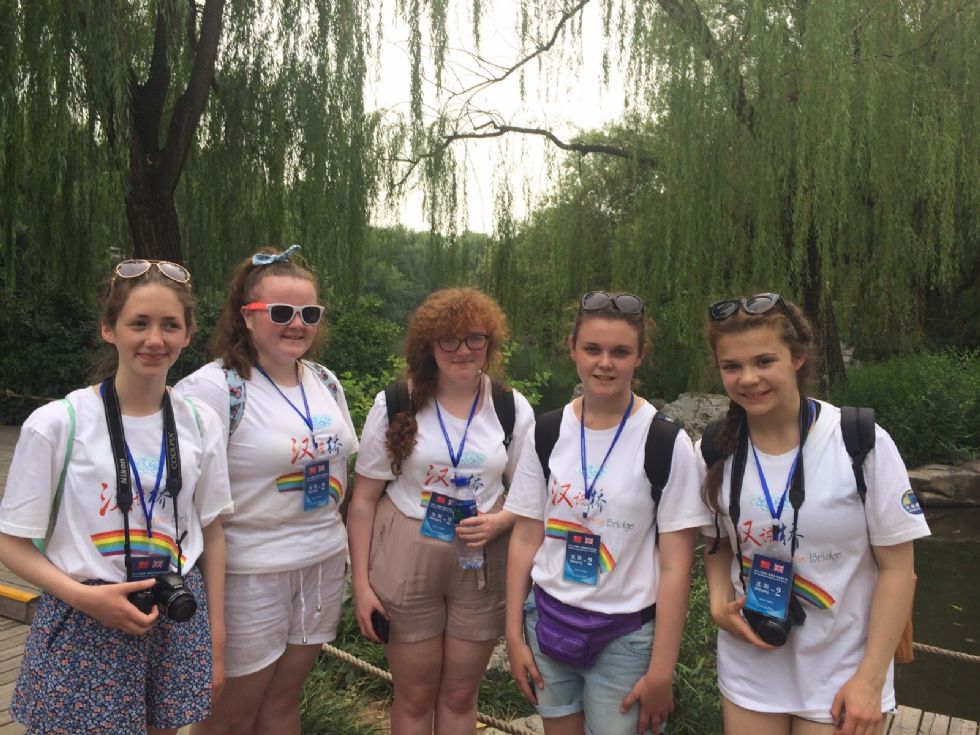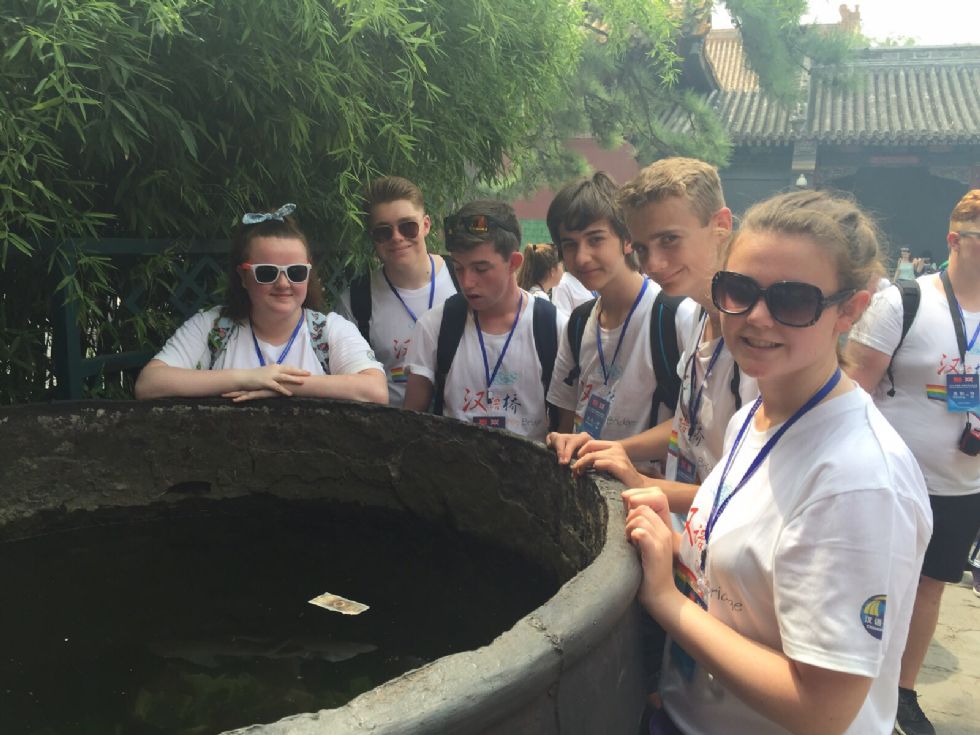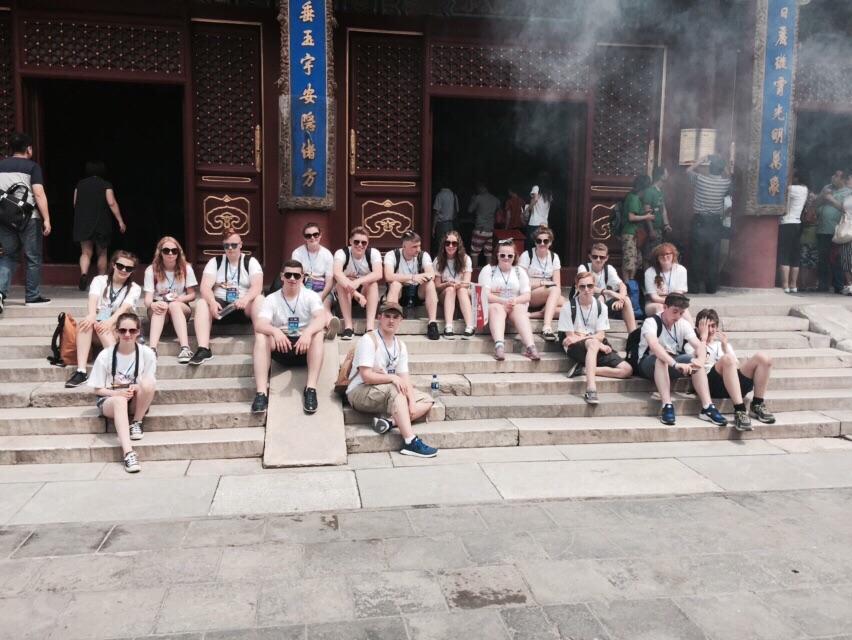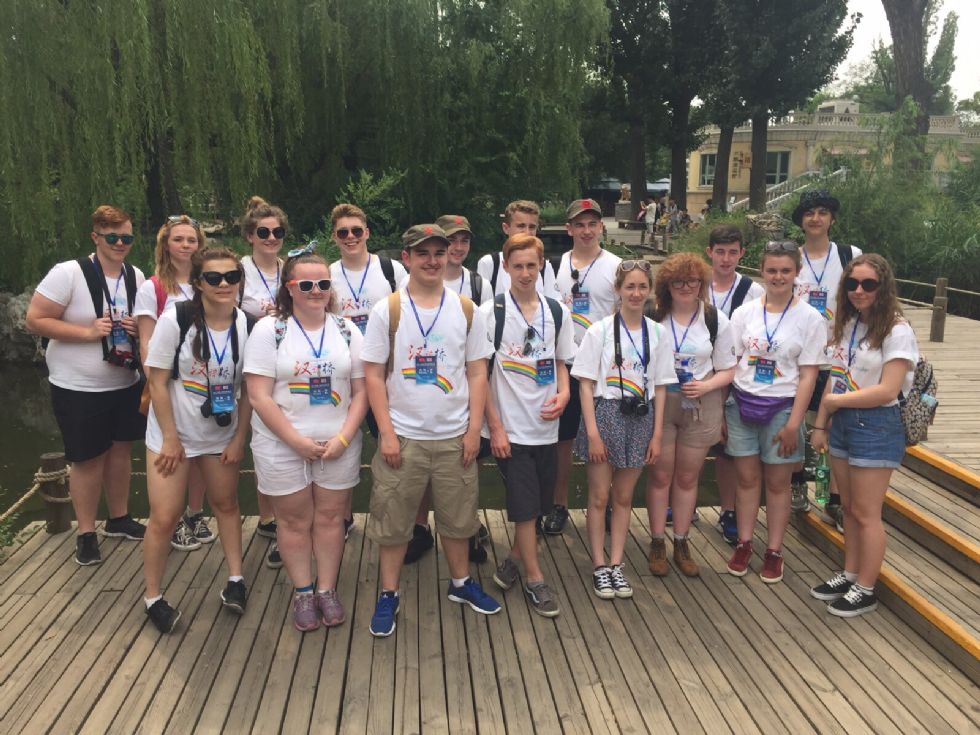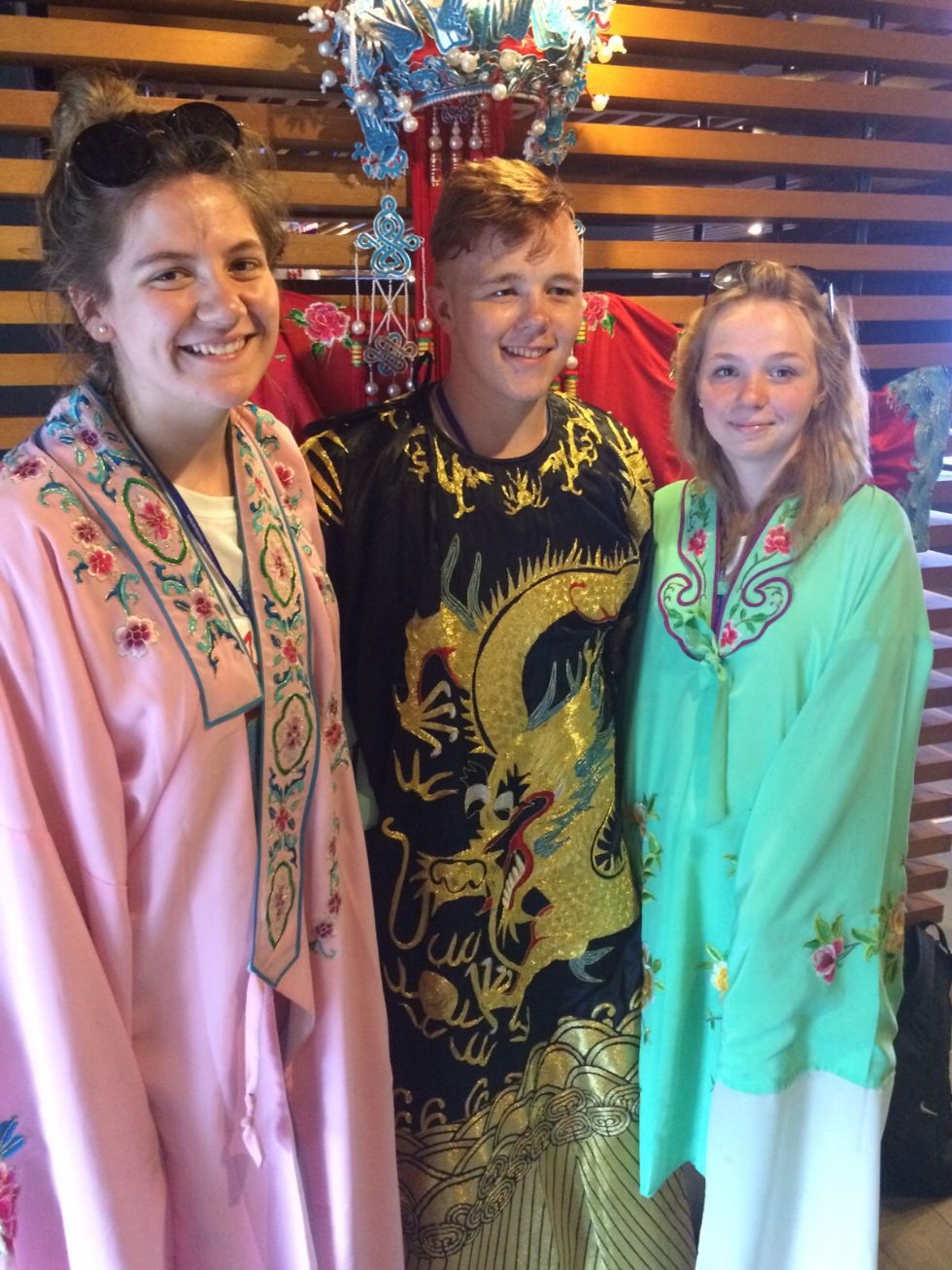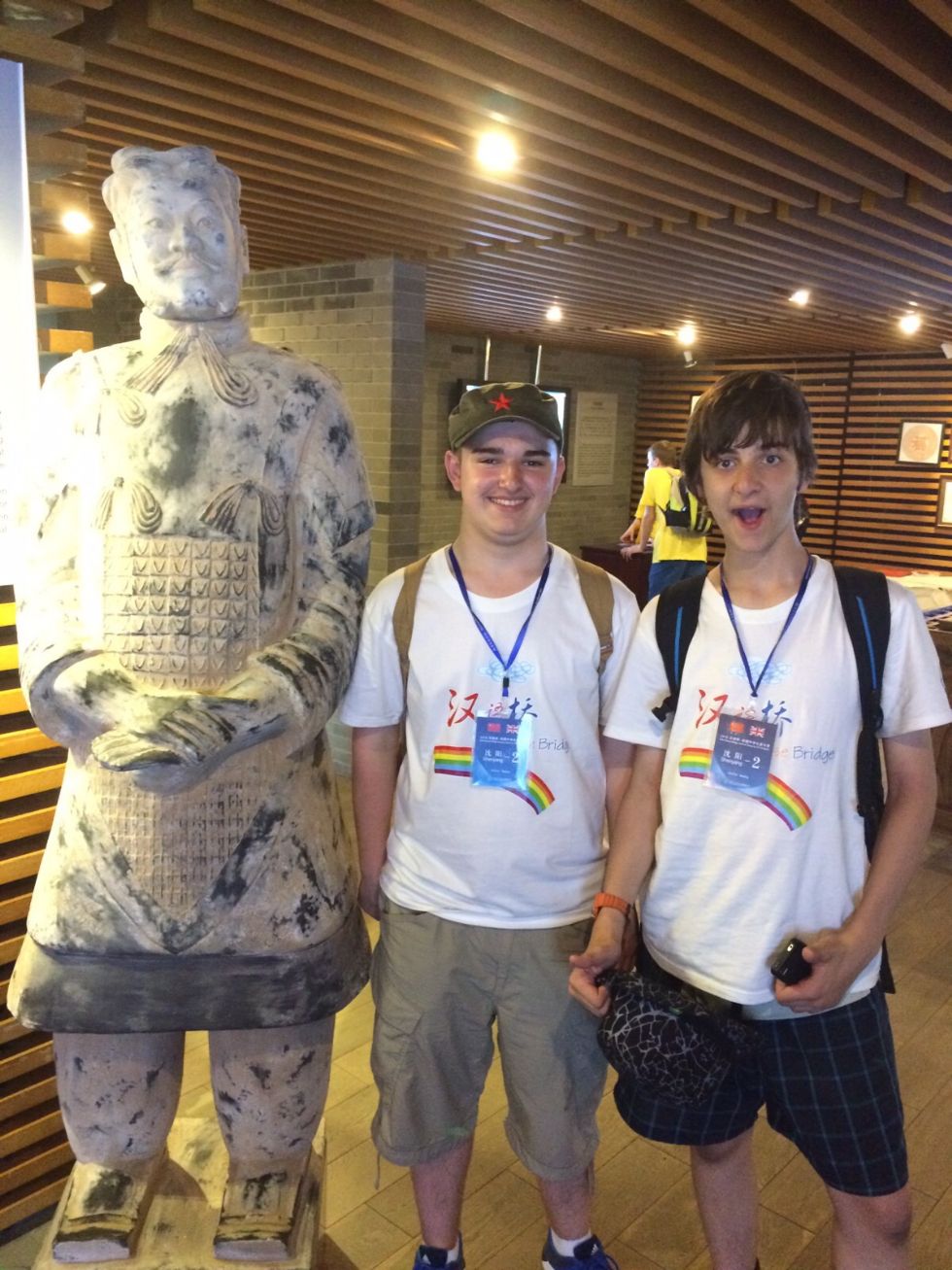 We visited the Lama Temple today and we were all mesmerised by the sights, especially the little things the carvings on the roofs of building and the hand painted ceilings. We learnt that the building and monuments were made many years ago with little equipment, which impressed us all. We saw people worshipping their God Praying for Heaven, Earth and the people. It gave us a greater understanding of how different cultures live and act spiritually. It was most certainly a place of tranquillity.
I don't think anyone can deny that they were excited for Beijing Zoo, which was next on our itinerary. The fact that we got to see a Panda was most certainly breathtaking and one of the highlights. It was an overwhelming experience and we loved seeing the baby monkeys playing around. A once in a life time experience!
We finished our day by visiting the organisation that arranged our trip Hanban, they welcomed us dearly in an extremely friendly manner. We had many free gifts given to us to help us understand their culture. We took part in activities such as bracelet making, paper cutting and go to dress up in traditional Chinese clothes. It was a day that will definitely be remembered forever.
Blog today written by Charlotte, Jon and Amy.
---
13th July 2015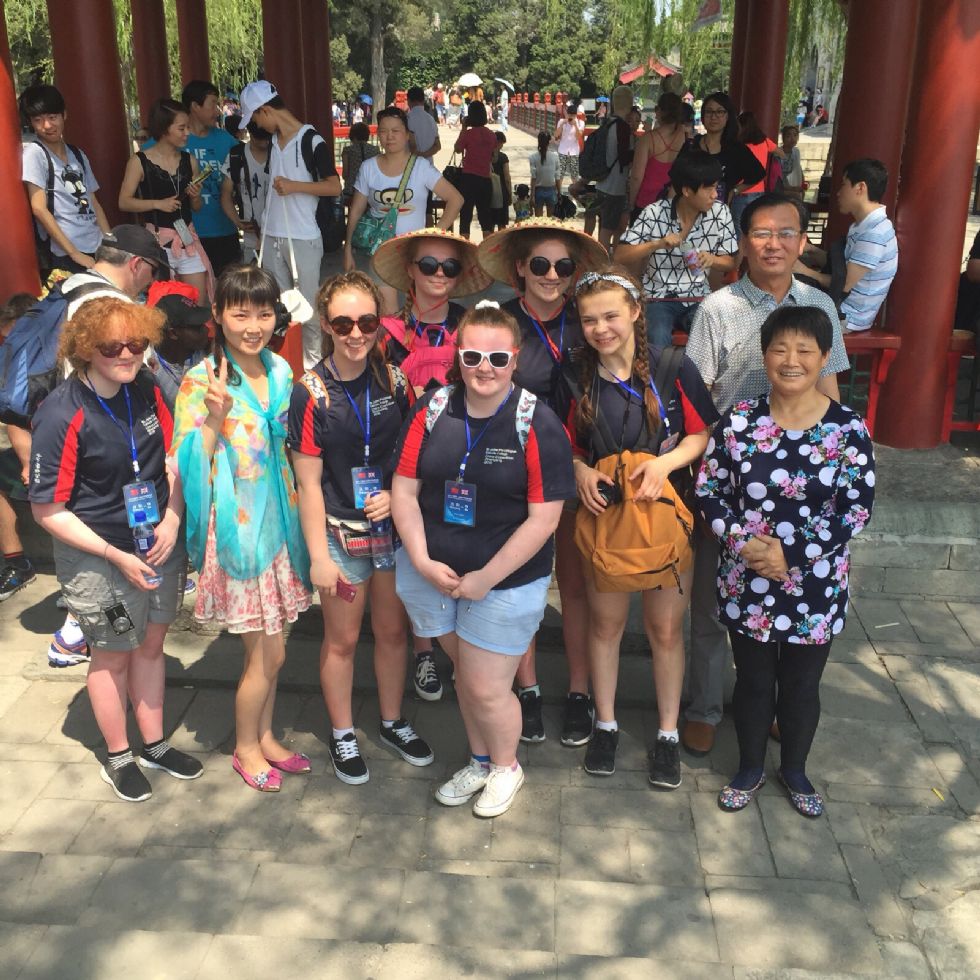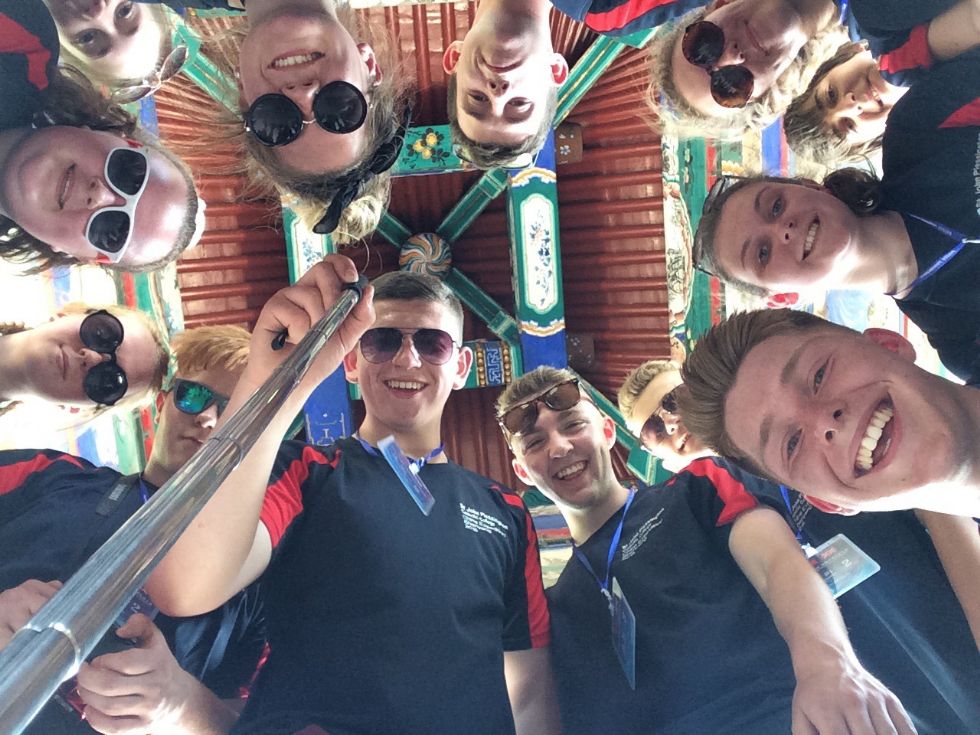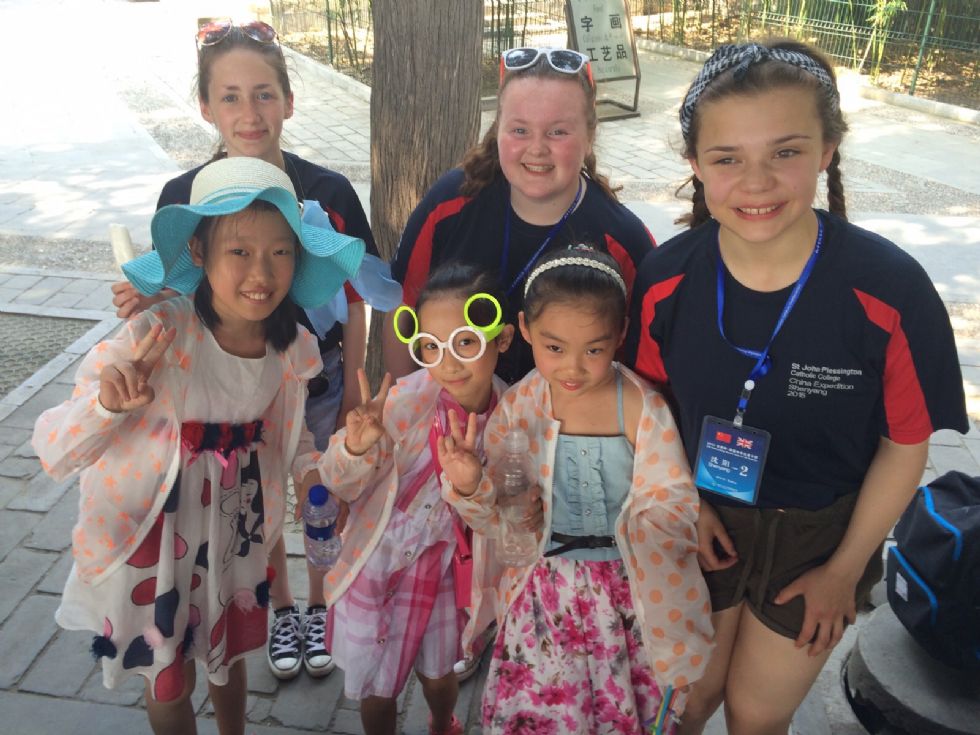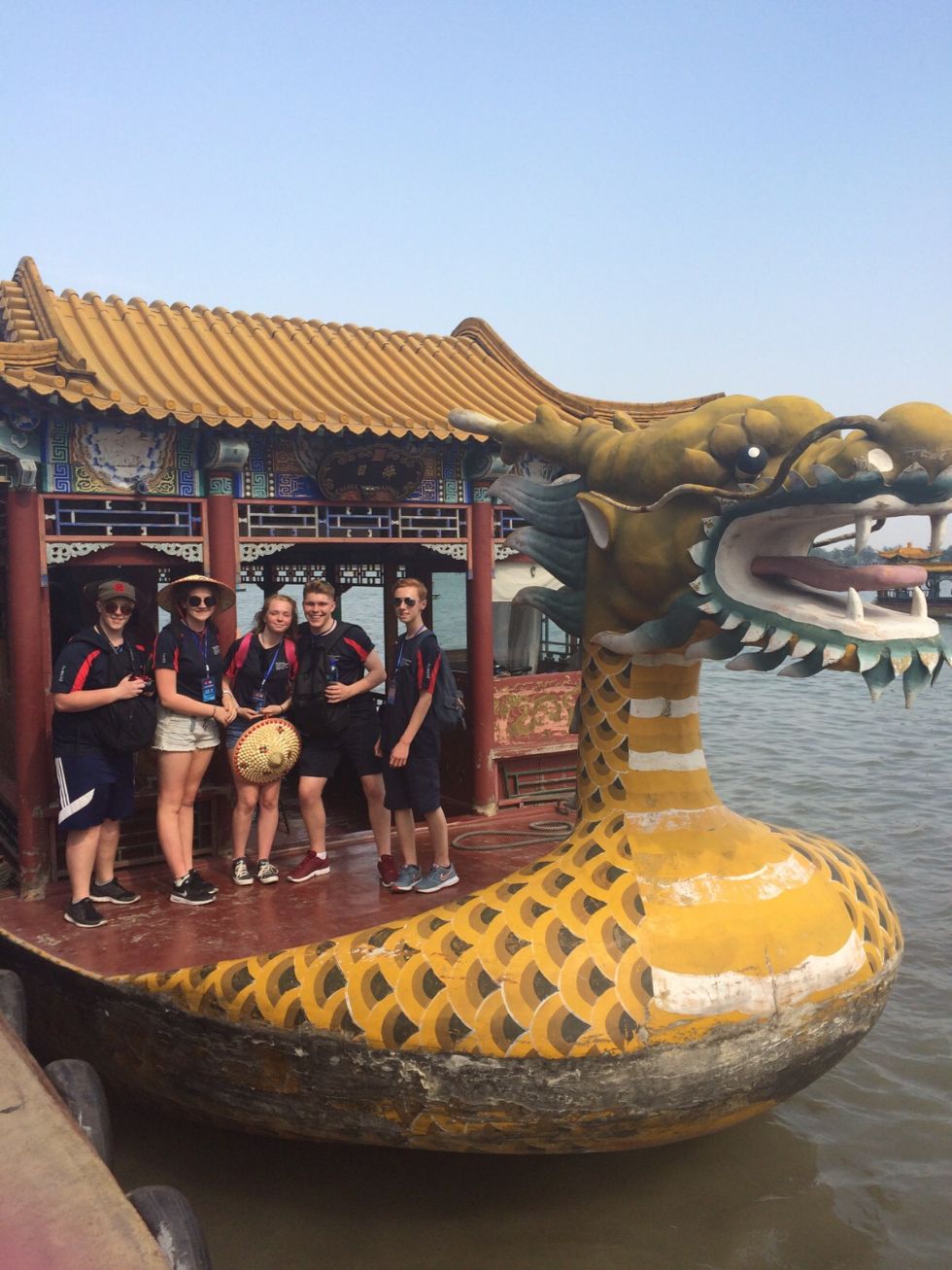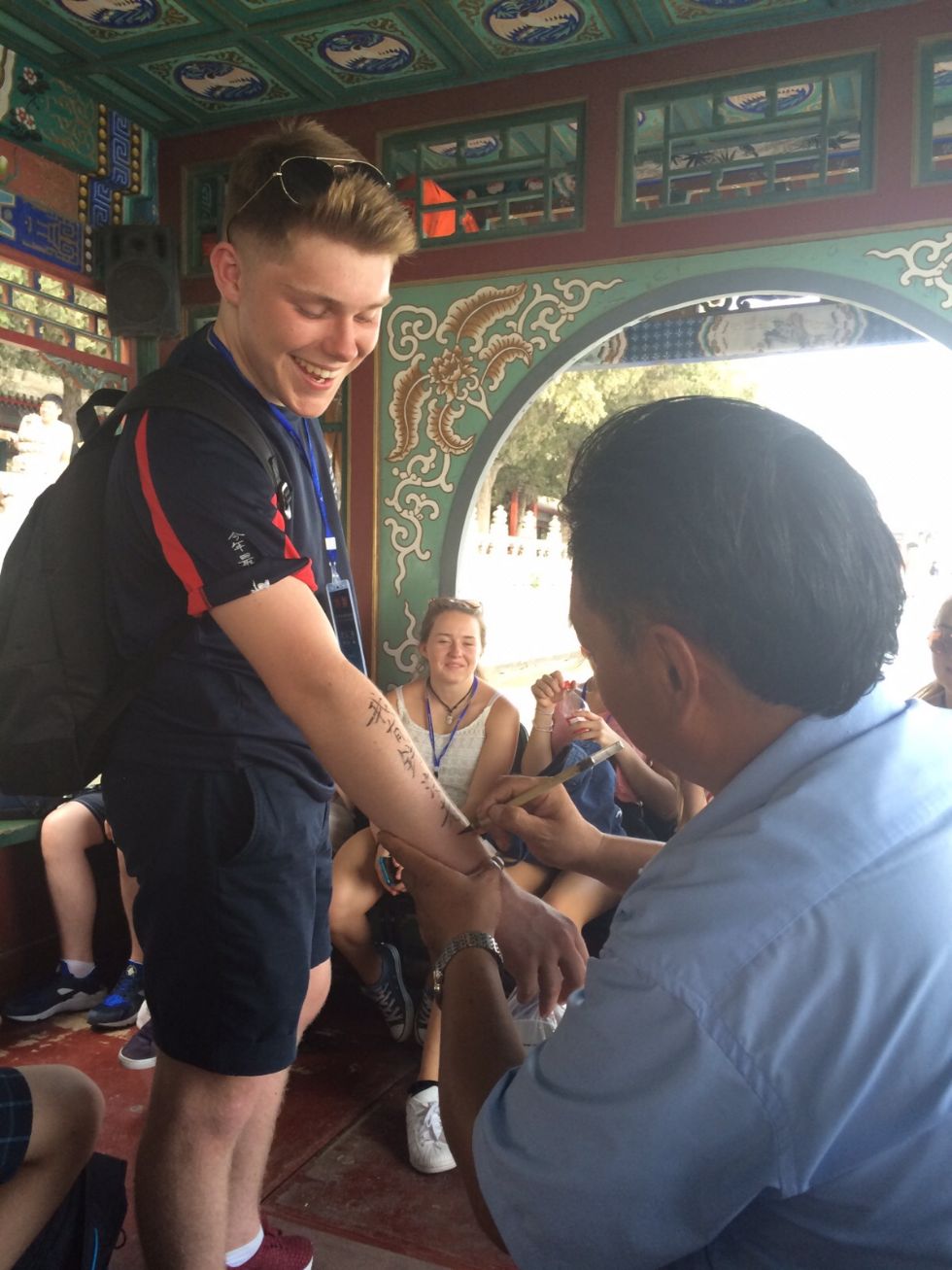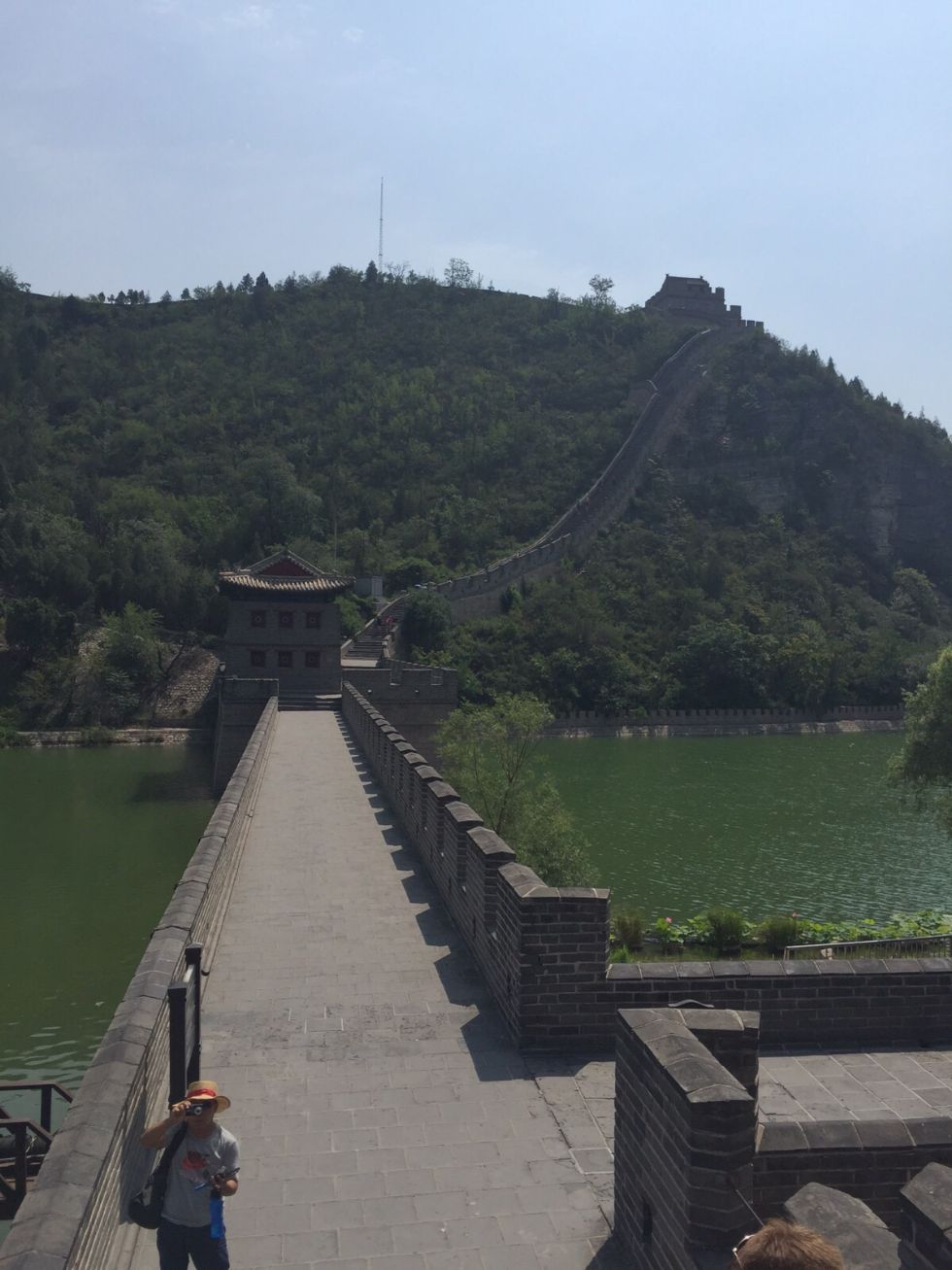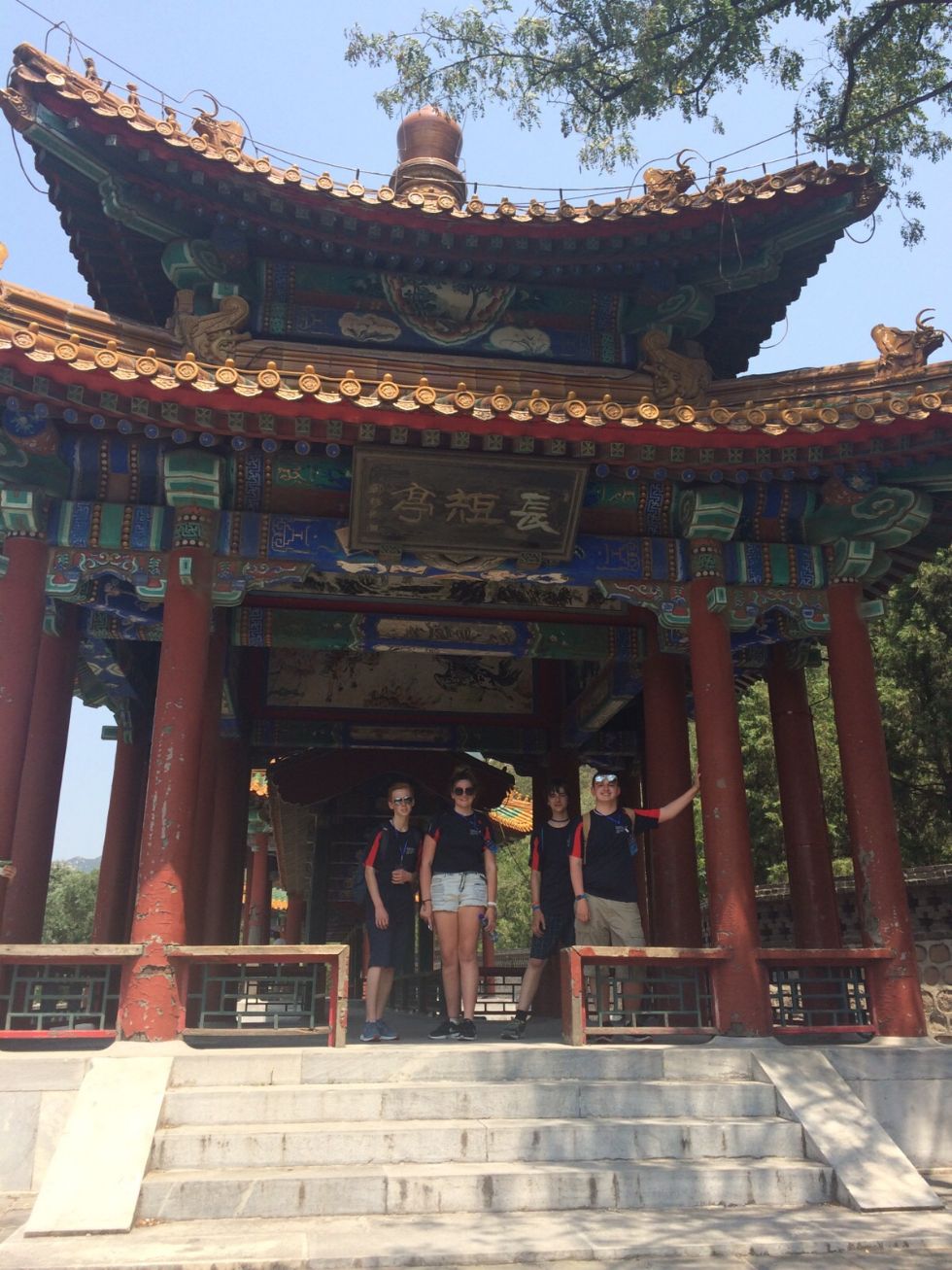 We finally arrived in Beijing on the 12/7 tired and jet lagged after two long and strenuous flights, on which many of us only managed to catch a few hours sleep. The first of the flights departed from Manchester and arrived in Dubai where we stayed for 4 hours waiting for the staff to prepare our second flight. The second flight departed from Dubai and landed in Beijing delivering 20 exhausted passengers. After passing through the formalities of customs and yet another long hall journey this time on a coach we finally arrived to the hotel Beijing Power University and checked into our rooms with only 5 hours left until we were scheduled to awake for our first full day in China.

We woke up around 7:15 on our first day, and went for breakfast. We had our first experience with chopsticks. The food was unbelievable, there was so many different things to try. After breakfast we set off to the Great Wall of China, it was breathtaking, an experience that we will never forget. It was a challenge as some people including myself (Jack) were afraid of heights. But we all worked together as a team, and made it up. The Great Wall is the greatest thing I have seen throughout my life. After the Great Wall, we then continued our journey to the Summer Palace. When at the summer palace we were told many stories by our tour guide Ruth, about the significance of different animals to the Chinese including the badger and the duck. We also got to experience the marble boat, which was amazing as we set off over the man made lake.

Blog today written by Joe O and Jack
Nia Hao from china!
A great day sightseeing in Beijing... blog to follow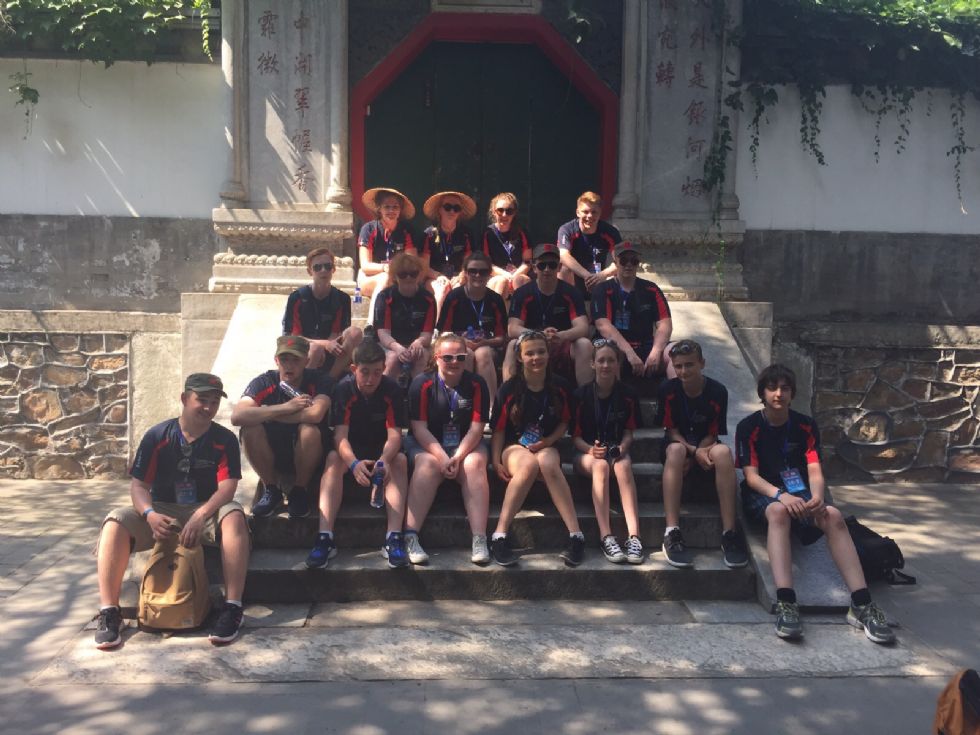 ---
China party have arrived safely.