Monday 28th July
Well, we are on our way home (currently in Dubai Airport). Thanks to everyone who has made this wonderful trip possible. It has been a true journey in so many ways. We hope the blog entries below have given you something of a flavour of our adventures in China. We will add some of our many, many photos to the galleries section of this website when we return.

Xie xie!
Sunday 27th July
Today was sadly the last day of the trip in China. But it wasn't any less impressive. We started the day off as normal having a Chinese breakfast. We then went on a long ride to the Great Wall of China. Let me tell you the word Great is an underestimate of this monument! As soon as it came into view every last drop of breath was taken away by the shear size.

We were given our lunches at the start so we could eat along the way if we wanted to (we decided to wait until after the climb). All the schools apart from SJP went to the busier part of the wall, but we went to a less crowded, more peaceful part. That was a really bright idea as we weren't part of the manic hustle and bustle but still had plenty of opportunities to meet Chinese groups and families along the way, as well as to take the chance to soak up the atmosphere. The width of the wall varied, some parts were wide enough for one person at a time while others were wide enough for ten people.

We managed to get to the end of the area we climbed, a real physical challenge in the already-hot morning. The thought of going down was a dreaded thought. The heat was so intense that I had to have an umbrella up to keep me as cool as possible. As we went down we could feel our legs wobbling a little in some places, so we had to lace ourselves carefully. We all found it hard and it proved us all determined as we made it both ways. Only as we got back to the meeting point, to have a rest, did we realise that we had walked on one of the great wonders of the world. We all found a real sense of satisfaction inside ourselves.

We then traveled to the Temple of Heaven. This too was stunning. We saw the main part then had a few group photos. The heat was still quite intense. After the time was up we headed to the Pearl Market. This was a five story building that was crammed with all sorts of goods for sale, from top brands to hand crafted statues (or so the stall holders said!).

I spent my remaining money on gifts for the family and friends. Funny thing is you could be walking in one direction then you suddenly find yourself standing there buying something, bargaining and haggling furiously. It was very confusing at first and if you didn't focus you could end up paying far more than you needed to. Everyone managed to grab some bargains and at some amazing prices, so we all left very pleased with our afternoon's shopping. I still can't believe what I have got!

We then ended the day with our last Chinese meal. We all sat on a table set for ten, so we had to cause a bit of confusion so we could be together. It turned out ok but we did all end up fighting over the last bit of sweet and sour chicken! This was where our last group photo was taken.

Just when we thought the day had ended we were told we were going to watch a Kung Fu show. This had everyone chattering with excitement. We arrived there half an hour early and sat in our seats watching the arena fill up with people. When the show started we all went silent as darkness fell upon us. Music suddenly was being played and the audience roared.

As the show went on the tricks got more and more dangerous. But this showed us that the performers were well trained. Some people had to look away as a man lay on top of a bed of pins while someone broke a concrete slab on his chest with a hammer. It was jaw dropping.
Then after an amazing performance we went back to the hotel to do our last reflection which was very emotional and also a lovely way to end our time on this fantastic experience.


(Today's blog was brought to you by Susannah)
Saturday 26th July
This morning we made our display boards to promote to the other schools and Hanban, our hosts, the key points of what we learned on this trip. At first we all thought it was going to be a bit of a boring day but seeing everyone working as a team was a great sight. Everyone had their own little jobs and just got on with it.

When it came to the time when we had to present our boards it was a bit nerve wracking at first because we saw all the different schools with their boards that were as detailed as ours. We then sent three students out (one of them being me) to check out the competition but it was quite a heatedly competitive environment because if you had your voting card then people wanted you at their stands and if you didn't then it seemed like some other schools didn't want to know who you were. We had a great team presenting our posters as they were singing with confidence and pulling the voters in, it was great to see. We did quite welwith the amount of votes we got in the end (we got 52 votes) which meant that we were very close to the top although we didn't actually win.

After the presentations we went to sit in the performance area and we split into groups for our singing and dancing performance rehearsals. It was amazing and humbling to see in the rehearsals how much Brian, our Chinese teacher, cared about us doing a good job.

When it came to the ceremony we were all nervous and when we saw the first school perform we knew that we had competition and we had to give our best, not just for the group but for Brian. When it came to us going backstage to get ready for our performance that was the time when the nerves started to kick in but then we got some really good news ........ SJP had won the the award for Best School in Qingdao! This settled most of our nerves and meant that we went on stage with bags full of confidence. When the performance started we all started to have a good time and just relax and get into the flow of things and seeing everyone happy was a great sight and it made it even better to see the crowd having a good time. When the song came to an end the people who weren't dancing left the stage and went to watch the dancers from the front and when I watched everyone I felt like a really proud brother even though I can't dance.

When all the dancers got back to their seats we got to sit back and relax watching the other schools perform and it made it amazing when we were all dancing along to the songs. There was a moment when 'Wake me up' by Aviici came on and everyone in the crowd started dancing along. The party atmosphere was a great way to finish off the ceremony.

Even though the night was nearly over on the way back there was a very touching moment which I was very lucky to witness when Alex gave his glow sticks to a pair of Chinese children and the way he did it without a hint of hesitation was amazing to see, as well as the way the children responded with total delight and surprise.

(Today's blog is brought to you by Harry)

Friday 25th July
After our first night back in Beijing we began with an early start to a packed day by taking a coach to the Summer Palace. The Palace itself was amazing and there were so many things going on at once there, from people writing quotes on the floor to people playing with these brilliant catching mitts. The lake was the focal point of the Palace and it was absolutely enormous and we were lucky enough to take a boat ride to another part of the Palace.

After we left the Palace we went to a restaurant for lunch which served Beijing crispy duck which was by far the best meal we have all had on the trip to date and was very much appreciated.

Afterwards we went to Tiananmen Square which was surreal as the atmosphere is very hard to explain, especially in this year as the 25th anniversary of the tragic events (which has just passed). However, the mood was lightened as a large group of Chinese kids swarmed us for photos which was really good. We then moved on to the Forbidden City which blew everyone away and was one of our first chances to get a feel for the unbelievable sites that we are visiting. Our tour guide showed us around the seemingly never ending City and we managed to maintain a good pace despite the sweltering heat and minimal shade. We were given an insight into some of the history of China and how overwhelming the significance of the Forbidden City. Our tour guide Lydia showed us where the Emperor would live and sleep which was really fascinating.

We then made our way to dinner which was heavily delayed due to traffic, but was worth the wait as the dinner was very nice for everybody and we sat down with one of the Chinese teachers, Toby, who was absolutely hilarious and has the funniest laugh in the world!

When we returned to the hotel, the group split off with those with some energy left going for a walk around the local neighbourhood and the others staying behind to play cards. The walk was very eventful as we saw some very creepy-looking buildings which led on to some of the group sharing their paranormal experiences! We also saw some Chinese pensioners taking part in a late night dance in the streets which was very interesting and gave us a taste into some of the real life experiences of average Chinese people, which contrasts with the sites that we had seen earlier on in the day, which again shows just how unique a country China is.

(Today's blog is brought to you Matty)

Thursday 24th July
Today we had to wake up at 6:20am so we could check out of the hotel as today was the day we were flying back to Beijing for the last few days of our trip. Everyone was so tired but excited about the days ahead. We firstly put all our luggage on the coaches and made our way to the school. As we got there some of the group needed new pens for the exam so we sneaked out of school before the exam to a little shop over the road where we bought some pens and Kameron bought a sweatband in case his brain overheated.

We then made our way back to school and up to the classrooms for our exam, which surprisingly seemed to go really well for all of us. After the exam was the start of the closing ceremony and presentations from each of the six British schools here in Qingdao. It started off in the lecture room where Mr. Lally had to give a speech which had a lot of meaning and also some comedy. We all then made our way to the school auditorium for our presentations. There we saw some Chinese students doing freestyle dancing and traditional singing as well as playing traditional Chinese instruments. They were all excellent. School by school, the students got up and some sang their school songs or performed their traditional school drill. Our school went up and we had such fun singing and showing people our favourite pictures and explaining why they meant so much to us. The next thing we needed to do was a big group picture that included all the volunteers and schools. After that it was the last time we had to trek up all the stairs to the canteen and have our final lunch.

We then left for the airport. At the airport it was time to say goodbye to all the volunteers and our own personal security/police men. It was my job to give Wan Tou his presents as I was his favourite! It was so sweet to see his face when he realised all the presents were for him. After our sad goodbyes it was time to check in go through security and find out gate. We were all delighted that our teacher Mr Brian and Mr Toby were coming with us. Holly, Natalie and I were looking forward to this flight as we were sat next to each other and the flight was so funny. After an hour of a hilarious, bumpy flight we finally touched down in Beijing. We met out tour guide Lydia, got on the coach and went for food. It was enjoyed by everyone as it was such a change to the food in the school. We then made our way to the hotel, put our luggage in our rooms and went and sat outside for our reflection, sharing our highs and lows of the day. We then finished our day by playing a game of cards with some of the group and just chilling. I can't believe our trip is nearly over!

(Today's blog is brought to you by Mary)
Wednesday 23rd July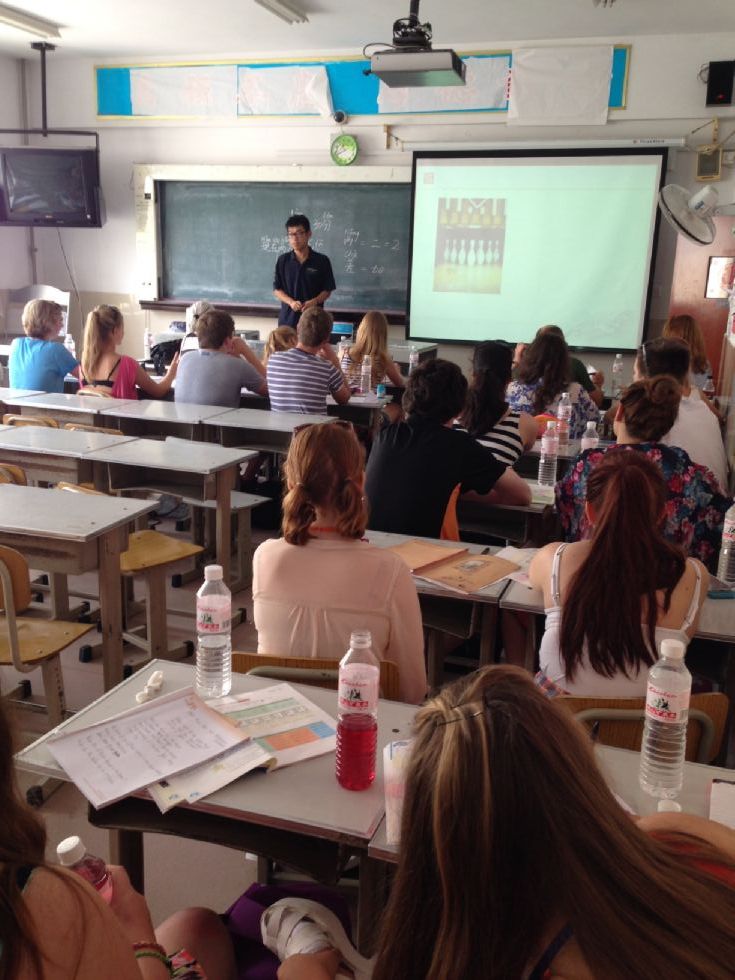 Today's classes consisted of learning about the different family members and going over everything we had already learnt in preparation for our exam tomorrow.
We then had a lecture about the Qingdao International Horticultural Exposition which told us everything we were in store for. From gardens to mascots the whole thing was actually really interesting. However, today in Qingdao the weather was a complete change from our usual sunny, humid days. Today it was thunder, lightning and very heavy rain. Our guides nearly cancelled our trip to the exposition but luckily the rain stopped.

When we got to the Expo the place looked even bigger than I expected. We set off in little groups and I went off with some of the others. We walked up to the little fairground rides and then suddenly we heard a roar from down the road and what did we see: the boys. They had managed to find the director of the park who offered to drive them around the whole park on a little golf cart. It was hilarious to see them all.

After that Natalie, Luke and I walked around to see some of the different gardens from all over the world. The gardens were really beautiful as they included some of the cultural items from the different countries in some of the little pavilions. For example, the Chinese garden had lanterns inside. It really was amazing and being able to walk around as just the three of us was nice and we talked about everything that's happened so far in China.

After we left the Horticultural Exposition we all went to Papa John's! I was so happy to finally have a more familiar meal for once instead of eating the Chinese food. I do like the Chinese food but after eating it everyday it sometimes gets just a little bit too much. So Mary and I shared a pizza and it was just amazing, felt like being at home again.

Back at the hotel we had to rehearse for our closing ceremony in Qingdao. We decided to include a song as our theme was Happy Qingdao Days so we chose 'Oh Happy Day'. Steph, Mary, Natalie and I changed the words and were all busy doing that while the rest of the group were practising their lines for the ceremony. We all had to pick our favourite picture from Qingdao and explain why we chose that one so I picked the plane selfie to Qingdao because I was excited to arrive and meet everyone and being with the people around me made me happier.

At the end of the night we all just chilled in our rooms or went down to the lobby to get wifi so we could contact our families. It was a really good day and I enjoyed it.

(Today's blog is brought to you by Holly)
Tuesday 22nd July
Well it's my turn to do the blog so expect many spelling mistakes and grammar errors (sorry in advance to any English teacher I have had).

Today we started off the day as usual at 7:30 followed by breakfast in the hotel. We then had our Chinese lesson and today we learned about the different fruits for example li is pear and xiang jiao is banana. I found these easiest to remember mainly because we played the squat game with the fruits and I was banana and at the time all I could remember was pear!

After that we had a lecture on Taoism and the Taoist temple that we were going to be going to. It can be a challenge sometimes to keep your attention levels up when they use one Chinese speaking volunteer and one English speaking volunteer.
The coach journeys are always enjoyable for me but this one was different as we had to get 2 coaches but anyone would have thought we were headed into area 41, the security was so tight! We got off the coach and (after being led by our guide the wrong way) we reached the coach terminal thing - I don't really know what to call it - it was like an airport but for coaches. Anyway we were given our tickets and led to the security gates where there were barrier ticket machines like you have at Hamilton Square except more complicated. They took the tickets off you and scanned them then they made you scan your fingerprint and I also noticed that the machine took your photo as well. You then had your ticket returned, pushed through the gates and then you waited for the coach outside. The second coach journey was a lot more shaky as we were on narrow costal roads and there seem to be lots of crazy drivers so that added an element of excitement to the journey.

When we arrived there we saw that this area was very different to the rest of Qingdao as there was less people and less traffic at the actual destination. I thought this was a welcome change throughout the group. As we walked in through the gates we noticed the oriental feel about the whole place however the one down side was that to our right they were building a KFC which we all thought was ridiculous and a huge shame as it took away some of the oriental nature of the temple. The actual temple itself was amazing! The architectural structure was amazing and it looked very ornate with hand carved details in the structures and the buildings themselves were very colourful. We were constantly reminded that for some people this temple was still a place of worship as every now and then people would kneel and praise the statues or icons which was quite interesting to see.

We went back to the school and had dinner which was largely the same as usual. We then had the dancing and singing rehearsals and if that's your thing fantastic; for some of us it was really pushing us out of our comfort zones! Afterwards we went out to the supermarket where we all stocked up on goods.
We had reflection as usual and had the photograph competition after which we all had a bit of time to use the wifi before bed which was nice for people to get in touch with home as they often do in the evenings.

(Today's blog is brought to you by Daniel)
Monday 21st July
Firstly we started the day with our usual Mandarin lesson where Brian taught us about colours and body parts for example your head is tou in Chinese!
After class we had a lesson on traditional Chinese dance where several students of the school performed these dances for us. One girl danced with an umbrella and another performed China's traditional dance. After this we were taught some basic dances that incorporated a fan. This was really fun and we all had a bit of a laugh with it as it turns out that most of us are useless at dancing! Our teacher then taught us a dance where we had to wear white robes with really long sleeves which turned into a bit of a mess because we were all too close together. We really threw ourselves into it and it was a really fun lesson.

After this we had a Chinese calligraphy lesson where we were taught the four treasures of calligraphy: the paper (which the Chinese invented), the brush, the ink and the ink stone. We then attempted to write some of our own calligraphy which for some of us was a bit of a disaster, but some members of the group did really well and our Chinese teacher taught us how to draw pandas and bamboo.

After lunch we got on the bus which was a relief: air conditioning! We went through Qingdao's underwater tunnel that connects the main part of Qingdao to another city. The city is very proud of the tunnel. When we arrived at the other side we went to Huangdao park, we were all expecting a really boring day as we had to stay there for a few hours. However it turned out to be one of the best days in Qingdao so far. When we walked into the park we noticed that people were going round on bikes for four people etc. so we all decided to hire one. They were so funny because they were quite difficult to control so we all kept nearly falling off. The girls all got one together and we were driving round the park singing and high fiving Chinese people. We had a really great time in the park and some of the group went on a massive bouncy castle. It was a nice break where we just got to act like kids!

After we left the park we took the bridge back to the centre of Qingdao; this was recently built and is the longest bridge in the world over water at 26 miles long. It also cost more than £1 billion to build. We had a quick dinner at the school and then went to Pizza Hut with Matt from the IOE. It was a brilliant end to a brilliant day as we were all relieved to taste western food again! We were all really grateful for the break from Chinese food as it was starting to become a little repetitive to us. I've never appreciated pasta more!
(Today's blog is brought to you by Steph)

Sunday 20th July
We all spent the day with our new Chinese buddies...

Matty and Sean:

We met our buddy at about 8.45am and she was called Sun Ke and was 16 years old. Firstly, we jumped into a taxi and took a 45 minute drive to a restaurant where as we were leaving we saw Mr. Lally and Mrs. Bedke drive past with the teachers from the other schools. We then took a bus drive to the city centre and had a taste of one of the strangest things we've ever eaten (which Sean has a good video of!) and then moved on to to the most bizarre karaoke/recording studio where we were able to bond more with our buddy and another group. After 2 and a half hours we went for lunch in a noodle bar which was incredibly filling and we both ordered the same thing which was like a Chinese roast dinner with rice. We then took two buses to the quayside, which hosted the Olympic Games in 2008, and then looked around the Marina shopping centre and treated ourselves to a well deserved KFC. We then took a heaving bus back to the hotel where we parted company and thanked Sun Ke for the day.

Natalie, Holly and Susannah:

We met our buddy around 8:45am. She was called Christi and she was really nervous and we found out she was 17 years old. Outside the hotel there was a taxi waiting for us and it took us to the little market place nearby her home. It took around 30 minutes but when we got to the market her friend Amelia was waiting to greet us. They took us around the stalls and we kept getting stared at which was a bit scary at first but then we got used to it. Christi wanted to buy us a welcoming present so we chose our own beads/charms from a stall which the stall holder then made into a bracelet. An hour and a half later we went to get a treat food wise. We decided during that time to give them our gifts. They looked so happy. We then had lunch at a noodle bar, going through every dish on the menus until there was something we particularly liked. We then sang songs at Christi's house and watched films. We tried to make dumplings, after which we had some traditional Chinese tea and then had dinner. An hour later we started some origami. We made cranes and flowers with their help. We also talked about our families and interests. Finally we went back to the hotel at half seven after a fun packed day.

Mary and Steph:

We first met our buddy at about 8.45 am and she was called Cindy, she was 16 years old. She brought her younger cousin aged 15 called Colic with her. When we first walked out of the hotel we both felt really nervous and intrigued about the day ahead. We firstly walked to the bus stop and got on a public bus to her home. It took an hour and we had to change buses. It was the first time both me and Steph had been on a public bus here and it was very challenging. It was tightly packed, hot and had a male driver shouting Chinese to all the passengers. Cindy's home was not what we expected as from outside the apartment block looked small but the apartments themselves were actually quite big. Her parents arrived home about 30 minutes after us. They were both very traditional Chinese people, her mother didn't speak English but her father could speak a little. It was a bit awkward at first but after we introduced ourselves it was fine. Her mother brought us loads of fruits including watermelon, peaches and plums. Then her father tried to teach us both Chinese chess but we didn't understand it as it was even harder than the English! Instead Cindy suggested playing 5 in a row which was much easier as it is a game we already knew. Unfortunately Cindy and Carlic always seemed to win! We then started to make dumplings from scratch, starting with kneading the dough and then using a rolling pin to make small circles. To us two it was impossible but watching how fast her father did it was fascinating. Her mother brought out the filling and it smelt amazing!! Between us both we made about 100 dumplings. We then got a plate each but couldn't eat all of them.

Afterwards we went to the beach where there were lots of couples getting their wedding pictures taken, it seemed a bit chaotic. After that we went to a massive shopping centre that had five floors, an ice rink and a random gym just set up in the middle of the place. We met up with Sean and Matty. We had to get the bus again back to the hotel and it was packed full of people. Now that was an experience! The day was fascinating and we got to see a side of China that we never would have been able to experience without our buddies.


Daniel and Luke:

We first met our buddy at the hotel in the lobby at 8:45. We were told her English name was Zoe. She gave us an idea of what we were going to do for the day, she said that firstly we were going to be going to a bookstore. We met her parents just outside the hotel and got into their car. Then while we were driving to the bookstore we got to know our buddy. We found out she was 17 and that she had been at Qingdao Number 2 Middle School for 3 years.

When we arrived at the bookstore (which earlier she had informed us was the biggest bookstore in Qingdao) it did not seem like much from the outside; however upon entering we realised the true size of this bookstore. It was 7 floors full of books, some floors also contained electrical goods and CDs, we did not know where to start! Zoe guided us through the bookstore and showed us some of the books. There were sections dedicated to Classic English novels re-written in Chinese. This was very strange to us as not only are our bookstores tiny compared to this store but our bookstores seem to be absent of sections dedicated to foreign literature re-written in English! When we started to leave the bookstore we noticed to our surprise that Zoe's parents had bought us books to help us learn Chinese (although they found it hilarious as the books were designed for 5 year olds).

After we left the bookstore we went to a beach which was very nice considering it was now midday and it was extremely hot. It was relaxing. We walked along the beach with Zoe and her dad her dad tried to communicate with us in very broken English which was quite funny - he eventually gave up and had Zoe translate for him. Right after we went into the car to go to a restaurant which at first looked like a market with different dishes in it. We then went into a room with a huge table and on it was all the dishes we told her we would try which included shark, pork and deep fried ice cream. It also had a different amount of veggies and noodles. Then after that we got told that we were going to go to her house which was something we didn't expect. When we got to her house we decided to play chess and a Chinese game, she was quite good at chess knowing that she had never played it at all. After that she told us that we were going to have something called hot pot; we didn't know what to expect. It turned out to be a pot on a small stove which was put in the middle of the table. We ate loads and loved every minute of it. When we said goodbye Zoe said that she had a great time and wanted to get better at her English.


Harry and Alex

We first met our buddy at 8:40 in the lobby, she told us that her English name was Ann and she took us out for the day. We met her mother but she didn't speak any English so Ann translated for her. We started by going to a milk bar where we had a glass of milk which was quite tasty and then we went to the Olympic statue in Qingdao that had some of the best views of the city. After this, we went to visit her house which was on the top floor of an apartment block. She also lived with her grandmother who couldn't speak any English but she was very nice and even got a picture with us. Ann showed us her calligraphy skills which were really good, she even wrote our names; we then gave them gifts. This was our favourite part of the day because it made them so happy which was great to see. We then went for lunch to a Chinese restaurant which had the best chicken I had ever tasted; Harry tried all the food but thought most of it wasn't his favourite, Alex enjoyed all of it and even used the soy-wasabi sauce which very spicy. We were spoilt rotten throughout the whole day, we didn't know how to repay their generosity. Ann and her mother then took us to the National Postage Museum which sounded really boring at first but turned out to be really fun with the postcard messages and stamps. They then took us to the beach where we must of seen 50 couples having their wedding photos taken and Ann said that this is what normally happens. To end the day, they took us out for dinner to a seafood restaurant which was really nice. Harry did struggle to eat the fish eggs but they did seem a bit strange. When they dropped us off at the hotel, we kept on saying thank you but we felt really bad because we couldn't pay back their generosity and it was unlikely that we are going to see them again. It was the best day so far and it will be hard to beat.




Kameron

I met my buddy Wan and then we got a taxi to meet his friends Wu, Jim and James.We then went to the beach for a bit and relaxed in the sand. After that we went to the dock and then on to the main street in Qingdao and had lunch, I had a cheese burger meal.Then we got the 1 yen(10p) bus to the local badminton and ping pong club and played badminton and ping pong for a few hours. This was good but I got really hot and sweaty and the buddy and his friends were really good at both badminton and ping pong.We then got another bus to go get tea and we went to a hot pot place.It was a place were they cook your food really hot and spicy so I didn't like it so much as I burnt my mouth as it was so spicy.After tea it was around 7 so we went to get the bus back to the hotel,it was really crowded and we was on the bus for around an hour. Once I returned to the hotel I said goodbye to my buddy and his friends and was really sad to think that I would never see him again but I had a really good and funny day. It was really good to see everyone having so much fun.


Austin

Today we met our buddies and I spent the entire day with them. My buddy's names were Nora and Vicky, they were sisters. Firstly I went to their house and spent some time talking. I tried some sweet milk which was the first time I tried it. After that we went out shopping in a market; it was a big market and I had previously been there with the school. Then we went to a Chinese restaurant which was delicious. I tried some new things which included cuttle fish and had some weird soup which was not so nice. We went off to a shopping mall where we wandered around and it was different to the shopping centres in the UK. I began to feel more comfortable with them and I learnt more about Vicky and Nora which was interesting. After that, we had to take a long taxi journey to a bigger shopping centre, it took almost an hour because of the traffic at that time. Eventually we arrived at the shopping centre. It was huge and it had loads of big brands included. There was an ice rink which we went on and it was the highlight of the day because It was good spending some time with them. After that, we went to this big gift shop which had some funny items; Nora bought me a bracelet which was nice of her and she made a bracelet with my name on it for herself to wear. Then we left to go to a BBQ restaurant which was near the Hemingway Hotel so it didn't take long for me to get back. Also I gave my gifts to them and they loved them and were really happy to get them. I felt good that I gave them gifts because they spent a lot of money on me that day so I was glad to return their generosity a little. Finally I returned to the hotel and I said goodbye. It was quite sad because I knew I probably wouldn't see them again, but I had an amazing day with them and it was definitely a once in a lifetime opportunity so I'm glad I met Nora and Vicky. I think my highlight of the whole trip is meeting my buddies because it was so amazing.
Saturday 19th July

Firstly, we started the day with two mandarin lessons. Our teacher Brian teaches us around 3/4 mini subjects in the class combined with games and speaking tasks. We learn a lot at a very rapid speed but it's truly enjoyable.
We then moved to an art room to learn about the traditional paper cutting. We then got to do our own. It was very frustrating but in the end we all got there with a little bit of encouragement. We all made butterflies and they were all "unique" if that's the word!
Once paper cutting was finished we all knew it was time for the long hike up the steps to the canteen. As we walked in we saw the selection of food that had been prepared for us. We all plated up and sat in our usual space. Afterwards we went outside while we waited for the bus to take us to our afternoon visit.
On our way to "Polar Ocean World," we all kept each other entertained. As a group we managed to convince Some of us that the two men working at the fountain were actually robots and the only question asked was "Why are they moving?" It sounds silly but it's small things like this that make each and every day even better. It wasn't till reflection that night that everyone was let into the secret that they were not really robots.
Polar Ocean World was extremely busy - this was obvious by the sheer number of people outside the building waiting to get in. We were lucky as we were able to enter without waiting in the lines but even in the entrance it was still extremely busy. Once inside we all stopped and we had a group photo taken; however Chinese families found us fascinating so we ended up getting a group picture with them too. As we walked down the corridors everything just got more impressive. There was a huge range of aquatic life there, including seals, penguins, stingrays and even sharks. Once we were finished we went out to the market place.
The market place was not so busy and very interesting. We tried squid, starfish and coconut milk (some were more pleased than others). We were all bought ice cream and then headed down to the rocky beach. On our walkabout we walked past a man with a shell which was also a horn and a man in a strange squirrel suit trying to charge us for pictures. We then got back on the coach and headed back to the school for dinner.
By dinner we were all very tired so it was a quieter meal. Although it was nice we are all starting to really miss home foods!
Even though we were tired the school had organised Chinese dancing for the closing ceremony. Although we all started off shy eventually we all got into it. Some of the boys' coordination wasn't too good but they used it to their advantage. After we knew the dance we all went outside and had a flash mob moment led by four Chinese girls and a couple of us English girls (including me!). Meanwhile the boys were fighting to get to the back row...
After all our great attempts at dancing we had a bit of a treat - a choice of a visit to McDonald's, KFC or our supermarket! This was such a nice change and really made a big difference to everybody's mood. We then walked back to the hotel for rest after such a long but amazing day.
(Today's blog is brought to you by Natalie)
Thursday 17th July

We started with more Chinese lessons after breakfast, they were really easy for our school since they were on numbers which we all learned before the trip. We also gave Brian one of our SJP polo shirts and he loved it.

We then had to have a lecture on the old town of Qingdao which was quite interesting about the history that went on during its German occupation.

After lunch, we went on a trip to Xiayou hill in the old town which turned out to be a great laugh as well as really interesting. We had Kameron and Sean 'borrowing' police caps and taking photos in ridiculous poses with security guards; we even got a photo of them in one of the police golf carts!

We eventually got to the top of the hill and we had a fantastic view of the beach and city, so we'll probably have a lot of similar photos for most artistic picture of the day (our daily competition). The tower at the top of the hill seemed really small but when we got to the top of it, it was quite the opposite. Then on the way down, Miss and Sir bought us all ice-cream :)

We didn't get to visit anywhere else because of some trouble with the bus and the traffic, but Brian said we should be able to go again tomorrow. But during the stand-stills on the bus, we ended up singing songs thanks to Steph and Holly as well as a few solos from Kameron and Sean.

We returned to the school expecting dinner, but it turned out that we would be making the dinner ourselves. The cooks set the canteen tables up so everyone could make their own dumplings. Unfortunately, we couldn't eat them until tomorrow but we still had a lot of 'fun' with the flour.

After actually having dinner, we came back to the hotel for a quick change of clothes and grabbing some things we needed for the beach. At the beach, the lads played football while Mrs Bedke and the others played hackey-sack with a makeshift shuttlecock. We had so much fun especially when we all buried Sean in the sand. While we were at the beach, we had our daily reflection and our photo competition was a little different this time. This time, we had the best two cultural pictures and winners were Luke and Harry who won key chains of the temple from Xiayou hill.

We then made a quick stop to a local supermarket which was basically 'Chinese Aldi' which made it really easy to buy lots of things (including dragon fruit) for almost nothing. After a walk back we all stayed up for our daily dose of Wi-Fi and phone calls home before heading off to bed.

(Today's blog is brought to you by Alex)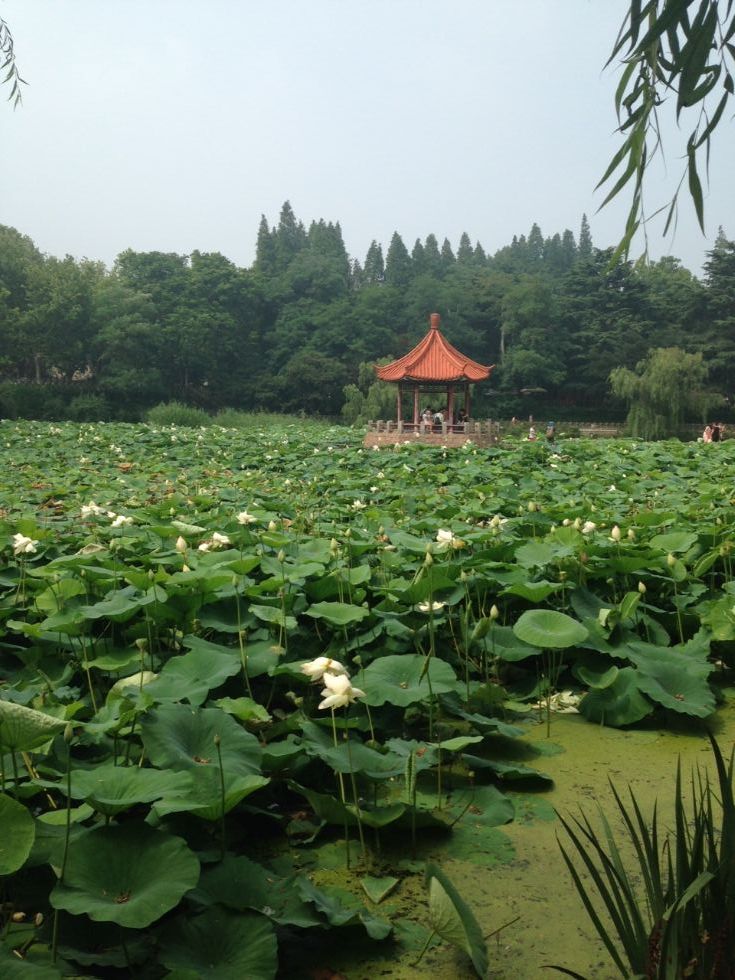 Wednesday 16th July

We all started today with making Chinese Opera masks. The masks used the colours red, black, grey, yellow and we had to follow some very detailed patterns. At the end of the hour we all stood in a line to have a picture taken.

Afterwards, we traveled to the two Qingdao museums. One was about the development of Qingdao over time and the other was on the history. They both finished the second sessions of the day. The first museum was fairly small and the second one was three times bigger.

We all returned to the school to have lunch. The meal contained lots of meat. The chicken reminded us of KFC. After lunch, one of us built a tower of water bottles about four bottles high.

We had our first lesson with our teacher called Brian. He told us when he spelt his English name for the first time he spelt it Brain. We learnt how to say where we came from and played a game called Squat. We would have to say our name and crouch down. After that we would say someone else's name for them to do it. If we did it wrong we would do a performance. Kameron ended up doing a dance for the whole class. Everyone took part, even the teachers.

We were supposed to surf the internet. But because we couldn't get much of a connection we decided to play games. Mr Lally had to be in a meeting so everyone but him had so much fun. We even made Kameron run up a bunch of stairs for losing a game. When he got to the top we all ran and hid from him!

In the evening we went round a local supermarket and got a few stares. Some people from the group came back with hauls of food. We tried seaweed Pringles that seemed odd but tasted delicious. We then went on a hunt for ice cream. This was a great way to cool down after a busy day.

When we returned to the hotel we did the usual circle time and photograph competition. The winner of the selfie/ funny picture or video was Sean with his video of Kameron with his dance. Steph won the artistic photo with a beautiful landscape. But it was a hard decision as all of them were stunning.
(Today's blog was brought to you by Susannah)
Tuesday 15th July
Tuesday 15th July A very early start today (5.15!) as we had to get to the airport ahead of the Beijing rush hour traffic. The airport was really busy but very smooth and efficient. After a bumpy 80 minutes in the air, we landed at Qingdao. The weather is cooler here, with a warm sea breeze (although a little misty).
We checked in to the Hemingway Hotel (very nice it is too!) and then headed off for the short trip up to our host school, Qingdao No 2 Middle School. This is a very impressive campus school, with its own observatory, pool, clock tower and even a lake! We went up the hill at the back of the school grounds and were rewarded with a great view over the city.
Pausing only to sample the sports facilities (the boys couldn't resist a sprint race on the track!), we then headed back to the hotel. A very pleasant short walk from the hotel is the beach. Although it was getting dark by now, there was still plenty going on and we enjoyed a walk along the boardwalk, stopping to barter for souvenirs along the way.
A beachside reflection and visit to a local cake shop finished another packed day!
Monday 14th July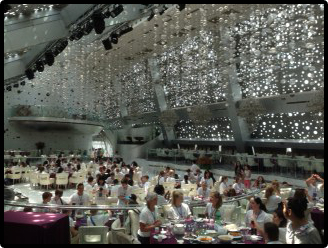 A pack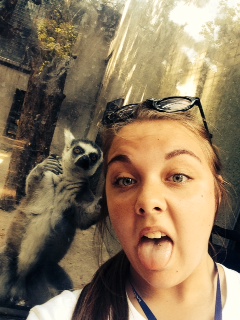 ed first day, including a visit to a stunning restaurant.
After a short night's sleep we gathered for breakfast in the hotel we are staying at, part of the campus at North China Electric Power University. Boiled eggs proved to be quite a challenge with chopsticks!

Our first activity of the day was an introductory lecture. This covered lots of areas of Chinese life and culture, including some amazing facts and figures and a brief outline of the major philosophical schools of thought which are integral to life in this country. We also looked at some of the different kinds of food, as well as exploring some of the incredible ethnic diversity in China.

We all left on the coach for the city centre. Our first stop was for lunch in a stunning restaurant. We really liked the huge ceilings decorated with thousands of glass balls. The food was great too, and everybody managed to sample the whole range of food on offer.

After lunch we went to the headquarters of Hanban/The Confucius Institute, our hosts for this trip. We enjoyed dressing up and the many interactive experiences on offer there. Back through the heat of the afternoon (37 degrees!) and we went on to the Beijing Zoo. The pandas were having a lazy day, but it was great to see them. Some close encounters with the lemurs was perhaps the highlight of this afternoon, with some new friends made!

We went to another restaurant in the evening, this time featuring food from the Sichuan province which is quite spicy, but delicious. Once we had returned to the University, we gathered just as our SJP group to reflect on our day, sharing highlights and insights and competing our journals.

We ended the day with a walk in the local area. We absolutely loved the street stalls and shops, with lots of new sights and smells. We went to a juice bar and we all tried 'juice lottery,' sampling drinks without knowing what it was we were ordering!
Sunday 13th July
We have made it safely to Dubai, the first stop of the trip. Our adventure has begun!

We arrived early in the morning at Dubai airport, with some of the group managing to catch sight of the world's tallest building, the Burjh Khalifa.

After a couple of hours of admiring this amazing building and getting breakfast, we were back on the plane for our second seven hour flight, this time crossing the stunning mountains and valleys of the western Himalaya and skirting the Tibetan plateau before finally arriving around 10pm China time - 22 hours since we had met at SJP. We are here!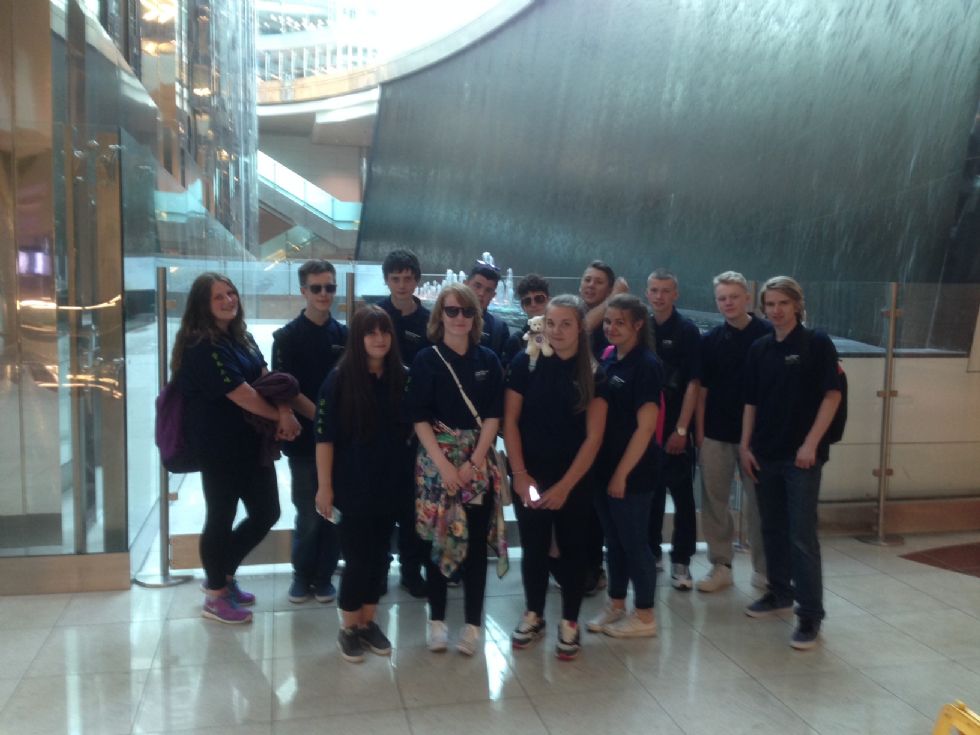 Our China Expedition for 2014 is nearly here! Please check this page for regular updates from our adventures in Beijing and Qingdao...