Please click here for more photos

Tuesday 30th July 2013
Today was our last full day in China. We had a lie in until 7am this morning, as we had a bit of a 'chilled out' day planned. We all finished packing and then headed down for breakfast. We trekked back up our flights of stairs to grab our suitcases and dragged them towards the coach. After an hour of travelling, we finally arrived at the Capital Museum. The building was so unique and interesting, which definitely fit with the architecture in China! Inside, the museum had 5 different floors. We went to the 5th floor first, which taught us about the Chinese way of life. The 4th floor showed us the variation of Buddha statues and porcelain, and how they have changed over the years. There was also another floor which taught us about the city of Beijing itself. We had some free time, so we went to the cafe and ordered a drink. It was nice to chill with everyone!
Once we had finished at the museum, we went for our last lunch as a group and enjoyed various meals. We then set off for the Art District 798. We didn't really know what to expect as neither of the teachers had been either. It was really exciting! We arrived after about an hour on the coach, and immediately as we stepped off we saw plenty of people using spray paint to graffiti walls with amazing skill. There were so many galleries and small shops, in some of which we were able to use our well practised bargaining skills! There were lots of opportunities for photos, and once again we were asked by lots of Chinese people to have our photos taken with them.
We then went for our last dinner, which was in a very posh restaurant! We filled up on plenty of dishes from sweet to spicy, and finished up with some watermelon. It was going to be a long night ahead, so we knew we had to fill ourselves up! After our final tea, we were able to visit a local corner store. I think we all bought the whole stock of Oreos off their shelves!
Saying goodbye to Candy and the students from the other schools was definitely one of the hardest things we have had to do on this trip! A long wait at the airport passed quite quickly as we all wrote messages to each other in booklets and reflected on these last couple of weeks - an amazing experience for everyone. Thanks to everyone who helped us to get here for what was a truly unforgettable experience. Xie xie!
Monday 29th July 2013
Today we all woke up at 6:00am really refreshed and awake from having had an early night in preparation for what would be a big day. We went down to breakfast and ate our food and then headed straight for the bus to meet Candy. Once we were all prepared and loaded on the bus we drove straight to the Great Wall! On the way we drove past many sites including an abandoned theme park. Once we had arrived at the Wall we all unloaded off the bus checking as we left for essentials in our backpacks. Once we actually started to climb the Wall we headed for the east side. The steps were a challenge as they were not just steep but uneven to climb, causing us to have full concentration. When we actually go to the top of the Great Wall the views were amazing - nothing can compare to what I saw that day.
After making our way back down we were all treated to ice creams - it was such a satisfying feeling! We then headed back to the bus and drove to lunch. We had lunch in a lovely restaurant giving us time to relax after the walk. We then headed in the coach to the Temple of Heaven. It was wonderful! The buildings were amazing: the colours and art work were fabulous and we all made the most of the opportunity to take photographs. After staying there for over an hour we then headed off for some shopping...
The Pearl Market was so different to the markets at home. It was a four story building with stalls on every level. Everyone was able to buy all the gifts they needed from headphones to shoes. It was amazing how we were all able to bargain down to save us money and we came out with so many shopping bags it was crazy. It was such a good feeling and once you got the hang of how to shop it all came naturally.
We then all headed out for dinner (the food was delicious) and then drove straight to a theatre to watch a kung fu show. I have honestly never experienced a show as amazing. The story line and the overall performance was breath taking. We all had seats close together too making the show even more enjoyable. The actors were trained professionals doing tricks that would take years to master. After the show finished we left and returned to the school where we quickly prepared ourselves to go out on a walk where we bought ice creams and sweets in the local shops. After a walk around the neighbourhood we soon returned to the school. This was an amazing day - I would love to do it all again!
Sunday 28th July 2013
Today we got the pleasure of having a slight lie in till 7am. We all went down to breakfast and had the usual strange but interesting combinations of foods, such as broccoli with shrimps, to chicken kebabs. Then we all met together and had our reflection from the night before which had been a late night. We all shared what our best highlight for the day was and explained why it was our highlight.
Then all as a group we met our guide Candy and she took us to a hall in the school for a two-hour lecture from a male teacher from the university who talked all about the Chinese culture. He also asked many different questions to the audience and we had to answer them in detail as best as we could.
Once the lecture was over, we all headed down to lunch starving. This seemed to be a lot nicer than usual and there was a different variety of foods and they had fizzy drinks! After lunch we had some free time in which most of us people went to enjoy the sun. Then we all put on our purple polo tops ready for the afternoon. We met at 1 o'clock and finished off our posters for the exhibition which was shortly to begin. We placed our posters in the hall as did all the other schools. Then rehearsals started for a short while, and then the rules were announced by the judges and the competition began. We all walked around the hall and had to persuade people (including visiting VIPs from the embassy) to come and look at our displays and listen to our presentations and vote for us. It was a really fun experience and the whole team really pulled together.
Then after that event had finished, we all headed down for tea, and then we met for reflection. After reflection we went back up to the hall and waited for the closing party to start. Prizes were given for the architecture projects and presentations - we came 2nd with 99 votes, only 4 behind the winners! Everyone was feeling excited and then we watched the different regions perform their acts. We were very proud of Mike and Kyle, who were represented SJP as part of the Changzhou performance. Straight after that some people headed off for a walk, and some straight to bed. Such a good day!
Saturday 27th July 2013
The weather was damp and a little drizzly today, but a drop in temperature was more than welcome. After "fuelling up" at breakfast we gathered on the coach and drove to our first stop of the day – Tiananmen Square and the Forbidden City.
On arrival at the square, we saw a crowd of thousands swarming towards the entrance of the Forbidden City. Towering over the square was a painting of Chairman Mao, a painting we later found out is replaced by a new painting every February the 1st. China's great leader and founder of the People's Republic of China looked on. On another side of the square was a huge queue, mainly made up of Chinese nationals waiting to view Chairman Mao's body which is preserved there. Another side of this massive open square was taken up by the enormous Great Hall of the People.
As we passed through the colossal outer gates of the Gate of Heavenly Peace (also known as the Tiananmen Gate) we realised just how big the Forbidden City is. Made of stone, marble and ornately decorated wooden structures, it truly is a sight to behold. The regal setting was spectacular, but vast – the scale of the place is hard to explain. We learnt about the history of the Forbidden City, visiting palace after palace. We finally found our way to the royal gardens, decorated with sculptured stones and lush greenery – some trees dating back 600 years. We were very surprised to find that some people living in the Forbidden City spent their whole lives enclosed there within the walls. After breaking away from the crowds we boarded the coach and went for lunch.
Peking Duck was on the menu today, a speciality dish here in Beijing. We savoured every bite and ensured everything had been consumed! Following lunch we went for a walk around a local shopping centre. We bargained with shop keepers, which was enjoyed by all.
We returned to the school in the afternoon to work on our architecture project. Everyone was given a role to fulfil; planning, researching, drawing or script writing. Everyone worked as a team and the finished product looked great - we were proud of our efforts.
After a busy afternoon of hard work for our project, we decided to skip dinner at the school and catch the subway back to the city centre, where we would wander around the food and night markets after and grabbing a normal (not so spicy is time!) McDonalds. Setting out, we took a 20 minute walk down the street to the subway station; our first underground for some students, for others it was our first subway in China! After taking three trains to arrive 40 minutes later in the city centre, we then took a stroll and, finding our venue, we ate and appreciated the western comfort.
We then wandered to the night market. This was held in the same streets we had been in earlier in the day. What we all noticed was that the atmosphere had definitely changed from previously. The food market was overwhelming with all these new smells, sounds and sights. We took it all in, some noticing minor details others struggling with the size of the task. After seeing some of the wonders of Chinese cooking such and scorpions on a stick and a version of toffee apples we headed to the further part of Wangfujing Street. People came in frequent waves so some of us made a human chain! I think this stressed the strength and security within the group. We waded through, peering at unique concoctions such as sea-horses on a stick and bubbling drinks like something out of a Harry Potter film! It was a melting pot of cuisine, souvenirs and pretty much everything else.
We found an exit and the pause from the intense environment was a relief. After a moment of reflection, we slipped back. We were greeted by a Peking Opera performance at this entrance and, as we walked, we were encouraged by sales assistants to enter their restaurants as they had the "best food in all of China!" The streets were lit with lanterns and music was meshed into a constant mumble. It was really interesting to witness capitalism in a communist country - through the sale of turtles and fish in portable tanks, from the latest headphones and fashions to embroided fans, we were on sensory overload.
We made our way back through the streets with shops selling western luxury brands to our left and Chinese family-owned businesses to our right. We found the train station, eventually mastered the ticket machine and headed to the platform. Some of us still had enough energy to sing the Chinese songs we had learnt in Changzhou which kept spirits high as we were getting tired and this was a good way to spend the hectic journey home on the now crowded subway. As we left the station we bumped into another group who had been with us in Changzhou, so we spent the last 20 minutes of our day comparing notes on the stroll back.
Friday 26th July 2013
Today began with an unusual lie in that lasted until 7:20! We all finished our packing and headed for our last breakfast in Changzhou. There were no lessons today but instead we were going to watch and perform in the closing ceremony. We finished breakfast and went to the auditorium where we went through our musical performance one last time. Shortly after rehearsals the closing ceremony began. We really enjoyed the PowerPoint which was played that contained pictures from all the groups and activities from the past 9 days. I think this made the whole group realise how fast the past days had gone and also how amazing they had been. Then the school group performances began.
Firstly there was a drum performance. Kyle and Mike were the two boys that were taking part from SJP. They had to wear very fetching silky Chinese suits. The first school read some Chinese poems, we were the group up next. Working with our Chinese buddies as well as the group from All Saints, we sang three songs: one song by The Beatles, one by Oasis and one Chinese song. Fran also sang a solo whilst three All Saints girls danced to it. The whole thing went really well. After we performed another group did a dance, which was really good. After that group the last of the English schools performed a scene in Chinese.
Once the closing ceremony was over we all got pictures with our buddies and went to get our last lunch in Changzhou. It was nuggets, noodles, pop corn chicken and a few vegetables for most. After our last lunch everyone went to their rooms to do some final pieces of packing as we were leaving that afternoon. At 1 o'clock, we got all the suitcases on the coach and said our emotional goodbyes to our buddies – it is amazing how close we feel to our new friends after such a short time. All too soon we left for the airport to board the plane to Beijing for the last leg of our trip in China. We boarded the plane at twenty past four. However, we had a delay which lasted an hour.
After about two hours we landed in Beijing. We noticed the sky wasn't nice like Changzhou, it was really smoggy and grey. It wasn't as warm as it was in Changzhou either, but it was still in the early 30 which is really warm at home; this felt like nothing to anyone, it was actually quite cold compared to Changzhou! The flight itself went smoothly apart from some little bits of turbulence but apart from that it was a good flight for everyone. We got our suitcases and headed to the exit where we were reunited with Candy, our Beijing guide. There wasn't enough room under the coach for everyone's suitcases as we had brought eight large drums from the school in Changzhou with us, so the tour guide had to call a van to get the rest taken to the Beijing school where we are staying. About ten minutes into the journey Candy came on the microphone and announced we were going to a restaurant for our tea as we missed the tea in the school!
We arrived at the restaurant and Candy led the way, as usual, weaving through the mob with ease. The restaurant was really big and very fancy, with all the tables set and ready for us to sit down. Spring rolls stuffed with duck and vegetables awaited us on the tables, ready to be eaten as everyone was starving as we had not eaten anything since lunch. Well, nothing proper anyway. On the table there were chips, plates with meat and vegetables, rice and mushroom soup. Some people had the soup with rice. Overall the tea was really nice and it was a treat to eat out in a restaurant and not in the school!
As we got on the coach we all had to sit next to different people to mix it all up. The drive was less than an hour and when we got to the school Candy left us and we went to our rooms to meet back at the usual place after 15 minutes for our daily highlights and reflections.
Thursday 25th July 2013
Another early rise at 6:40am; we headed down for breakfast and we again tried some new breakfast foods such as spring rolls and Chinese muffins. After an enjoyable breakfast we headed to our very last Mandarin lesson with Miss Linda. We were all a bit anxious as today was exam day. Today's objective was to review the content that we had learned since we had arrived in Changzhou. This included things like how to tell the time, names of different countries, numbers and basic conversation. We were tested on our listening skills and writing skills. As we listened to the recordings we circled the correct answers which proved difficult at first but we got the hang of it in the end. I was surprised at how easy I found the writing part of the test: we had to write down the Chinese characters for the numbers. Fortunately, my studying had paid off! We are pleased to announce that we all passed the exam, which not only reflects our own efforts but also shows how much time and effort our buddies and Miss Linda have put in to teaching us Mandarin.
After we finished the exam we went to our next extended lesson of calligraphy. Here we were taught more new words and how to write them. The teacher and buddies made it look so easy but by the end of the class we were starting to get the hang of it. It is such a skill and can take some years to master the art. This was our last lesson at Changzhou school which was sad as we're coming close to the end of this phase of our China expedition. We have learned so much in our short time here.
Another delicious lunch was topped off with yummy chocolate Chinese ice-cream. Some of us had a photograph with our new friend, the dinner lady. She greets us each morning and evening with a great smile. Throughout our stay she has been so enthusiastic in our presence, we have all grown to adore and appreciate her. We then had some free time; as some of us headed to the stadium in the sun, others went to the computer room to send emails home, others again simply tidied their rooms and packed in preparation for our departure tomorrow. We all met back up at the theatre where we rehearsed our performance for the closing ceremony with our Chinese friends; today we focused on our positions and our dance moves. This was fun and we were encouraged to put more passion into our performance as it really is a once-in-a-life-time opportunity. So with our newly found "swagger, pitch and tone" we were ready to rock!
At 3pm we had a class to prepare for our presentation in Beijing. We listened to music and assigned ourselves jobs; we were all so busy and absorbed I can't help but feel proud of what we have achieved so far on this trip. We have become so close and secure with each other we're like (sorry for the cliché) a family. We had our last supper in Changzhou and had some more free time; again packing and washing were options but some decided to email home before another quick run-through of our performance. It was a lovely evening so the group decided to take a stroll through the Red Plum Park opposite the school. On our way to the park we passed an old Chinese lady who was simply walking past but clapping her hands. Finding this intriguing we joined in with the clapping. Her face lit up and it was nice to see such a reaction. As we entered the park we were greeted with a public power walk so, as always, we joined right in and passed ponds and flying bats, even an aquarium.
We stumbled across a circular area with floor lights and music playing. Dozens of couples were dancing within this circle to the music. There was no set routine but it looked like a waltz. Yet again we joined in dancing in pairs, amused and fascinated by the communal activity. Some of us really enjoyed chatting with some of the local people also out enjoying the evening. After a 'Billy Elliot' routine preformed by Matty, we left rather hot and thirsty. We walked around the perimeter of the park to explore and found a small, presumably family-owned, business and bought cold drinks; the owner was thrilled at the sale, as was her son.
On returning to the school and after a photo with our new friend the security guard, we completed our diaries and shared our highlights. We were all feeling a little sad to say goodnight on what was our final night in Changzhou. (Today's blog was brought to you by Hannah and Lydia)

Wednesday 24th July
Our normal daily routine began with our Mandarin lessons. Today we covered parts of the body. We even had an international version of 'heads, shoulders, knees and toes!' We also learned a song about two tigers, which we will be adding to our repertoire for our final performance at the Changzhou Closing Ceremony. Afterwards, we had our first calligraphy lesson. This ancient art is definitely much more difficult than it appears! We were joined for this by a crew from the regional TV station, which we are told has an audience of 13.4 million. We went back to the classroom for our presentations; in pairs we had to present our posters and research on our chosen buildings. This was made more difficult as we had to present in Chinese as well as English. Working on these presentations gave us all the opportunity to learn more about buildings that we have visited as well as gaining knowledge about some upcoming visits. The class winners were Kallum and Mike.
After lunch we gathered in the theatre to continue our rehearsals. We really appreciate being in an air-conditioned space! Practice over, we gathered at the school gate for a short walk to the park. We finally had the chance to visit the temple complex and pagoda which towers next to the school.
The Tianning Pagoda is 13 stories high and is one of the tallest wooden structures in the world. Ornately decorated with hundreds of images and statues of the Buddha, the interior was really impressive. At the top, there is a huge iron bell, inscribed with quotes from Buddhist teachings.
We were all stunned by the incredible views from the top - fortunately there was a lift for most of the way! The city really is huge (more than 4.5 million people live here), and we could see lots of new building work going on as well. It was brilliant to see in real life what we had seen in model form yesterday at the museum.
After a very welcome cold drink, we made our way with our buddies to the main road, where we all caught the local bus (a double decker!) into the city centre. It was a very hot afternoon and the bus was busy with people going about their daily lives. We even saw a mosque, which is quite an unusual sight here in China. We got to the main commercial area where we saw what seemed strangely familiar - basically, a Changzhou version of Liverpool 1. Once again, it is perhaps the things that are both familiar and exotically different at the same time that can be among the most interesting aspects to consider.
We all went for dinner to a 'hot pot' restaurant. We sat at round tables with a space cut out in the middle in which was placed a metal pot with two sections. These both contained hot oil with herbs and spices. One section was really spicy. We then ordered lots of different kinds of food which we then cooked in the hot pot. We were very keen to try lots of new things, and many of us were brave enough to go for the spicy option too! This was our treat to our buddies for all the fantastic support they have given us during our time here in Changzhou.
We finished our evening out with a wander through the commercial area, accompanied of course by buddies and ice cream! The moon was amazing tonight - low in the sky, very large, nearly a full moon, yellow in colour and rising against the dark outline of the Tianning Pagoda. We were greeted as usual at the gate by Colonel Pauly, our friendly chief security guard and then all gathered together for our final reflections on what has been a very busy, excellent day.
Tuesday 23rd July
Our morning began by having our normal lessons with our teacher Miss Linda. Some of the time is for preparation for the test which we have on Thursday. We finished our models of local architecture and went on to sketch pictures of some distinctive buildings. For our fourth lesson we went to the computer room, to do some more research on local buildings and finish off our poster presentations. Afterwards we went to have lunch and we all met up in the theatre to rehearse our group performances for the leaving ceremony.
Then we left for the museum building in the city centre which was really good. It is an enormous place and actually contains two parts - the Changzhou City Planning Museum and the main Changzhou Museum which tells some of story of this 2,500 year old city. The museum contained lots of information and plans of what they might be doing in the future. The museum also highlighted the tourist attractions and a birds' eye view of the city. This was a massive model which took up the entire top floor of the museum. On the coach we were provided with a very spicy McDonalds as a treat, this made our mouths go on fire!
Finally we arrived at the China Dinosaur Theme Park which was really good and had really amazing rides. Our excitement grew as we could see from a long way off parts of the rides that lay in store for us. The atmosphere in the park was brilliant and, after pausing for a big group photo in front of the yellow elephants (as you do!), we were off... For two of us it was our first time and we bravely decided to go on the second biggest roller coaster in Asia, Dino Conda. I really appreciated the support of the group as we waited in line for my first ever roller coaster. It was totally brilliant and I am so glad I did it. The majority of us decided to go on the log flume as well, which was a mini adventure and exciting (not to mention wet!).
Lastly we met at the main entrance and got the coach home. We arrived back and then walked to the local shop and bought cold drinks. This part of the day is something I particularly enjoy as it gives me a good opportunity to talk to new friends. After a very action-packed day the very cold drinks seemed a good reward. (Today's blog is brought to you by Brad)


Monday 22nd July 2013
Today we woke up at 6:50am and had our breakfast. After breakfast, we made our way to the classroom where we learnt more Mandarin. We played various games and learnt a lot of new phases, sayings and even a song with our buddies' help. After our first lesson of the day, we went to the art room for a lesson on Chinese architecture where we thoroughly enjoyed making our own models of famous architecture, for example the Tiananmen Gate in Beijing, which we will see in real life in a few days! All of this was with the help of our buddies. Straight after, we went to the ICT room where we began our project on Chinese architecture. We worked in pairs surfing the internet for pictures and information which would contribute to our final presentation in Changzhou.
After a delicious lunch (which included noodles, some unusual mushrooms and, for the first time here, bananas) we headed out to a dumpling factory where we viewed workers making dumplings at a rapid pace. Later, we had the opportunity to make our own dumplings in groups with the help of the Chinese workers. The meat filling of the dumplings looked a little strange and it took us a while to get the hang of making the dumplings correctly. Finally, we all sat down and had the chance to actually eat the dumplings that we had prepared along with soup and sauces. We all tried the dumplings and we enjoyed them very much.
Soon after, we headed back to the school and had free time to chill out with each other. After dinner, we all enjoyed walking around the local area and shops as a group. We had fun bargaining with the stall owners and we got some good deals with the use of little Mandarin knowledge! It was good to bond with everybody and, as the trip progresses, we are all becoming closer and are feeling even more like a family.
We ended the night as always by sharing our highlights in a circle together. Today my highlight was mixing even more with people I didn't even know just a few weeks ago and realising how lovely the group is as a whole. It's nice to see everyone looking out for each other and also how, as a team, we are encouraging one another to keep going and get the most out of this fantastic opportunity. (Today's blog is brought to you by Fran)

Sunday 21st July 2013
An early start for everyone today. The coaches picked us up at the school before 7.30 and we all headed off to the city of Suzhou. Our first destination here was Mudu Ancient Town. This is a traditional waterside Chinese town, known as 'China's Venice.' There were lots of shops and some of us took the opportunity to do some bargain hunting, fans being the most popular choice. Many of the shops are dedicated to traditional Chinese costumes, with local visitors dressing up and posing for photos in the streets and lanes of this lovely little town.
It was really interesting to wander the streets and enter some of the homes, with their traditional minimal but beautiful furnishings. There was also an exhibition of some of the traditional craft of this area, needlework. Some of the pieces were stunning and amazingly life-like.
We were taken for lunch to a restaurant where we all enjoyed a new range of dishes. Some of the favourites were the prawns, pork and chicken with peanuts. It was also nice to be in a building with air conditioning!
After lunch we headed to another part of Suzhou. Our destination was the Humble Administrator's Garden, reportedly one of the finest examples of traditional Chinese gardens. This is a large complex of waterways, paths, ornamental rocks and trees. The shade of the trees was particularly welcome! We finished our visit here with a very welcome ice cream, although ordering 18 at once seemed to cause something of a stir!
Our final stop on this excursion was to Suzhou No 1 Silk Factory Number on the way back to Changzhou. We had the chance to get up close to the silk worms - some of us even held them! The whole process was really interesting and we got to see every stage from cocoon to spinning, stretching and weaving. We even got the chance to view a fashion show!
After dinner and Internet time, most of the group took a walk up to the RT Mart in the cooler evening air before our final gathering of the day and heading for bed.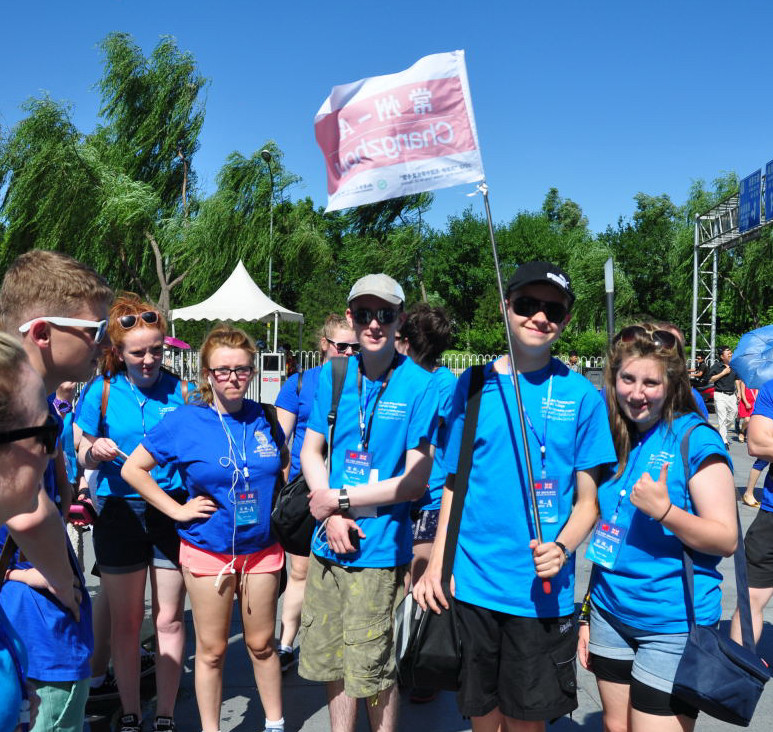 Saturday 20th July 2013
Today was another early start. We were all woken at 7am as breakfast was at 7:20am, so a lot of rushing was needed to be done! Chinese breakfast is so much different from English breakfasts. We're all trying different things to find which strange breakfast choices we enjoy today.
We need to be in the classroom for 7:50am, as our lessons started at 8am. In class today we learnt different greetings, general conversations and countries. Chinese is so easy to learn in comparison to other languages! During our break, we all discussed about the things we missed from home. They ranged from family, friends and pets to our beds, cups of tea and a proper mattress! After our first two lessons, we went to our music class where we all played on the Chinese drums. It was so much fun! Learning how to play the drums was definitely an experience we will never forget!
Straight after music class, and what felt like 20 staircases later, we were back in the classroom. We played a game which involved hiding a Chinese phrase, and someone had to find it as we said the phrase louder when they were close, and whispered when they were far. Kyle hid one phrase in Fran's hair, we were all in hysterics! We've all definitely bonded as a group, and gained so many friends with plenty of common interests. We're more like a family now! After a good laugh, we all played "Whispers" - it was so much fun!
The morning flew by, which meant lunch was next and we were stuffed by the end of it! We're all trying new food each time we eat, some nice and some we would never like to taste again, but that's all part of the experience!
We had around an hour of free time after lunch, so we all decided to take the opportunity to have a shower and get changed before spending the rest of the day with our buddies. We've all been so excited about this day, but some of us were definitely a little nervous about it too. We really did not know what to expect!
After we all got washed and ready we were told to bring our gifts with us to the families of the buddies that we brought from home to give; we all were very nervous to see how the gifts would be received. At around 1:30 we went to our classroom to meet with our buddies and after a pep talk from Mr Lally and Miss McKenna we went down to meet the families. (This morning's blog was brought to you by Vanessa)
EVERYONE WAS IN PAIRS FOR THE AFTERNOON
Colleen and Connor's afternoon:
Crystals mum' came and picked us up and took us back to their apartment. When we got inside it was completely different from what we expected and very modern. We went with Crystals' friends and Crystal herself to the play room which was so weird - you sit on the floor but the table is raised. We then went downstairs and made dumplings. Crystal's mum made them look really easy to make but it really wasn't. We tried but never quite perfected the dumpling-making skills. We came together for dinner most of the food was delicious, however I (Connor) was brave and tried a duck's foot that still had bones in it. I have to admit that it tasted horrible but I was very glad I gave it a go as it was my highlight of the day and gave the group something to laugh about. We both then gave the parents and our buddies the gifts. They were ecstatic, and we were very happy in return when we received a gift, Chinese metal cutlery which is beautiful. After the whole experience I don't know what I was scared about at the start of it all. (Colleen & Connor)
Kirsten & Will's afternoon: We woke up really nervous about going to our buddies' houses not knowing what to expect. As we walked to the main gate with our buddy and met her mum we were both still feeling a little nervous but also very excited. Reina's mum was really pleased to see us. We got in to her car and she took us shopping, this was amazing. After our trip we finally arrived at the family home; it was an apartment which is very common in China. Following a scrumptious lunch we went on their computer and showed her parts of England including the school website. They enjoyed looking at the pictures on the website and did find it strange that we are only in school till 3.20 pm compared to 8.00pm! Afterwards we had some fun including some dressing up in traditional costumes. We were treated to dinner in a stunning restaurant. All of the dishes were presented as if they were works of art and looked beautiful. Not knowing what anything was we tried as much as we could and in the end really enjoyed it. It was amazing to see inside their home and to see how real Chinese people live. I don't even know what we were worried about as it was such a good experience. They family were so welcoming and they looked after us so well It was an unforgettable experience. (Kirsten & Will)
Lydia & Kallum's afternoon:
I had that nervous feeling like before you dive into water. You are so worried and anxious so you count to 3 and go for it. Then you are refreshed. It was one of the best experiences in my life; I saw first-hand China's culture and made a connection with my buddy, their family and friends who were just as excited as me to share the afternoon together! We were picked up at the school gate by Chorus' mum. As they do not have a car she had asked her friend to take us on a tour of the city. It was amazing to see the differences and similarities between shops at home and here. We arrived at her apartment building; they live on the 6th floor, the apartment was a lot bigger than we had expected. They were so welcoming and they spoilt us rotten, they were extremely appreciative of us spending our time with them, let alone our personal gifts. They were intrigued to find out about our families and friends and our home town - all the feelings were apparently mutual. We shared with them photos of our families and home. Afterwards we made dumplings with the family and they made it look a lot easier than it was! As it was raining we played snap and after dinner we played some very interesting Chinese board games. After a very exciting day we were looking forward to joining together as a group and sharing our stories of an incredible day. (Lydia & Kallum)
Brad & Chloe's afternoon:
This morning I was very nervous about what to expect, but we were excited at the same time. After lunch we set off with our buddies to get more experience of what the Chinese culture is like. We decided to get a taxi because of the rain; this was an experience in itself. When we arrived at Lea's aunty's house it was very dark from the outside but once we got in, it was very well kept. Her family was very welcoming and made us feel instantly calm and at home. There were 11 of us in a two bedroom apartment, but it never felt too overcrowded. We taught our hosts how to play snap, and we were very happy to see how keen and interested they were to learn about our culture as much as we wanted to learn theirs. Making dumplings was a very strange experience; we used flour and hot water to make the dough, then stuffed them with different fillings such as pork and white carrot, and sweet bean paste. During the evening they gave us many things to try such as sticky rice, and we had a meal with the family. We both tried many things such as lots of fish, jelly noodles and dumplings. We thoroughly enjoyed our night and were grateful of the cultural experience. (Brad & Chloe)
Fran and Michael's afternoon:
Throughout the whole trip, I had been apprehensive about going to my buddy's house. I didn't know what to expect and I was very nervous. After lunch we headed out with our buddies. Michael and I got a taxi to Leah's house where we thoroughly enjoyed playing card games and making delicious dumplings. We celebrated Leah's birthday by singing happy birthday, eating cake and sharing presents. Michael and I then headed off to Charles' house where we shared an interesting meal with his family. We explored the local market where we saw some extraordinary things. To conclude the evening, Michael and I gave Charles some gifts from the UK and he was very grateful. The night was extremely fun and exciting and I am very happy that I had this experience. (Fran).
I have been looking forward to this opportunity to go to my buddy's house ever since I found out about it, but I was also apprehensive about it. There was also some added responsibility and excitement when Miss McKenna gave me the camcorder to film some of our experience. It started with me having my first Chinese taxi ride during which I discovered that the driver sits in a strange plastic box. We first travelled to Leah's house with Brad and Chloé because she and Charles are good friends and she was celebrating her birthday. When we arrived at Leah's house her cousin, aunt and one of her mother's friends were there so we agreed to play cards while we waited for the dumpling ingredients which were being prepared. First Charles and Leah explained the game `21' to their friends in Chinese and we played that for a while, then we played snap which Leah's family loved but I was really bad at, and then finally we played some 'go fish' which was also very good. We then had a go making some dumplings. We started by mixing some rice flour and water, using chopsticks to combine the mixture. Next we kneaded them into a dough, shaped them into balls and finally put our filings in. While they cooked we ate ice cream cake. When we had finished the cake, the dumplings were ready so we decorated them with dye and of course we had to sample some. After this it was time for us to leave. Charles' father was waiting outside so we said our goodbyes and left. Charles' father took us to their local market and explained they preferred freshness. When we arrived at the house we ate dinner soon after we got in. There was shrimp, fish, tofu, beans, rice and cucumber and it was very good and I ate a lot. Charles told me that his parents were honoured because it meant I liked the food. I was also honoured to have shared this experience. (Mike)
Hannah and Kyle's afternoon:
Throughout the whole trip I felt a bit nervous and curious about visiting my buddy's house. But eventually when the day came to go I was really excited. So after lunch Wendy phoned her dad and we headed down to the local temple to get picked up. As her father arrived, Kyle and I excitingly glanced at each other at the sight of such a posh car - I had never seen such a beautiful car! It was a little awkward at first because we didn't know what to say, so we introduced ourselves in Chinese, our language lessons were paying off and it was amazing how much we could understand. We then drove to the supermarket where we had a look around it was huge. Wendy took us into the Converse store where I (Hannah) got a pair of black Converse. After we had had a browse around, we headed back to the car and drove to Wendy's home. As we pulled up to her house Kyle and I were even more nervous but her house was lovely and her family greeted us at the door and offered us a very warm welcome. Her grandparents even bought us presents and we presented our gifts to Wendy, she was very thankful. After we greeted everyone the neighbours came in to have a look at us; it was clear that our visit had caused quite a stir! Following this we went into the front room to play Uno with her cousin Jiang. Her grandfather then insisted on taking us on a tour around the village. We had a stop off at the local basketball court and we had some time to play some basketball which was fun. Wendy's grandfather then showed us the gym and the entertainment centre. During the tour he also showed us the family businesses where he wanted to have his photograph with us outside the sign. We are hoping that our picture will end up in the next brochure! It was lovely to see the real side of China and to experience things that cannot be learned in the classroom. It was an eye-opening experience to see the real day-to-day lives of some families, like washing clothes in the river and buying food at the markets. People here seem so happy and appreciative of the basic things in life.
After we were given a tour of the village we went back to Wendy's home where we watched the "Voice of China" which was quite funny, and went on the laptop. We showed them our school's website and pictures of the local area. Once her mum had finished preparing the food we went into the dining room and as I glanced at the food my first thought was that I wouldn't be able to eat it as a shrimp with legs were looking at me and pigs' feet were on the table. Luckily I surprised myself and gave it all a go - surprisingly it was really good! We then said our goodbyes to her family and we headed back to school. I think visiting our buddy's home will be the highlight of the whole trip, it was an amazing experience. (Hannah and Kyle)
Vanessa, James, Matthew and Paige's afternoon:
As we walked down to meet our buddy's mother we were feeling very excited. At the gate I was greeted by her and after we tested out some of our newly acquired language skills we proceeded to walk to their apartment. We walked down what looked like the main road in the city, walking past some of the shops you could get a sense of everyday life in China. Once we reached the apartment we sat down in the living area and we were served green tea which was not too far from the taste of PG Tips from back home. Afterwards we exchanged gifts with our buddies and they seemed very pleased with them. We later went out to a shopping mall our buddies told us was only finished in November last year.
We explored and bought some drinks. While we were enjoying the drinks on the way back to the apartment, it started to rain extremely heavily. We decided to get the bus back but we needed to cross not only a busy road but also a partially flooded one, which was an experience in itself. After we got back to the flat we sat down and watched television with our buddies. At about 6:30 PM we were asked to roll out the base of our pizzas. Shortly afterwards, we were invited over to the dining table where we were served fish on the bone, chicken, chicken feet and casserole for tea. All of the food was delicious (including the feet!) and we even had left-over pizza and we look it back to the school to eat later. After we had said our goodbyes we took the car back to the school and looked forward to meeting up with the group. It was a great day! (James and Paige, Vanessa and Matthew)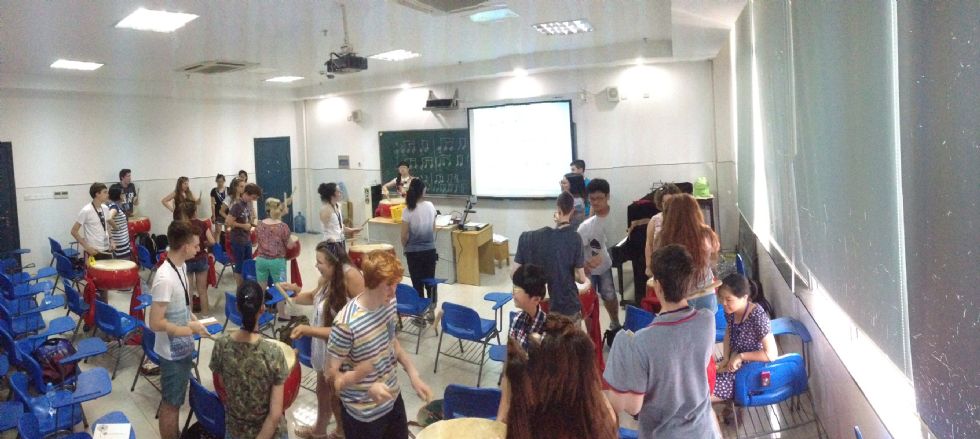 Friday 19th July 2013
So this morning we all woke up bright and early to go and get a quick breakfast as we had to be in lessons by 8. After collecting our belongings we walked over to Miss Linda's classroom in which for the first hour we learnt about the Chinese vowels and how each of the tones were pronounced with different accents.
After what seemed like a slow start things got going when Miss Linda advised the buddies to help us create our Chinese names and we also sang a tone song to try and help us remember it. Shortly after the song we took a quick ten minute break to stretch our legs, this was well needed as the room was getting a bit stuffy.
After break we all enjoyed a workshop in Chinese drumming. This was very noisy but very enjoyable as well! Afterwards, we spent another twenty minutes in class quickly going over the work we had done this morning and then we left for an early lunch. Everyone first got changed into our nano-tech t shirts and then got some grub in the canteen - we needed all the energy we could get for the walk ahead.
Once again we met up with our buddies and headed for the coach waiting outside. We boarded and all sat next to our buddies to complete our revision homework set by Miss Linda earlier. On the way to the Lingshan Buddhist scenic spot we were given custom caps and told to put on sun cream, we later found out why.
The moment we stepped off the coach we were met with a blazing heat that made us all drink a lot of water! We admired the sights for a while before our tour guide told us of a show that was happening within the Grand Building. So we followed the rest of the people towards the building until eventually we entered a majestic, brightly-coloured room. We were given shoe covers on the way in so that we wouldn't mark the gleaming marble floors. The stained glass windows were amazing and vibrant to say the least, not to mention the statues and sculptures that surrounded us as we walked in.
We were diverted into a dark round room that was huge and housed probably over 800 seats for people to sit on. There was a large screen that almost stretched around the entire room and when the lights dimmed the whole room became alive. There were amazing colours and effects and even people performing all around us. The ceiling was shooting with a rainbow colour effect that made it look like it was moving. The show had performers, sound effects and even water that shot from the ceiling around the stage. We were all really surprised when a revolving tree appeared right in the middle of the audience! The whole point of this performance was to tell the story of how the Buddha attained enlightenment.
We slowly made our way out and back to the coaches (stopping off to get cold drinks on the way). It was now time for some peach picking! Although the journey was long due to a few delays, we did get there in the end.
There was another scorching heat waiting to meet us as we departed the coach but as we made our way through the peach farm we had some good laughs and even washed and ate some peaches there and then.
The evening was spent with dinner, catching up on diaries and some cooling fun with water pistols!
At the end of the night, we went for a walk through the park where there were lots of people doing exercise and taking the evening air. We really liked the atmosphere and especially the chance to have some ice cold drinks! (today's blog was brought to you by Kyle)
Thursday 18th July 2013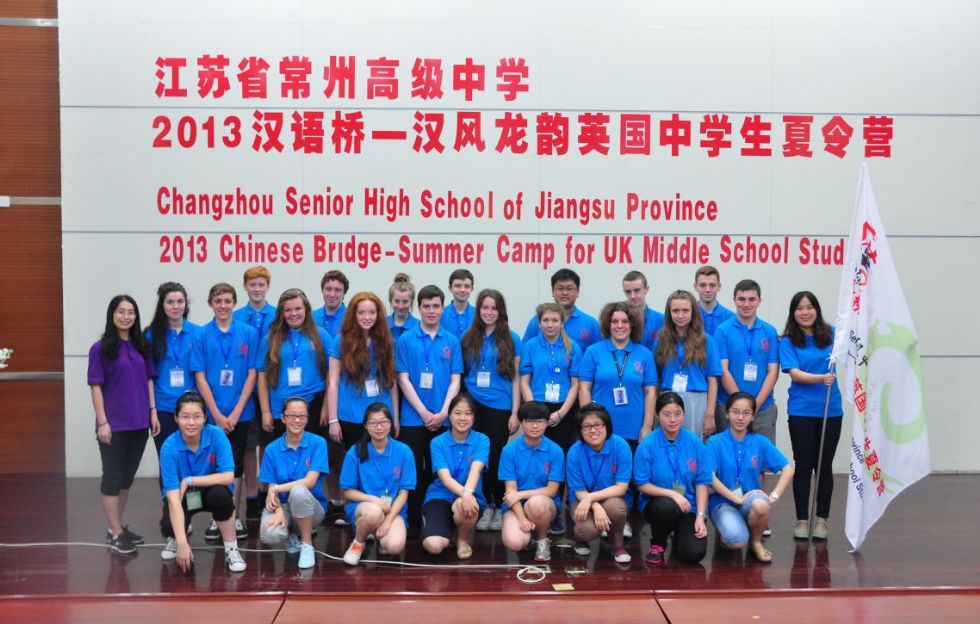 Our first morning in Changzhou! After breakfast we met our buddies at our classroom and all went to the main building for our Opening Ceremony. This consisted of a number of speeches in both Chinese and English. The handover of the official flag marked the beginning of The Chinese Bridge Summer Camp 2013.
After a group photo, we had a tour of the campus. The sports facilities here are really impressive. We all liked the table tennis room in particular.
The tour ended back in the classroom, where we had the chance to exchange card games - snap and Uno being favourites!
Lessons began and we had a really interesting introduction to Chinese culture from Miss Linda. This included a quiz, with lots of support/cheating from the buddies. Lunch was another buffet-style meal, with the added treat of ice cream at the end!
There was a games activity session in the afternoon, with some of the group playing football while the others went for table tennis.
We all went out for a walk with our buddies through a beautiful park situated right next to the school. We were amazed to see turtles in the river! We ended up at a large supermarket, where we all really enjoyed seeing lots of new things (like durian fruit - very large, prickly and smelly!). What was also really interesting , though, was seeing things which were familiar but a little different. For example, white chocolate Galaxy (which is called Dove here) and birthday cake flavour Oreos.
Back to the school in time for tea, after which we had the choice of either Internet time or watching Mulan in the school lecture theatre before gathering together to share our reflections on a very packed day.
Wednesday 17th July 2013
We woke up today to another bright early morning and finished our packing ready for our departure later. We went to breakfast which is very different than breakfast at home not bacon and egg but rice and egg. We are all still finding this a little strange.
Shortly after breakfast we put our luggage on the coaches and headed for the headquarters of Hanban (the Chinese version of the British Council, which has funded our adventure). Wearing the panada t shirts we had all been given, we enjoyed the opportunity to have a good look around at the interactive displays. We learned lots about Chinese history and culture, getting to see a terracotta warrior up close. We particularly enjoyed dressing up in traditional Chinese costumes.
After our visit to Hanban, our tour guide, Candy had lunch waiting for us on the bus. This was a box of Subway sandwiches. Most of us had chicken however not the kind of chicken Subway that you would get at home, it tasted very different. Also with the Subway we were given crisps but instead of our usual flavours we had tomato and coca cola flavours.
We then arrived at Beijing airport which was absolutely huge. Check in and security went very fast. We got onto the aeroplane for our flight to Jiangsu province and the city of Changzhou.
We were met at the airport by our host teacher, Miss Jin and headed off for the journey into the city. As we travelled, we all noticed big differences between the two cities. Our new surroundings are much more rural, but the city centre is very lively. The school we are staying at is called Changzhou Senior High School of Jiangsu Province. Although the buildings are very modern it is an old school. Our new rooms are huge and the air conditioning is amazing - just as well, as it is really hot here.
We met our buddies in the classroom. They all seem lovely. We are really looking forward to getting to know them, especially as their English is much better than our Chinese.
We spent dinner with our new friends and then we all had birthday cake in honour of Colleen's birthday. The cake was really nice but we were a bit surprised that it had some tomatoes on top!
After our daily gathering we all went out of the school to have a quick look at some of the surrounding streets. There is lots going on. There is a place just opposite the school gate called The Bearhug Teahouse! We loved getting ice cold drinks from the shop.
We are looking forward to getting started with our Chinese lessons tomorrow.
(Today's blog was brought to you by Paige and Hannah)
Tuesday 16th July 2013
Our day started by waking up to glorious sunshine in Bejing after facing the humid rain of the day before. For some of us, a shower to wake us up was first on the list - very cold but very refreshing. We then all met together for our first Chinese breakfast, which was not as bad as some of us thought it would be although we did find it a bit hard to have a chicken kebab instead of cereal!
We then went to the Olympic stadium. It was very beautiful there with a lovely mountain background. We were also treated like stars in the fact that everyone wanted to take pictures of us and loved to look at us. We didn't mind too much as it made us feel famous! After this we visited the China Science and Technology Museum. This was very modern and brilliant, giving us an insight into how technology works. We wish we could have had more time there as it was huge and there was so much to see, but it did not matter as we then went to have lunch in a very posh hotel. the food was really nice and we got to try some amazing things, including a really spicy soya sauce!
Soon we were on our way to the Summer Palace. This was a really interesting place to visit. It felt like every bit of it had its own story, and even though it was crowded we made the most of it. We then got on a Dragon Boat from where we had fantastic views, a combination of the Summer Palace and the mountains, for me it was on the most breath-taking things I have ever seen.
Our last main event of the day took us to the humble place of hutong where we went on the rickshaws. This was a brilliant thing to do as we got to see another part of China; before this everything had been a bit surreal as we had only seen the richer side of Beijing but we now got to see a poorer area. After we got off the rickshaws we then played a game which we watched people on the street playing - feather ball (which we have renamed 'kickamajig.' This involves keeping up a metal shuttlecock. We played collective kicky up between us all; this was surprisingly really challenging and fun at the same time. This visit was quite special as the people here didn't have much but were yet so happy.
We then returned to the school we are staying at to be met by a more familiar dinner involving chicken nuggets. It was nice to have something familiar just to remind us of home as well as lots of Chinese dishes too. After dinner we went to play a huge game of football; this was really fun.
After gathering together as a group to share our highlights of the day, we all went out for a walk in the cooler evening air. We saw lots of people in the local park dancing and socialising. This was quite a strange thing for us to see, and perhaps something we would not see at home - it seemed like a good example of the different culture we are now exploring. (today's blog is brought to you by Kallum)

Sunday 14th July - Monday 15th July 2013
We gathered together as a very excited group on Sunday morning, all set for heading off on our China adventure!
It wasn't long before we had said our goodbyes, checked in, joined several queues and boarded our plane (for some of us, our first ever flights). After an hour we arrived at Schiphol Airport in Amsterdam where we had time for a quick pit-stop before setting off on our second, and much longer, flight. After nine hours, we descended from the skies of Mongolia down through the clouds and into a wet and windy Beijing. This was apparently the tail-end of a typhoon, and quite unusually bad weather for this time of year. This did not affect the temperature, however, so things were especially humid for our first day.
We were met at the airport by our guide Candy, who will be with us while we are in Beijing. After a drive through the rainy streets of this fascinating city, we arrived at "The Second High School attached to Beijing Normal University' - to give our temporary base its full title. We are staying in the residential accommodation here. A quick turn-around meant that we were well in time for our first China meal, having been taken to a local restaurant for some really interesting food. Some spicy, some vaguely familiar flavours, lots of new things to try and it was great to see everyone getting stuck in to new experiences.
After lunch, we all headed out to Beijing Zoo where we met some of what are perhaps China's most famous residents - the Giant Pandas! We also had the chance to have a look round, seeing lots of other animals including lions, tigers (including white tigers), jackals and bears.
One of the strangest experience for the group, however, was the almost celebrity status we seem to have aquired by being Westerners in Asia. There were lots of families who were really keen to have their photographs taken with various members of the groups, with children being placed on our students' needs by parents and told to smile nicely!
Afterwards we returned to the school for dinner and a look around the campus. There was even some table-tennis training!
We finished the day by gathering together as a group to share our reflections on these packed first two days and to begin our journals.
Our China 2013 story has begun!