Please click here for more photos
Our China 2012 visit ended when we all returned to SJP on the afternoon of Saturday 3rd November. You can read all about our adventures below. Thank you to everyone who made this such an unforgettable experience.
2nd November
Our final morning and yet again we were treated like royalty with breakfast delivered to our rooms. This morning we got a well-deserved lie in and an opportunity to pack our bags. With an air of sadness and excitement we boarded the coach for our final day in china. Our first stop was lunch in a very interesting restaurant. As well as our usual delights of rice, chicken and cabbage we also had some nan bread. With lunch came a twist as we had added entertainment provided by the schools as they made their way to the stage to perform the 'Gangnam Style' dance.
Next we made our way to the highly anticipated shopping trip. We were taken by our guide Mr Shine to Yashow Market. Here we had the opportunity to put into practice the language skills we had acquired. The market was very different from anything we had previously experienced and after just a few short hours we all emerged with all sort of gifts. Seeking a rest we made our way to 'the village' (a modern shopping centre close by) where the first Apple store was opened in China. We all took this opportunity for a well-earned rest. After a long day of bartering we made our way to our last supper in China. We were treated yet again to the typical Chinese dishes which have become so familiar. Afterwards we boarded the coach and headed to the airport. Once there we checked our luggage and bid our final farewells to Mr Shine before leaving for our security checks. After waiting to board the plane (which felt like a life time!) we all found our assigned seats and settled in for our 8 hour and 23 minutes. With a heavy heart we said our final goodbyes to China. [Today's blog was brought to you by Lucy and Emily]
1st November
This morning we completed our usual routine of three wake up calls and then receiving breakfast on the coach on the way to our first destination - Hanban Headquarters. Here we got to experience various different activities including using our Chinese language skills to answer questions on different subjects, for which we received a certificate personalised with our individual names. We also did an interactive activity by using the knowledge that we had previously learned in Shanghai to confirm our Chinese zodiac sign. Once again, our reward was a souvenir to take home. Some students had the chance to dress up in traditional Chinese period costumes and we all got a closer look at a Chinese art exhibition - students taking textiles in school found these activities very helpful. Overall it was a very interesting experience, increasing everyone's knowledge of China and everyone seemed to enjoy themselves thoroughly. A short journey then took us to the Hutong district. This is the 'old town' of Beijing, with traditional narrow streets and shops in a pleasant lakeside setting. It was good to see more of how everyday life is lived here and we all took the opportunity to practise our new language skills. Some of us even got to have a ride in a rickshaw!
Today for lunch we ate at an extremely posh restaurant. Walking into the entrance students were amazed to find a giant gold Buddha, surrounded by lit candles and rose petals. We all felt privileged to be in such an amazing place and be treated so welcomingly by everyone.
Straight after lunch we got back on the coach and made our way to the next detention which was to the international commerce university. Two of the students from SJP were picked to rehearse for the closing ceremony receiving awards for their contributions during language lessons in Shanghai, while the other pupils had some free time. During this free time SJP joined with All Saints to venture outside the university grounds. Many students got to use their bargaining skills to buy gifts for back home. The group then spilt into boys and girls, with the girls visiting a nail salon to treat themselves to a Chinese manicure while the boys had a relaxing visit to a local coffee shop treating themselves to ice creams and discussing their experiences so far. Both groups enjoyed this free time having the chance to socialise with each other and taking a small break from our usual busy schedule.
Shortly after this we went to a restaurant for dinner, where we once again received another outstanding meal. After changing into our uniforms we made our way back to the university where the closing ceremony would take place. The moment finally arrived for the pupils who were performing in the closing ceremony to showcase their talents, including language and information about the culture they have learnt during our stay in China.
The closing ceremony was a great way to end an inspirational stay in China, learning not only a new language but a whole new way of life. Our time in China is not over just yet but today has really shown how lucky and privileged every last one of us is to be here, a once-in-a lifetime opportunity. [Today's blog was brought to you by Katelen and Lucy]
31st October
This morning we were treated like royalty as we received five star breakfast room service, delivered by Miss McKenna and Mr Lally. We then wandered down to the Planetarium and after a very brief visit we travelled under the subway to Beijing Zoo. The zoo would turn out to be most people's highlight of the day. There was a buzzing excitement amongst the group, as we got our first glimpse of the giant pandas. The other highlights were seeing monkeys and bears, including polar, black and brown.
We then boarded our coach and set off for lunch. In the afternoon we arrived at the Museum of Science and Technology; the architecture of the building was extremely impressive. Once inside we split into our own little groups and began to explore. The museum was spectacular with so much to offer, there was well-thought-out technology behind the building's ideas. We had so much fun whilst in the museum the majority of the group felt we could have spent much longer here. Much to our disappointment we departed after an hour. We then climbed back on to the coach for a journey which was surprisingly shorter than anticipated. With the Olympic Park in sight we headed towards it. We walked towards the famous Beijing 2008 Olympic 'Bird's Nest' Stadium, commenting on how much bigger it looks than it did on T.V. It was amazing to be able to visit the Olympic Park and be able to visit somewhere which is so well known around the world. It was also fantastic to see the contrast between the pretty calm atmosphere today and the hustling and bustling atmosphere during the games.
On arriving back to the hotel we had some free time to chill out, time we used to have a group game of cards which was good fun. We met up later on in the lobby and decided as a group that we wanted to go to the supermarket. Some of us bought cereal to have for breakfast the following morning. On our return to the hotel we had reflection time which is always really interesting to find out what everyone enjoyed and why they did so. We then made a decision to go to bed and rest up for the busy day ahead tomorrow. Today was a great day, we got to see so much of Beijing which was spectacular and something that the majority of us won't ever be able to see again. [Today's blog was brought to you by Niamh]
30th October
There was an air of excitement this morning as we all gathered at reception to begin a fun-filled day. Once we had all arrived we all headed off to board the bus to go to climb the Great Wall. Breakfast was served to us on the bus this morning in airplane lunch boxes which consisted of a ham sandwich, a range of melon and yoghurt. With lots of excitement from both schools on our coach we begun our journey, signing songs on the way and learning all about the history of the Wall told by our tour guide Mr Shine. As we pulled in to the parking lot anticipation was building up for us to begin our climb on one of the seven modern wonders of the world. Looking up at the spectacular views from ground level everyone around was in awe of the structure and how steep the hills were. Climbing the wall was challenging but once at the top we were all so proud of everyone as we had finished together and all tried our best.
Lunch was a well-deserved rest for us all to regain our energy for our visit to the Summer Palace. At the Summer Palace we all learned the history of each of the buildings and statues that we passed through. On our way there we walked along the longest corridor in the word which was decorated with lots of intricate pictures and carvings which all had a meaning. After climbing 292 steps to get to the top of the Buddhist Temple and the brilliant views we were able to take group photos and our own as well. Climbing back down we once again boarded the coach and drove to another restaurant where we all had our evening meal.
After being dropped back off at the hotel our group set off on a new adventure during which we travelled for the first time on the subway. Once we arrived at our destination we explored the local shops, many of which were western chains included Starbucks. After our shopping experience we headed back to the hotel and had our reflection time in which we shared our highlights of the day and then we headed off to bed to rest for the next day. (Today's blog was brought to you by Emily).
29th October
After breakfast, we made the most of the last few hours in Shanghai by walking in the bright sunny morning light to a local park. This turned out to be so much more than just trees and grass, but a major centre of social and community activity, with locals gathering to drink tea, sing songs, take their grandchildren for walks and take part in some community dancing.
Then it was farewell to our teachers Miss Song and Miss Snow White and off to the airport for our flight back to Beijing: power-naps for some, catching up on some school work for others. We were met at Beijing by the irrepressible Mr Shine and drove through the evening streets to a restaurant where we all enjoyed a good dinner.
Back on the bus and we eventually arrived at the Xiyuan Hotel. After checking in, we headed out – it is much colder here than in Shanghai. A good look around the local shops and we went back to our very nice hotel where we gathered for our daily reflections before bed.
28th October
Another warm bright morning in Shanghai, as this morning we got the rare chance of a lie in. Breakfast passed as usual and then off we went to lesson, for our final exam. Thankfully, no one struggled. Afterwards we had to practise for the Shanghai closing ceremony; we opted to recite an ancient Chinese poem and a greeting rhyme with hand gestures. The closing ceremony comprised of all five classes, displaying their own mandarin skills that they have acquired during the trip. It went off with a few minor hitches, but we all thoroughly enjoyed it. The other groups also showed off their language skills through dance, singing and drama.
After the ceremony we had some well-deserved free time. This comprised of a trip to Walmart, some took a trip to the river to watch some local people fish, whilst others enjoyed a refreshing game of football with fellow students.
Our last supper in Shanghai was very interesting, with some of us daring to try squid-on-a-stick. Afterwards, we got on the coach and headed into the city centre for an evening's entertainment of acrobatics, circus skills and magic. Our SJP group demonstrated our finely-honed skills in eating popcorn. Some of the acts were extraordinary, including traditional Chinese hat-juggling, a contortionist who was able to manipulate lit candelabras with all four limbs and head at once, gymnasts performing in a ring suspended from the ceiling, tumbling and a dare-devil, chair-climbing acrobat - all performing without safety nets. The finale was a medley of magnificent motorcyclists manipulating their machines in marvellous, mesmerising, miraculous manner [this sentence was brought to you by Paddy McMahon (c) 2012].
We went back to the hotel for our final Shanghai reflection before packing and bed.
27th October
We are now well into our morning routine. Classes today concentrated on time and seasons as well as very helpful preparation for bartering. We ended the morning with a cultural exploration of Chinese television from 40 years ago with an introduction to 'Monkey Magic' and the ancient legend of a Buddhist monk's 'Journey to the West' accompanied by the Monkey King. This was all taught to us by Snow White, our teacher for today.
After lunch, it was off on a trip we go (or rather, went). Our first stop was to the hugely impressive Shanghai Museum. We particularly liked the collection of Chinese porcelain and jade from various times in this country's long history. Some of the group were fascinated by the extensive collection of textiles and indigenous clothing from various regions as well as the beautiful architecture of the building.
We got back on the coach and headed off to the oldest part of the city, a collection of tightly-packed shops, market stalls and restaurants known as the Chenghuang Temple. The style of the buildings was very different from the modern skyscrapers we have seen elsewhere in the city. When evening came, the area was amazing to see in the glowing lights from the shops. Bargains galore were had and we put our newly-learned language and bartering skills to good use!
Dinner was at a very nice restaurant, where we all sat round large round tables and shared a huge range of dishes as well as stories of our shopping triumphs. Back on the coach, and the Saturday lights of the city centre were lovely. A tunnel under the river took us to the base of one of the tallest buildings in China – the Oriental Pearl TV Tower. Hugely excited, we all went up in the lift to the viewing platform at 293m. The views were stunning, right around the river front and over the huge city panorama. There was a 'skywalk' under the platform, where we all stepped out on to the (reinforced!) glass flooring, admiring the sheer drop below. There were quite a few fears conquered this evening!
Ice creams and drinks were our reward for our bravery and we headed back to the hotel tired but happy – another brilliant day!
26th October
This morning, breakfast had the added attractions of sweetcorn and onion rings – nice! We had our normal language lessons in the morning, this time looking at numbers. We also had the opportunity to talk to another Chinese speaker – this time through the internet. This was good practice for what was to come later in the day. Our class was visited by the head of the Confucius Institute in London, who was really impressed with how the SJP group was getting on.
After lunch we got on board our coach for a drive through the city to a newer area to the recently-built Hua Err Middle School. This is by reputation one of the most prestigious schools in Shanghai. We were met by a group of pupils who gave us a brief tour. The school is very open, with lots of open spaces for the pupils. There are water features, benches, sculptures and even a fish pond. After gathering in the lecture theatre for a short presentation, we were all split up and went off with pupils to sample some of the classes, including music, maths, English, tai chi and robotics. Following this, we met together on the sports field, where we were arranged into larger groups for a 'treasure hunt' around the site. This involved finding various stations, at which the Chinese pupils set challenges for the British visitors such as dancing and learning to sing the Chinese version of 'If you're happy and you know it...' Free time followed, with lots of conversations with our new friends.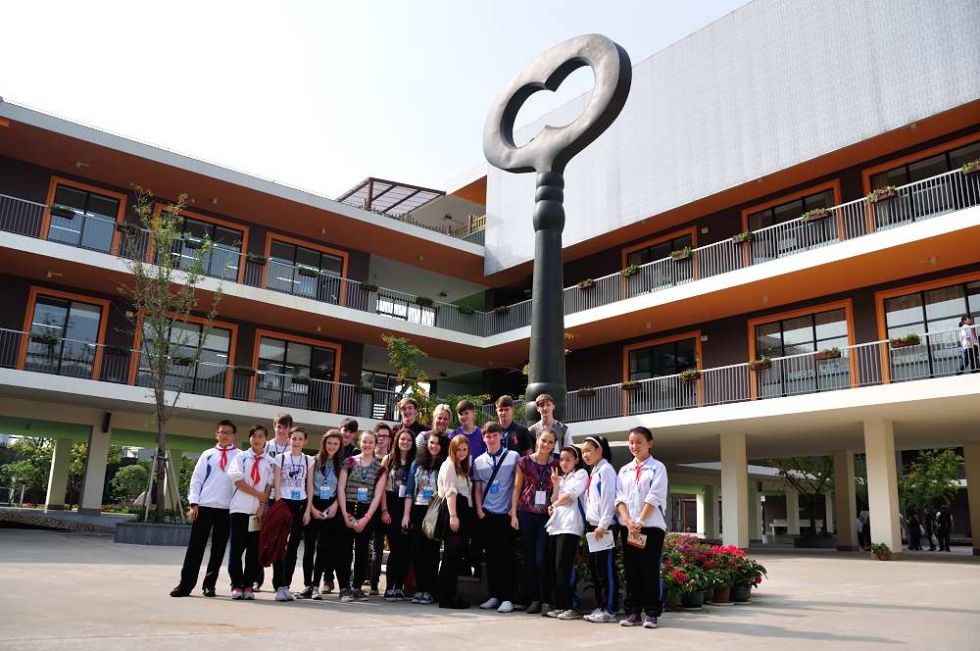 Our final big session of the afternoon involved pairing up all the British pupils with a Chinese counterpart for a huge three-legged race. As fate requires, our tallest pupils were paired with the shortest Chinese pupils! After exchanging gifts with our new friends and a formal presentation to the winners, all too soon this visit was over. Many of the group commented that this has been the highlight of our visit so far.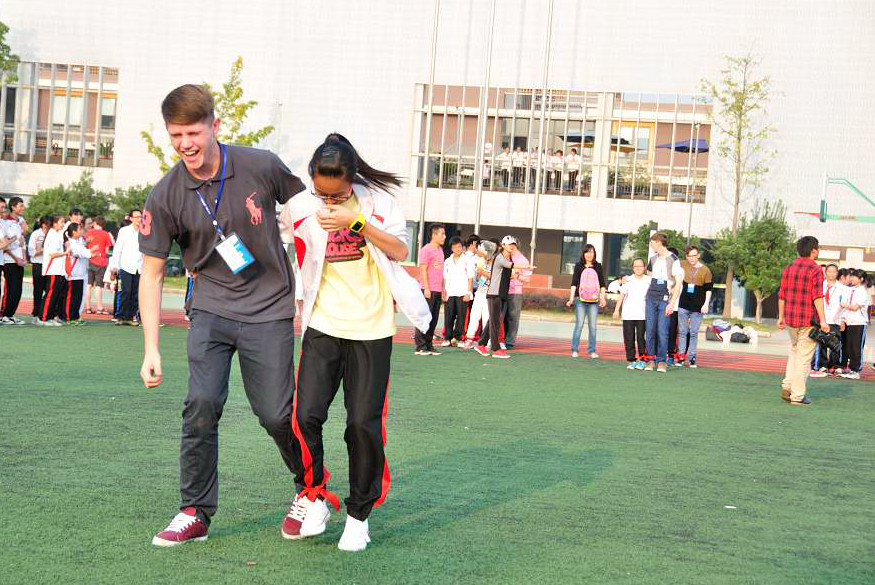 We got back on the coach and went to another area of the city, passing large groups of people doing communal tai chi exercises. We ended up in a residential area and went into a complex of flats. We divided into smaller groups and went for dinner with local families. This was a brilliant experience, getting to see how some people live here. The food was amazing, with lots of new things to try and so much to eat! Full to bursting, we returned to the hotel. A brief evening stroll took us to the local shops where we tried random drinks – the icy lemon and tangerine tea was the favourite.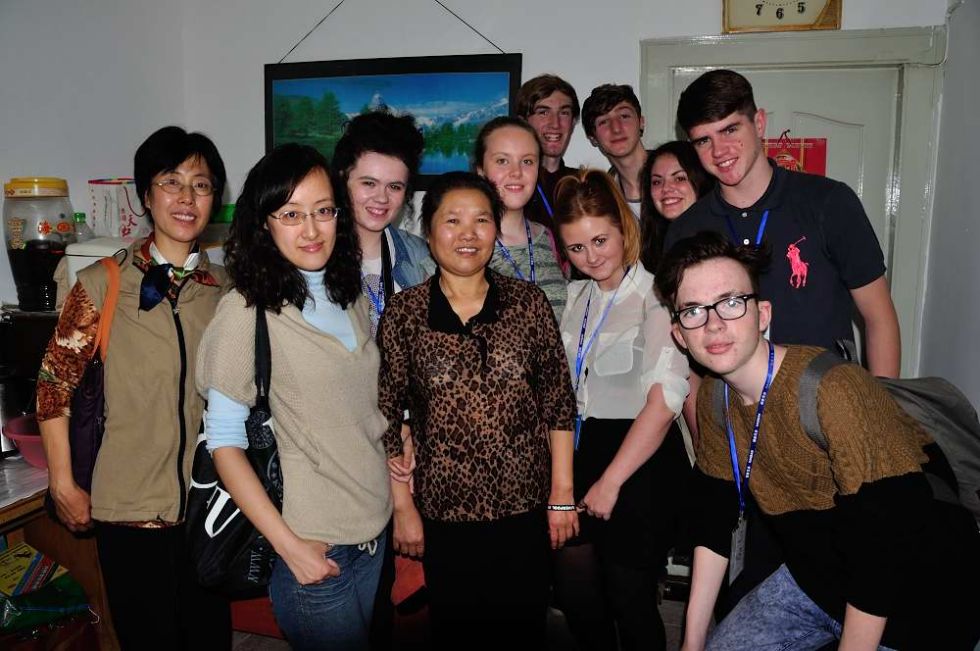 We ended the day with our normal routine of reflection, catching up on journals and some games before we headed off for a much-needed early night.
25th October
After breakfast (including boiled eggs in soy sauce) it was off to class as usual, where we continued to work on our language skills. Today we were looking at asking other people where they are from (and replying!) with lots of role play and even musical chairs at one point! An early lunch was followed for some by a walk near the river where we saw people fishing – including some business people in suits enjoying a peaceful lunchtime.
Our culture session today saw some members of the group undertaking a dance workshop, while the rest had a Tai Chi session. We all really enjoyed the opportunity to try something very different. Afterwards, we all got on to a coach for a trip into the city centre. The traffic was really busy, but the expressways were lined with skyscrapers, temples and flats – all fascinating to look at. We eventually arrived at Nanjing Road, the busiest road in Shanghai and quite probably the busiest road in the whole of China. Fortunately, it is pedestrianised! The road (and surrounding area) is full of shops and restaurants, including all the big 'brand' names. We walked down the length of these neon-filled, streets of commerce to the bank of the Huangpu River and the area known as The Bund. This has lots of older architecture, dating back to the days of the British concession here in Shanghai. In fact, this area is very reminiscent of the waterfront in Liverpool (built much at the same time and also financed through international trade).
The opposite side of the river, however, was not so familiar! This is the world-famous area of stunning architecture centred around the distinctive Oriental Pearl Tower. As the late afternoon light faded into darkness, the buildings came alive with light. There was a steady stream of boats along the river, a mixture of pleasure craft, barges and commercial vessels, all plying their trade on a warm evening with a wonderful atmosphere.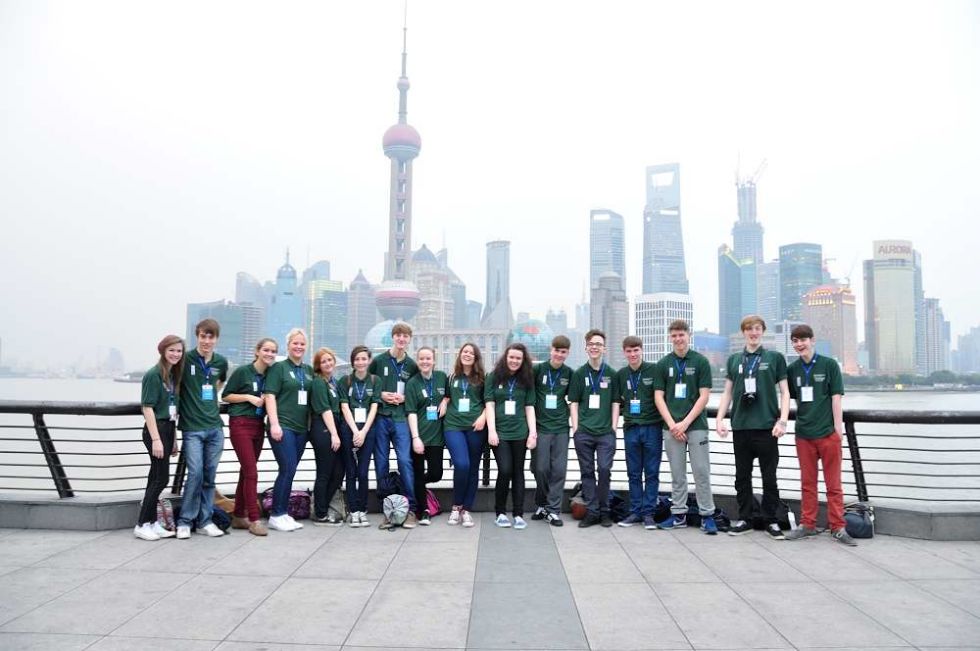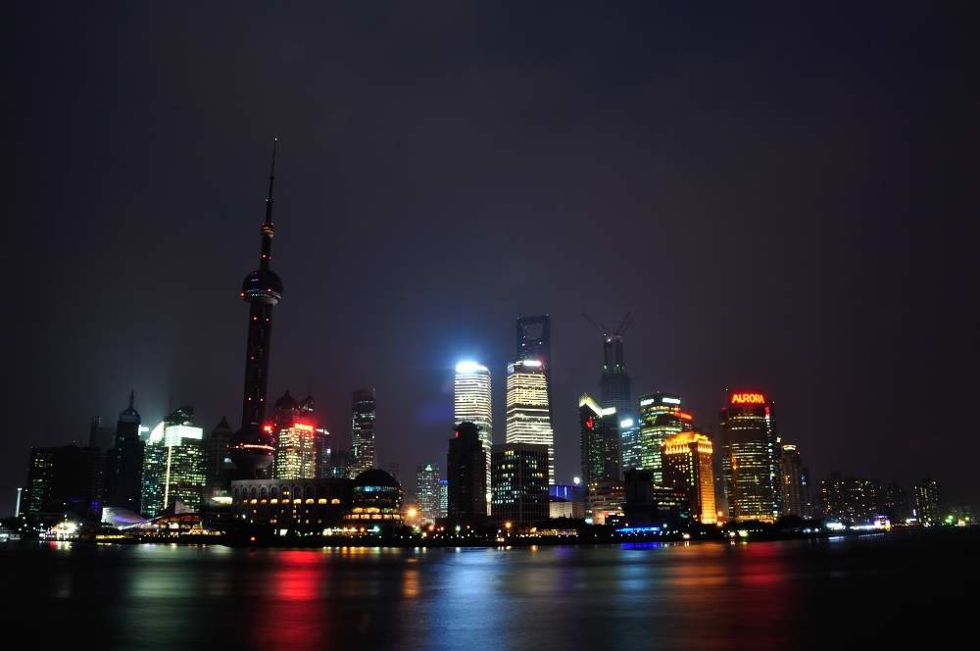 We drove back through the city and got a much clearer idea of the scale of this huge metropolis (with a population of more than 20 million), with a seemingly endless landscape of huge buildings. After twenty minutes we were back at the hotel. We went straight out for dinner, walking along the local street until we found a restaurant that had space for all of us! We had fun trying to order what we wanted (with the menus only in Chinese) but we all rose to the challenge. Stopping at the shop on the way back, we played games and then headed to bed after another packed day.
24th October
Our first full day in Shanghai! We started with a buffet breakfast on the campus, with a whole range of food on offer including rice, sweet potato and chicken sausages. Afterwards, we made our way to the main lecture theatre in the university, where we had the Opening Ceremony for our China Bridge Autumn Camp. In typical Chinese fashion, this formal occasion consisted of a series of speeches in Chinese and English. We were all issued with t-shirts and jumpers by our hosts and then we went for a tour of the campus. There are lots of 'green' spaces here, with rock gardens, pools and bridges over the streams and river which wind their way around the site. There were a number of outdoor book stalls, as well as shops and services for the community here. A couple of the boys were particularly drawn to 'Leo's Barber Shop' and may pluck up the courage for a local haircut in the next few days! Photo-stops included by the sculpture to Confucius and the statue of Chairman Mao.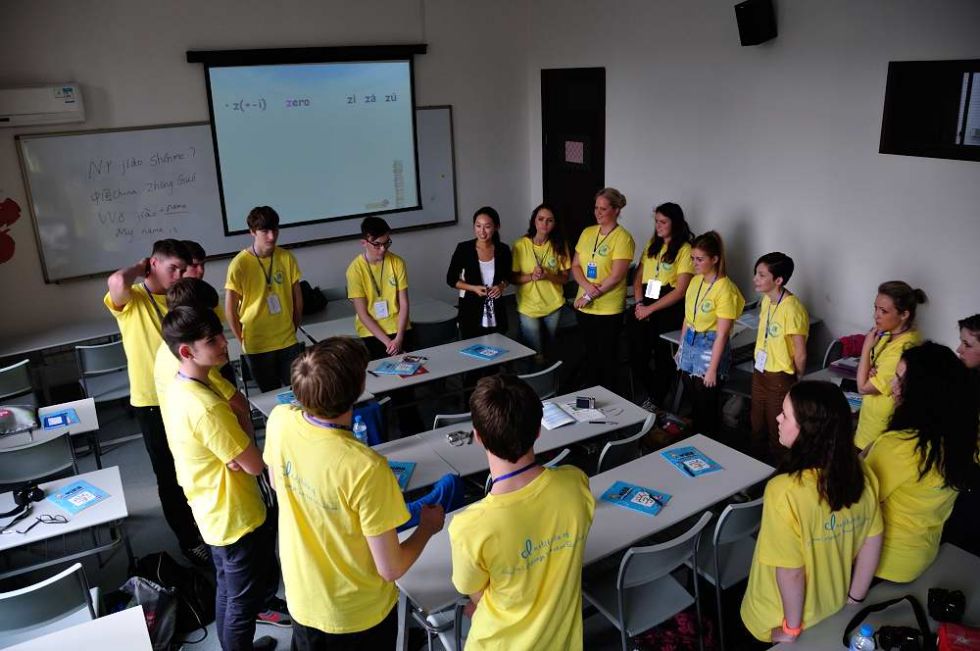 After our tour, we had our first Chinese class, taught by Miss Song. We are all in the same class together and spent some time getting to grips with the different tone sounds in the language. Miss Song gave us all Chinese versions of our names (some of which had interesting translations, such as 'thunder' and 'flying monkey god'). We also learned how to introduce ourselves and ask people's names – phrases we put to good use around the campus as we headed off to lunch. After our break, we had some cultural sessions. Half of the group spent the afternoon learning about traditional Chinese paper cutting (very challenging!) while the rest of us took part in an introductory session on calligraphy. All very tricky, but this gives us an extra appreciation of the art that we are seeing around us.
Dinner and table tennis were followed by some internet time and we ended our sessions in the university with some Chinese singing, where we all learned 'moli hua,' the song which was performed at the opening ceremony of the Beijing Olympics in 2008.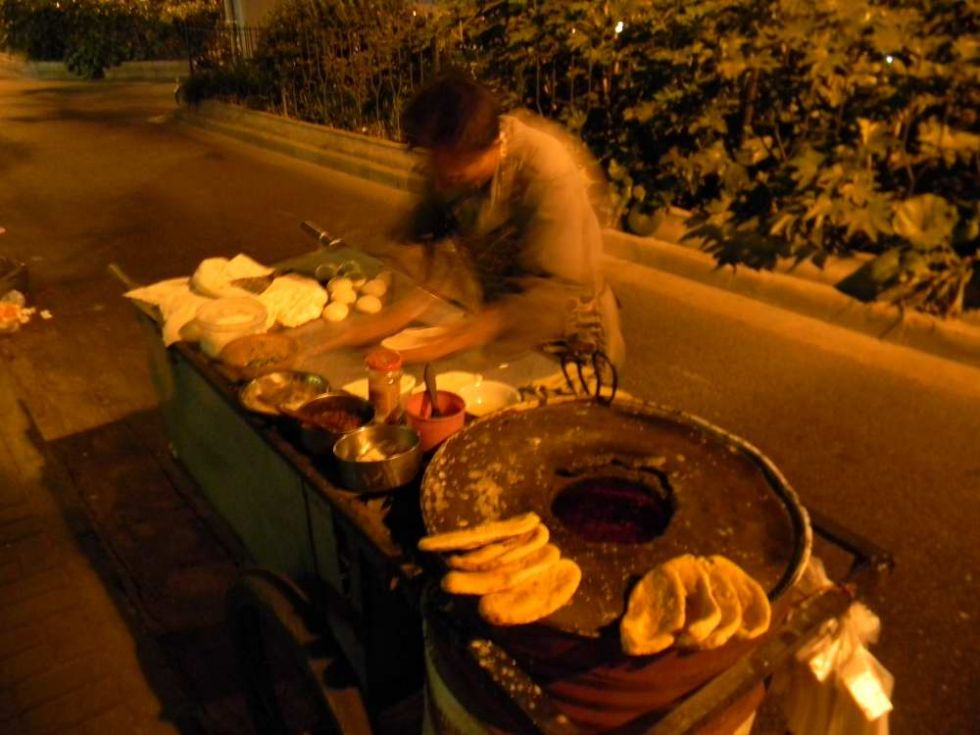 To round off the day we all went for a wander in the local streets, picking up essential supplies such as birthday-cake-flavour Oreos and seaweed Pringles. We also tried 'shao bing,' a local sweet, flat bread made right in front of us in the street – delicious!
23rd October
Monday turned to Tuesday as we crossed the western edges of the Himalayas and flew along the Tibetan plateau heading east to meet the rising sun. We arrived in Beijing around 9am local time. The airport is huge. After passing successfully through passport control, we had to take a train to another part of the terminal where we collected our bags. Already there are things which are familiar yet distinctly Chinese – even the local branches of international shops in the airport. We were met by our Hanban Beijing Guide, Mr Shine and all went to check in for our next (and final!) flight of this journey.
We finally arrived in Shanghai in the late afternoon, where we were met by our group leader, Miss Song and other members of the university staff. Half an hour on the motorway allowed us a glimpse of this big city, with the hustle and bustle of life on the streets all around us. There are lots of bikes and scooters everywhere, ferrying seemingly anything and everything around. There were also lots of building sites all over our route, although we noticed that by no means all of them appeared to have people actually working on them.
We checked in to our accommodation, the Jinjiang Hotel, which is very close to the main entrance to the East China Normal University Campus. After beautifully refreshing showers, we took a walk through the campus in the warm evening air. Even in the night time, we could tell that this is a lovely location, with rivers, paths, parks and trees. There were lots of crickets singing in the bushes, quite a contrast from the noisy city streets outside the campus. We also passed groups of people of all ages taking their evening exercise – jogging, strolling or doing tai chi. Dinner was in a restaurant on the campus, a really nice buffet with a mixture of dishes which we all tried. Already everyone is getting proficient with the chopsticks!
We stopped at a supermarket on the way back to the hotel to pick up water before gathering together for our first group reflection, sharing our thoughts and first impressions of this amazing country and then heading for a very welcome sleep!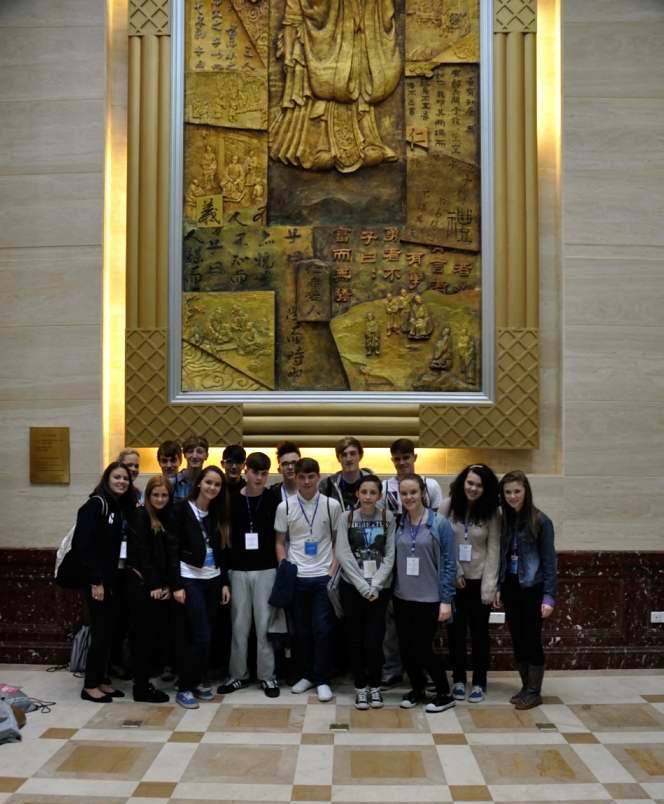 22nd October 2012
A dark and rainy early morning was the setting for our 5.30am gathering and departure. All loaded up, we headed off to Manchester Airport, tired but excited. After sailing through check in and security, we had time for breakfast and to browse the shops for those last-minute essentials before heading off to the plane. We're on the way!

Our first stop was at Abu Dhabi where we had a short time in between flights.
10th October 2012
Well, the countdown has well and truly begun! With only twelve days to go before we head off to the Orient, our lucky 16 students had a full day of preparation yesterday. Travelling over to Dukinfield to join the students from All Saints Catholic College who will be with us on our big adventure, we enjoyed a day of teambuilding and leadership development. Most crucial, however, were the sessions with the staff from the Confucius Institute (part of Manchester University) who gave us a fantastic introduction to Chinese culture and language. All of this has made us even more excited about the visit to Beijing and Shanghai - we can't wait!
May 2012
We are delighted to announce that this year's China Expedition will take place in October 2012. We have managed to secure 16 places for our students and these will be offered in the first instance to our current Year 9 and current Year 11 pupils.