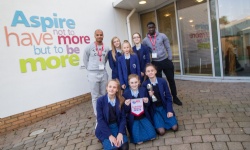 Congratulations to our girls' football team who narrowly beat Weatherhead 2-1 in the EFL Girls' Cup final.
The girls' football team, consisting of a mixture of Year 7 and 8, girls attended the finals of the EFL girls' cup on Wednesday evening, held at Weatherhead High School. This was from having qualified the previous week from a tournament held at Bebington High School.
The girls came up against three other schools (Upton, West Kirby and Weatherhead) who had also qualified the previous week. After a fantastic effort in the three matches, the girls managed to win two and draw one which resulted in them facing Weatherhead in the final. After a closely fought match, the girls came out on top winning 2-1, meaning. They will now represent Tranmere Rovers in the EFL girl's cup held in Stoke.
The girls' attitude and effort were fantastic and they should be very proud of their achievement.